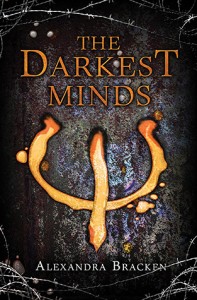 The Darkest Minds
(
The Darkest Minds #1
)
by
Alexandra Bracken
Purchase on:
Amazon
, 
iBooks
, 
Book Depository
Add to:
Goodreads
Synopsis:

When Ruby woke up on her tenth birthday, something about her had changed. Something alarming enough to make her parents lock her in the garage and call the police. Something that gets her sent to Thurmond, a brutal government "rehabilitation camp." She might have survived the mysterious disease that's killed most of America's children, but she and the others have emerged with something far worse: frightening abilities they cannot control. Now sixteen, Ruby is one of the dangerous ones. When the truth comes out, Ruby barely escapes Thurmond with her life. Now she's on the run, desperate to find the one safe haven left for kids like her—East River. She joins a group of kids who escaped their own camp. Liam, their brave leader, is falling hard for Ruby. But no matter how much she aches for him, Ruby can't risk getting close. Not after what happened to her parents. When they arrive at East River, nothing is as it seems, least of all its mysterious leader. But there are other forces at work, people who will stop at nothing to use Ruby in their fight against the government. Ruby will be faced with a terrible choice, one that may mean giving up her only chance at a life worth living.
Review:
The Darkest Minds was an emotional powerhouse that resonated deep within me. I was glued to this page turner and the story was a collection of darkness, laughter and the fact that maybe we can never out run our fate. I will never forget this story for as long as I live.
The will to accept their fate. In our case, that fate was to never see our families again. To always be hunted and chased down to every dark pocket of earth we tried to hide inside. Something had to give – we couldn't live that way. We weren't made to.
Children have become a curse to society. They either perish away in a blink of an eye or turn into terrifying monsters that parents either shun or love. Ruby knows she is one of the worst of the monsters that exists. So Ruby, along with the others, are rounded up and sent to camps where they are treated like parasites and terrorists. Her days are policed by government entities that ensure that they will never get out. They are disposed of, loathed, feared and are forced to live in situations that no child should ever endure. But why? They are unlike anything the U.S. has ever seen, these children have abilities. Dangerous abilities. But Ruby's life is about to change. She's going to get broken out, and if she thought life in Thurmond was hell, well she hasn't seen anything yet.
"I'm a monster, you know. I'm one of the dangerous ones."
"No you aren't," he promised. "You're one of us."
Ruby was astonishing. She was strong, determined, smart, and loyal. She has survived atrocities no child should have to and instead of it breaking her, like it did to the countless others, she was able to rise above it. She can still find hope, the willingness to create a new family and to have faith in others. But this little ray of sunshine in her life has a lot to do with her meeting Liam.
"God." He shook his head, mouth twisting into a shadow of a smile. "Did you know…you make me so happy that sometimes I actually forget to breathe? I'll be looking at you, and my chest will get so tight…and it's like, the only thought in my head is how much I want to reach over and kiss you." He blew out a shaky breath. "So don't talk about getting me out of here, because I'm not leaving, not unless you're part of the package too."
Liam is all that's good in this world. He's brave, trusting, charismatic and selfless. His timidness and sweetness added to the wonderfulness that is Liam. I loved every single part of him. From calling Ruby darlin to being shy during the sock scene, it's impossible to not fall for him. His hope was slowing uplifting Ruby from out of the darkness because Liam is purely light. Wonderful, beautiful light in a world that is bleak and horrific. To be honest? I love the jerky bad boys but every once in a while a good one will wiggle its way into my heart. So of course it had to be Liam. How could I not fall for someone as magnificent and warm as him?
The two of them enduring life's journey together made this book phenomenal! Their interactions and stolen moments were beautiful. The hardships they endured together was heart breaking. And their friendship was wholesome and good. They are truly a remarkable pair! We also get to meet a few other characters but I loved Chubbs and Zu. They were each witty and unique and I became just as invested in them as I did Ruby and Liam.
I thought I had escaped the monsters, that I'd left them locked up behind an electric fence. But the shadows were alive, and they had chased me here. I'm next.
This was an intense, remarkable read. I cried for all the perils that were thrown in their faces and kept hoping that each time they were given a small break that it wouldn't be thrown back in their faces. That's because their lives are truly ruthless. I can't wait to see how the story progresses but I'm not going to lie, I'm TERRIFIED! I'm still in a state of shock and denial after that ending. That ending left me feeling empty and broken. How could that have happened? I have to keep my head up and fingers crossed that the second book in this series will wound my devastated heart.
Save
Save
Related Posts