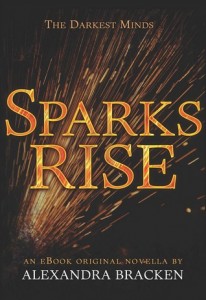 Sparks Rise
(
The Darkest Minds #2.5
)
by
Alexandra Bracken
Purchase on:
Amazon
, 
iBooks
Add to:
Goodreads
Synopsis:

Sam didn't think things could get worse at Thurmond rehabilitation camp. Then the Reds arrive. Everyone assumed the kids with firepower had been killed years ago. Instead they were taken away, brainwashed, and returned as terrifyingly effective guards. To her horror, Sam recognizes one of them: Lucas, the one spark of light in Sam's dark childhood. Lucas has a deadly secret--he beat the brutal training that turned his fellow Reds into mindless drones. When Sam defends herself against an attack by a vile PSF guard and faces a harrowing punishment, Lucas must risk his everything to save her.
Review:
Sparks Rise was an emotionally gripping story that kept me on the edge of my seat. I love Sam and Lucas' story. It gave me hope and then in the next instant it was ripped to shreds. This vicious cycle continued throughout their story and I ached for the book to end on a positive note. When their story stopped, I was floored how a book that with a little over 100 pages could evoke SO much emotion in me. I felt everything, right along with them and I've come to care about these two almost as much as Ruby and Liam!
There's no mercy, not in life, not even in death.
Sam was Ruby's bunk mate who was the brave girl that stood up against the soldiers to protect her. Later, Ruby made a mistake and accidentally erased herself from Sam's mind. Now we get to travel back to Thurmond and witness the horrors that are still their lives. Sam is just struggling to survive, to not draw any attention to herself and is going through the same horrifying monotony day in and day out. That is, until the Reds arrive. The ones everyone thought were murdered. But something isn't right with them. They act like machines that have no ability to think or function for themselves. And if that isn't horrifying enough, Sam knows one of them! Lucas was her childhood best friend. He was her happiness, he created beautiful imaginary worlds for them to play in, and he was her first kiss. Now he is there to guard and to frighten her just like the PSF's do everyday. Or is he?
Sam is meek and timid. But a living, breathing rebellious streak burns bright inside of her. She just has it locked away from all of the fear that suffocates her all the time. But her fear is about to escalate once Lucas arrives at Thurmond. I loved Sam. She was practical, relatable and someone you would want on your side. And Lucas, oh goodness. He was strong, brave, sweet and entirely captivating. Alexandra Bracken has this innate ability to write the sweetest males that you just can't help to swoon all over. The battles and agony that Lucas suffers, in the name of helping Sam, sparked a hope in their dim world. Nothing can kill a love that is pure and true. Or so they hope.
I lean over to kiss her cheek. A part of me feels like it'll be the greatest act of rebellion I ever do. Because I let myself feel how soft her skin is, I imagine taking her face between my hands, and it feels like I've set off a firework inside of my chest. No wonder they turn us hollow. I've always thought the danger in experiencing these emotions lay solely in being caught but living them make me danger itself.
Their fight against the system they are stuck in was truly fascinating, terrifying and addicting. Honestly, I feel just as invested in their story as I do Ruby and Liam's. I HAVE to know what will happen to them. This book is a must-read for everyone who is in love with The Darkest Minds series!
Related Posts