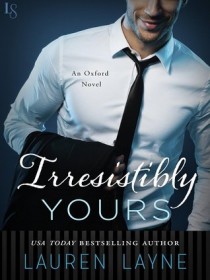 Irresistibly Yours
(
Oxford #1
)
by
Lauren Layne
Purchase on:
Amazon
, 
iBooks
Add to:
Goodreads
Synopsis:

Meet the men of Oxford magazine! In the first captivating spin-off of Lauren Layne's Sex, Love & Stiletto series, a not-so-friendly battle of the sexes turns into a scorching office romance.

Hotshot sports editor Cole Sharpe has been freelancing for Oxford for years, so when he hears about a staff position opening up, he figures he's got the inside track. Then his boss drops a bombshell: Cole has competition. Female competition, in the form of a fresh-faced tomboy who can hang with the dudes—and write circles around them, too. Cole usually likes his women flirty and curvy, but he takes a special interest in his skinny, sassy rival, if only to keep an eye on her. And soon, he can't take his eyes off her.

Penelope Pope knows all too well that she comes off as just one of the guys. Since she's learned that wanting more usually leads to disappointment, Penelope's resigned to sitting on the sidelines when it comes to love. So why does Cole make her want to get back in the game? The man is as arrogant as he is handsome. He probably sees her as nothing more than a barrier to his dream job. But when an unexpected kiss turns into a night of irresistible passion, Penelope has to figure out whether they're just fooling around—or starting something real.
Review:
Sexy banter, laugh out loud moments, true friendships, and characters that I adored filled the pages of Irresistibly Yours.  Truth be told, I was beyond ecstatic to hear that Cole was getting his own book.  But I never would have guessed his future entailed having to fight for his place at Oxford, a national men's magazine where he freelanced as a sports writer.  Nor that he would be up against a tomboy who easily hung with the guys. But what started out as Cole and a tomboy vying for the same job, turned into a story that pulled at my heartstrings.  Self worth and a looming responsibility became key ingredients to the feelings that were invoked in me.  But as with all of Lauren Layne's books, I can also always count on the scenes where I can't stop smiling or laughing, making Irresistibly Yours a fun book to devour!
In case you don't know who Cole is, let me kindly introduce you to a man who will make you want to curl up with this book while sighing out loud. Cole is a columnist who appeared in the Sex, Love and Stiletto series.  He was always memorable whether he was siding with the woman, almost kissing Grace at the baseball game, or joking around with his friends, Jake, Cassidy and Lincoln.  He came across as genuine, funny and charming, but that was just the surface.  Because Cole was also this thoughtful, sexy, caring man whose good guy status was the real deal.  In the beginning, he helped Penelope out when others wouldn't have.  She is vying for the job he wants, so technically he should walk away and let her fail.  But Cole being Cole stepped up and took care of Penelope, putting his desires behind hers.  And this is just the beginning of the sigh worthy moments that you can expect from Cole throughout the story.
Penelope is a tomboy who is fully immersed in the sports world.  She loves watching and writing about sports, but after a glitch in her personal life in Chicago, she is desperate for a new start.  And that new start entails moving to a new state and finding a new job which puts her directly in Cole's path.  While I struggled in the beginning connecting to Penelope, I am happy to say that she was smart, easy-going, cheerful and confident in her work.  But in regards to her body and sexual experience, she lacked so much self-confidence.  She never saw herself worthy of being moved out of the friend zone.  We all have those areas of our lives where we will second guess or say something negative about ourselves, but Penelope took it a step further.  She would put herself down in front of others and it was torture to me.  It hurt that she could be so harsh and mean to herself. I just wanted to shake her and show her how amazing she was.  But thankfully Cole was there to step in and do what I desperately wanted to.
The friendship that Cole and Penelope developed over time was not only realistic but oh so sweet.  They bonded over their love of sports and found a true friend within each other.  But lines can't always stay black and white, especially when you have a sexy Cole around you making the sexual tension unavoidable.  So stuff is bound to happen!  And in the midst of them trying to figure out what they truly wanted from the other, so many of the characters that we love from the Sex,Love and Stiletto series stepped in to help!  And while I was so excited to see Julie, Emma, Grace and Riley, the friend that shined brightly to me was Lincoln.  Or maybe that's because he constantly charmed me?  Well, whatever the reason was, the friendship between Lincoln and Cole was beyond epic and had me laughing hysterically.  I now can't wait for Lincoln's book down the road!  So I can't wait for you to read this book, or any of Lauren Layne's other stories if you haven't read them yet.  Enjoy!
*ARC kindly provided by Random House Publishing via Netgalley in exchange for an honest review*
Related Posts
I'm so excited to be a part of the blog tour for Exclusively Yours! Check out my 4.5 Star review and enter a giveaway for a fun bundle of Ebooks from Loveswept! Enjoy!