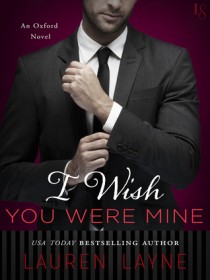 I Wish You Were Mine
(
Oxford #2
)
by
Lauren Layne
Purchase on:
Amazon
, 
iBooks
Add to:
Goodreads
Synopsis:

Perfect for fans of Alice Clayton and Emma Chase, Lauren Layne's Oxford series heats up in this story of forbidden desire as a brooding jock hoping for a comeback falls for a woman who's strictly off-limits.

A year ago, Jackson Burke was married to the love of his life and playing quarterback for the Texas Redhawks. Now he's retired, courtesy of the car accident that ruined his career—and single, after a nasty scandal torpedoed his marriage. Just as he's starting to get used to his new life as a health and fitness columnist for Oxford magazine, his unpredictable ex shows up on his doorstep in Manhattan. Jackson should be thrilled. But he can't stop thinking about the one person who's always been there for him, the one girl he could never have: her younger sister.

Mollie Carrington can't say no to Madison. After all, her older sister practically raised her. So when Madison begs for help in winning her ex-husband back, Mollie's just glad she got over her own crush on Jackson ages ago—or so she thought. Because as Mollie reconnects with Jackson, she quickly forgets all her reasons to stay loyal to her sister. Tempted by Jackson's mellow drawl and cowboy good looks, Mollie is sick and tired of coming in second place. But she can't win if she doesn't play the game.
Review:
I Wish You Were Mine was fun, sexy, and sweet with its to die for males and females that I would love to have as my friends.  This is part of The Oxford Series, a spin-off from The Stiletto Series, and all of these stories have made me feel something I haven't felt in years.  You see, my favorite show ever is Friends…of course I have the DVDs, the game, and can quote for hours, but these two series are the first time since Friends has ended that I've felt back in a world somewhat similar to theirs.  Because I adore this group!  Their friendships are heartwarming, their love lives are emotional and sigh worthy, and each time I find myself being pulled in by their joy, heartache, and laughter!
This time we got to meet Jackson Burke, Oxford's newest team member at the country's leading men's magazine.  His world was flipped upside down after a horrific car accident.  He went from a married quarterback in Texas, to a single fitness editor in New York.  But before you jump into his life as it is now, the first chapter gives you a glance back at 8 years ago.  Where he had stepped away from his own wedding to talk to Molly, his wife's younger sister.  Going into this book I was a little squeamish.  Not only because of the synopsis, but also because in that first chapter Molly admitted to herself that she had fallen for her sister's husband.  Eeks!  I didn't think I'd be ok with watching them forge into the unknown…..or so I thought, because I became their biggest cheerleader.
Lauren Layne has perfected the tortured male with Jackson.  And I love tortured males!  Jackson was charming and seductive, but also utterly lonely and completely unsure of himself in his new life.  His inner turmoil about what happened to him created little tears in my heart.  He was so hard on himself for something he had no control over.  But then, he also became his own worst enemy at times with Molly.  Molly who was always his friend and confident.  And even though there was a spark between them, he refused to allow himself happiness with her since Molly is his ex's sister.
Oh, I adored Molly!  And while I felt her inner struggle over not wanting to betray her older sister, since she wanted her ex, I also wanted to shake some sense into her.  I don't want to say why, because of spoilers.  But just know that while at first I was against Jackson and Molly being together, those feelings went flying out the window.  Like sailing so far away, that they were long forgotten and irrelevant.
I Wish You Were Mine was a forbidden love story that made me so giddy and happy.  Not only because it had the perfect balance of banter and sexual tension, but also since it had so many of the people from Stiletto that I love!  And I have to say that while I can't wait for Lincoln's story, I'm so glad his book wasn't in this books place.  I loved watching the slow reveal of learning who Lincoln truly is, since there are moments in this story where you can see beyond his facade.  It left me even more excited for his book, which is next in line.  So yes, this was another Lauren Layne win in my eyes, and I can't wait to read her next release!
*ARC kindly provided by Random House Publishing via Netgalley in exchange for an honest review*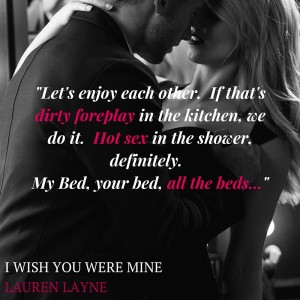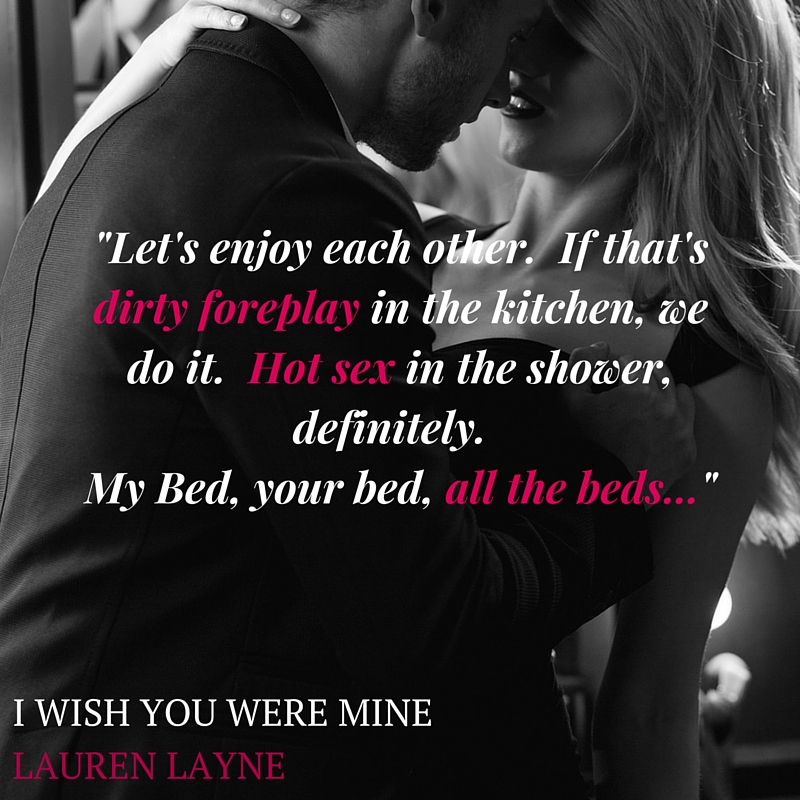 Excerpt:
[scroll-box]"I thought I might find you out here," he said quietly as he took a sip of his own champagne.
Mollie snuck a look out of the corner of her eye. He'd come looking for her? She hadn't thought anyone had noticed she'd slipped away.
"I messed up the toast," she said quietly.
"Nah," he said, stretching his long legs out in front of him and slouching down a bit to get comfortable. "Just think how many people you educated on the mating ritual of parasitic worms.  They should be thanking you."
Mollie groaned. "It was supposed to be romantic. I did a paper about them for my systematics and biotics diversity final. They're unusual because they're bonded for life. Most organisms sleep around or, you know, the male dies after mating—"
Jackson winced, and Mollie wished she could wither and die just like a male bee.
Mollie knew she had lots of useless trivia in her head, but she didn't normally go spouting it out like this. Not that she was a smooth talker or anything, but she was usually pretty quiet and normal, if a bit nerdy.
But tonight she felt . . . off. Starting with the fact that the dress Madison had picked for her was the exact color of Mollie's complexion, so she looked like a mole rat. And then there was the fact that she'd tripped a bit as she'd been going down the aisle, courtesy of the five-inch stilettos her sister had insisted on.
Add in an awkward maid-of-honor speech where she'd gone on for a good five minutes about Schistosoma mansoni worms and how they mated for life, just like the bride and groom, and . . . oh God. Why had nobody stopped her?
Mollie scrunched down on the bench with a moan as she took a sip of champagne.
"Madison's going to kill me."
Madison was in a mood anyway. She'd been a bridezilla from the moment Jackson had put a ring on it, but Mollie had figured when the actual day came around, her sister would relax.
Nope.
She'd been pissed about the flowers being ivory instead of true white to match her dress.  Had bitched about the fact that Lily, one of her bridesmaids, had styled her hair in a way that was too close to the bride's style.
Then Madison had vented about how the bracelet Jackson's mother had shyly presented as Maddie's "something old" was dumpy.
That one had gotten under Mollie's skin. Mrs. Burke was the closest thing to a mother that either of them had. Their own mother had died of an overdose years ago, and Mollie would have given a kidney to have a surrogate as lovely and kind as Jackson's mom.
"Maddie won't kill you," Jackson said, putting an arm around the back of the park bench and smiling down at her. "She loves you, even if she doesn't get your whole triple-major, science-camp vibe."
Mollie withheld a snort. That was an understatement. She loved her sister, but the closest Madison ever got to science was her monthly chemical peel.
Still, Mollie felt a fierce need to make sure that Jackson Burke knew she was an adult. "I'm twenty. I do not go to science camp."
He lifted an eyebrow, and Mollie pointed her champagne flute at him. "Okay, I used to go to science camp. But I'm not the one who used the word 'lactation' in relation to a mermaid."
"Hey, you're not the only one who took bio in college."
"But you were a communications major. Journalism," she said.
He gave her a surprised look, and Mollie looked away, mentally kicking herself. That was exactly what Jackson Burke didn't need—another groupie stalker.
She snuck another glance and saw that he'd slumped even farther, matching her own crappy posture, and Mollie was surprised to see that he looked . . . exhausted.
"Are you okay?" she asked. Because she couldn't not ask. Not after she'd seen the weariness around his eyes, the slight tension in his shoulders.
Jackson turned his head so their eyes locked and he frowned before returning his attention to the mermaid. "Nobody ever asks me that."
Her heart squeezed at the lost note in his voice. It was strange to think of someone as big and important as Jackson Burke being lonely, but somehow . . . somehow she knew he was.
Even here, among all these people, he was somehow alone. Apart.
Like her.[/scroll-box]
About Lauren Layne: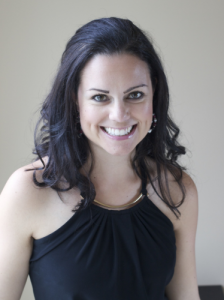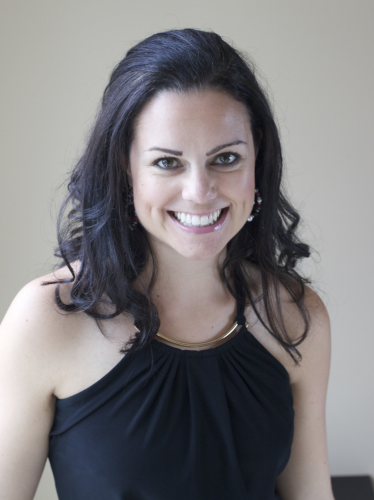 Lauren Layne is the USA Today Bestselling author of contemporary romance.
Prior to becoming an author, Lauren worked in e-commerce and web-marketing. In 2011, she and her husband moved from Seattle to New York City, where Lauren decided to pursue a full-time writing career. It took six months to get her first book deal (despite ardent assurances to her husband that it would only take three). Since then, Lauren's gone on to publish thirteen books, including the bestselling Stiletto series, with several more on the way in 2015.
Lauren currently lives in New York City with her husband and spoiled Pomeranian. When not writing, you'll find her at happy hour, running at a doggedly slow pace, or trying to straighten her naturally curly hair.
Website | Facebook | Twitter | Goodreads
Giveaway:
In Honor of Superbowl Winning Quarterback Jackson Burke, Enter to Win your choice of a  Ladies "TEAM" T-Shirt from Lady Fanatics Sports Apparel.
Save
Save
Related Posts
I Wish You Were Mine was a forbidden love story that made me so giddy and happy. I can't wait for you to meet Jackson and Molly! So please check out my 5 Star Review below, read an excerpt that pulled at my heartstrings and enter a fabulous giveaway. Enjoy!