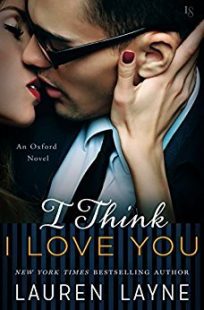 I Think I Love You
(
Oxford #5
)
by
Lauren Layne
Purchase on:
Amazon
, 
iBooks
Add to:
Goodreads
Synopsis:

Brit Robbins knows that dating in New York City is hard—she just hoped to have it mastered by age thirty. But after yet another promising suitor says they have no sparks, Brit decides it's time to torch her dating game and try a new plan. And who better to coach Brit through the art of seduction than the guy who first gave her the "let's be friends" card?

Hunter Cross has always figured there's nothing his best friend Brit can do to surprise him. But Brit's request is a surprise he doesn't see coming—and one he's definitely not prepared for. Hunter and Brit have always been careful to keep things perfectly platonic, but the fake dates and faux flirting are starting to feel like the real deal. And soon Hunter realizes he has taught Brit too well. Not only has she become an expert at seduction, the man becoming thoroughly seduced is him.
I Think I Love You was a wonderful end to the Stiletto/Oxford Series.  We got to catch up with every couple from the previous books, and I loved seeing all of the people I had fallen in love with.  And while his book could easily be read as a standalone, I definitely recommend going back to the very beginning with Julie and Mitchell in After the Kiss from the Stiletto Series.  Trust me, it's so worth it! This final book was about Hunter and Brit and their story was sexy, charismatic, funny and charming!
"Brit." He waited until she looked at him. "That dress you're wearing. I approve."
"Yeah?" She mimicked his question from when she'd complimented his glasses.
"Oh yeah."
Brit suddenly couldn't breathe, and her hands felt a little shaky, her face hot.
Well, then . . .
Well, then . . .
What did she do with that?
And why did it make her feel like this?
If you've read the previous books, you know that Hunter and Brit both work at Oxford and have been best friends for the last six years.  But over that time, Brit's dating life had been dismal. She was desperate to figure out how to secure that second date, how to find a spark with someone else and ultimately feel sexy.  Who better to ask to help her than her bff, Hunter!  Right?
She stretched, the hem of her shirt riding up just enough to show a sliver of skin. A couple of weeks ago, he wouldn't have noticed.
Now? He noticed.
And it wasn't just that. He noticed the way she walked. The way a strand of hair tended to fall across her lips after she'd applied lip gloss and then laughed. He noticed the way she was with his family, as though she was a part of it. . . .
Brit tilted her head and gave him a curious look. "You okay?"
No. Not even fucking close.
While I ultimately knew how this book was going to end, I loved watching the journey.  You see, Hunter and Brit didn't see each other as anything more than best friends. So while Hunter was helping Brit work on her dating skills, I loved how a moment or feeling would make them pause.  And even second guess what happened. Because they shouldn't be feeling sexual tension or interest in each other right? They were just best friends, that was it. But the further they went down the road of helping Brit's dating life, there were more and more moments where electricity seemed to course between them.
Brit skated away, doing a little half jump, but Hunter remained still for a moment longer, a bit jarred by the fact that he hadn't touched her because of her plan; he hadn't been trying to teach her anything.
He'd touched her because he wanted to.
And he wanted to do it again.
From the previous book, I Knew You Were Trouble, I liked Brit.  It was impossible not to like her loving, friendly attitude.  She had this way of making you comfortable while also wanting to be her friend.  She definitely rocked the girl next door vibe hard and I loved her for it. And when she was around Hunter, I loved their moments together.  Their friendship felt so solid and real and I loved watching it slowly turn into something more.
Brit turned toward him, catching his eye and giving a wide smile.
Hunter's chest tightened, and for an awful moment he wondered if it wasn't his dick that was going to cause him the real trouble.
What if it was his heart?
Hunter at times tested my patience.  He didn't always make the best choices and he could be clueless when it came to Brit.  But he had a good heart and he loved her, so I was patient with him.  Thank goodness he had great friends to help steer him in the right direction when needed!  I actually loved being in Hunter's head, when we alternated between them, because his thoughts were so complicated. Yes he was sexy, loyal and tried to do right by Brit but I loved how honest he was with himself.  So I easily saw all of the good that Brit saw in him and I kept my fingers crossed that it would all end up good in the end!
"Hunter," Brit said with a laugh. This time she put her hands on his arms and actually tried to move him aside.
He still didn't move.
She looked up, her expression confused. "Hunter?"
He stared down at her. Don't do it. Don't do it, man.
Fuck it.
Hunter bent down and captured her mouth with his.
I Think I Love You is definitely for those that love friends to lovers romances and who want to see what all of their favorites, from the previous books, are up to.  This book was such a wonderful end to the Oxford and Stiletto saga and I'm so thankful that I got to go on this journey and discover so many books that I treasure with my whole heart.  And if you haven't read the previous books in the series, I can't recommend them enough. They were absolutely amazing!
*I voluntarily read and reviewed an advanced copy of this book, provided by Random House – Loveswept. All thoughts and opinions are my own.*
About Lauren Layne:
Lauren Layne is the New York Times and USA TODAY bestselling author of more than two dozen romantic comedies. Her books have sold over a million copies, in nine languages. Lauren's work has been featured in Publishers Weekly, Glamour, The Wall Street Journal, and Inside Edition. She is based in New York City.

 
Related Posts
Over the years, I have fallen so hard for the Stiletto and then the Oxford series. I absolutely adore all of the characters and I wasn't ready to say goodbye to them. While this can be read as a standalone, if you're familiar with the previous books then you will get to see all of your favorites! So check out my 4 Star Review below and enter to win a copy of this fabulous book! Enjoy!