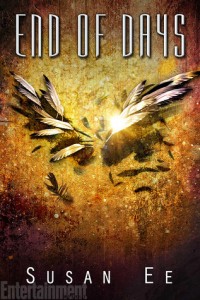 End of Days
by
Susan Ee
Purchase on:
Amazon
Add to:
Goodreads
Synopsis:

End of Days is the explosive conclusion to Susan Ee's bestselling Penryn & the End of Days trilogy.

After a daring escape from the angels, Penryn and Raffe are on the run. They're both desperate to find a doctor who can reverse the twisted changes inflicted by the angels on Raffe and Penryn's sister. As they set off in search of answers, a startling revelation about Raffe's past unleashes dark forces that threaten them all.

When the angels release an apocalyptic nightmare onto humans, both sides are set on a path toward war. As unlikely alliances form and strategies shift, who will emerge victorious? Forced to pick sides in the fight for control of the earthly realm, Raffe and Penryn must choose: Their own kind, or each other?
"It'll be tough for them to take any action while I'm pummeling their faces. Disrespect will not be tolerated." I half smile at him. "Because you're all about respect." He sighs as if a little disgusted with himself. "Lately, I seem to be all about you."
Beautiful, mesmerizing, addicting….perfect. It's no secret to anyone that knows me that this is my second favorite series of all time-not even close. I have fangirled about this series to friends and enemies alike, if only to spread a little more of the Raffe love-oh yeah, did I mention he's my number one book guy?? EVER? Yeah, well, most people know that as well. But what most people don't know, seeing as it's my darkest secret, is that I was so terrified I'd hate this book that I almost wasn't excited about it's upcoming release. Yeah. Shocking. But as I picked this story up and began zooming through the story, pages of the book simply evaporated into thin air as if they were never there in the first place-I was a torrential reading storm. It was as if I had never left this world…and maybe I never truly have.
Sometimes, I wish I could take a vacation from myself.
What began as a story about an archangel losing his most coveted possession, his snowy white wings, and a girl taking him 'hostage' to get her sister back became an all out war between the two races. It's almost as if Penryn was meant to run across the de-winging of my beloved Raffe all those days and nights ago. Humans are scared of angels. Angels believe man to be inferior and not worth questioning when told to slaughter them all. That is, until a certain cocky angel gets taken in by a stubborn and determined girl and they are forced to travel together for what they both want most. But what happens when what they want most becomes the one thing they were taught to despise: Each other.
He looks down at me with sincere eyes. "If I were human, I would have been the first in line for you…"
I'd have to say that, even through all the searching and war and battles, this has to be my favorite forbidden love story. And no, there's so much more to this series than an angel bereft of his wings who has 'secretly' fallen for a daughter of man. I realize this. I've processed that. And my conclusion is this: While the story is amazing, unforgettable, and utterly epic, it wouldn't mean half of what it did to me without Penryn and Raffe's unattainable love for one another. They are by far the cutest, sweetest, fiercest enemies I've ever stumbled across, and I highly doubt I'll cross paths with a couple that will ever mean more to me than them….and that's a bold statement on my part: I'm the whore of ships.
He's still scrutinizing my outfit. "Are you wearing men's shorts?" "I guess so. But they fit." "Whose are they?" "Nobody's. I found them in a drawer." He reaches over and pulls a thread off the frayed leg. It unravels, slowly winding it's way around my thigh and incrementally shortening the already short shorts. "What would you do if you had to make a run for it?" His voice is husky as he stares, mesmerized, at the unraveling thread. "I'd grab my shoes and run." "Dressed like this? In front of lawless men?" His eyes drift up to my midriff.
Every character was beyond wonderful in this story (main characters, let's not be hasty). We got more Paige, some of Penryn's crazy mom (Whom I absolutely adored in this installment), and some wonderful new Watchers. Each character added an intricate layer to the story that made it impossible not to fall harder and, in the end, they even added to Raffryn's (YES, I WENT THERE-WHAT OF IT?) relationship. An amazing love scene is one thing, but added laughter, friendship, awkward instances, family love moments…that all makes it even better. One minute I'm swooning, then two seconds later I'm giggling and squeeing all at once (Keaton avoided me at all costs during this voyage through my beloved Raffe land-I was not to be trifled with as I fangirled openly) and unable to control the RIDICULOUS smile on my face.
The sun is beginning to set, adding a golden glow to the water. Wisps of mist begin creeping over the bay. It should be a peaceful scene, only my blood feels like it's freezing by the second.
I can't sign off of this series without saying something that is very important: Susan Ee is the Queen. Elaborate? Of course, my mistake. She's the Queen of: Writing, characterization, gore, disturbing images, forbidden love, epic battle scenes, epic tormented love…. Need I really go on? This woman is my hero, from her creepy locust thingies that tore my heart out in book one to the creepy monster we see in the finale, no one has ever made me love evil (and now sometimes lovable, thanks to a certain sister) beings more than this author. She made me smile maliciously so many times I swear you could have caught me twirling my metaphorical mustache more than once in each installment. Breathless, heart-pounding, soul-crushing moments are her specialty, and I am in first in line when she serves them up…and no one is likely to take that accomplishment from her in my mind anytime soon (Kagawa is the only one likely on the same playing field, but I refuse to give either of them a step above the other-they're both wonderful, sick, evil beings). Anyone over my fangirling yet? Too bad.
You don't have to keep reading lol, but this is my final Raffe review and I will not stop before it's all out.
Without his feathered wings, the angels won't accept him. And regardless of what kind of wings he has, humans won't accept him either. Uriel or someone in his crew once said that angels were made to be part of a pack, but no matter where Raffe goes, he always seems to be the outsider.
The way Raffe protects, takes care of, treats, saves, lives for Penryn shattered my heart into a million tiny pieces. The love he tries to hide so he can save his brethren throughout the series crushed my soul (in the best possible way). And the way he longs for Pen…..it made me so beyond happy I could barely breathe. Nothing compares to his jealousies, his devastation that he can't be with her because it could never be in the world they live in. This installment capitalized on all those wonderful feelings we got from book one and multiplied them into this tragic and epic betrayal of what they both want more than their next breath-I teared up so many times it bordered on crazy. Even after they repeatedly say goodbye, is there a way to make it work?
I could not have loved this more. I don't care about literally any of the flaws, any world-building faux pas my lovely and aggravating friends found to be incriminating, or any of the beyond disturbing and nightmare inducing images. Any flaw is minuscule to the immense enjoyment I found while reading this wonderful, addicting, and, again, UNFORGETTABLE series about a beautiful, tormented, and lonely angel who feels the only person he can trust in the world is the daughter of man who once took him hostage. Nothing compares to the feelings I got while reading this and I will perpetually re-read this series until I know it word for word and scene by scene. I would say, 'Hey, you HAVE to read this,' but everyone and their brother has read it. Dude, my GRANDMOTHER has read this and began this final installment yesterday, like me. What kind of person hasn't? Do you live under a rock?? Bro, step it up! And seriously, Raffe, enough about the farming lol. That won't win Penryn-we don't live in 1950 (or whenever-psh).      
************************
********************************************************
OMG SO PRETTEH!!!!!! AGHHHHHH!!!!!
RAFFEEEEEEEEE!!!!!! I NEED YOU, LIKE, YESTERDAY ♥
Reading Order & Links:


Amazon

(click on covers),

iBooks (click on titles) & Book Depository

(click on book #)


Angelfall #1
Reviews:
Jen
Chelsea
Laura
Anna

World After #2
Reviews:
Jen
Chelsea


End of Days #3
Reviews:
Jen
Chelsea
Save
Related Posts