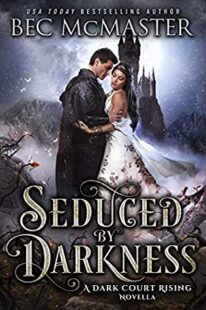 Seduced by Darkness
(
Dark Court Rising #1.5
)
by
Bec McMaster
Purchase on:
Amazon
, 
iBooks
Add to:
Goodreads
Synopsis:

*Spoilers for Promise of Darkness*

He fell in love with the woman of his dreams, but he never realized what that love would cost him.

When a dark prince attends the Lammastide rites, he lays eyes on his fated mate.

The problem?

She's his enemy's daughter.

A novella in the Dark Court Rising series from Thiago's POV featuring the first time he met Princess Iskvien.
Review:
*Spoilers for Promise of Darkness*
This is so, so dangerous.
And I don't care. I want it all.
Seduced by Darkness was a mesmerizing look into the past.  The story took place thirteen years before Promise of Darkness, so you don't want to read this book first.  In this story, we learned so much that was unknown.  I loved watching how Vi and Thiago's story unfolded.  Watching them meet, learning to trust one another and fall in love was magical and all consuming.  And there were so many unique aspects within the pages.  I loved that we got to alternate between Vi and Thiago.  Getting to hear his voice was exhilarating and everything I could have wanted!  We also got to see little pieces from the future take place within the past, I was screaming with excitement for how certain things played out!  And while this book and the first were both seductive and sexy, their moments together went further and we got to read all of the fabulous details when Thiago and Vi were together.  It was extremely scorching hot *fans face*.
"Do I have a choice?" I can't help being on the offensive; he's just a little too overwhelming.
"You always have a choice." Taking my hand he lifts it to his lips. "Me? Not so. Fate took me by the heart five centuries ago and tattooed you there on my soul." 
From when they first met, there was an instant pull.  Yes it was one of attraction.  But it also ran so much deeper.  So seeing Vi realize that Thiago was so much more than what the stories and lies said about him was smile inducing.  Her discovering the honesty and honor within Thiago warmed my heart.  But there was also friendship in the pages that made my heart skip a happy beat.  Finn, oh my goodness he was beyond fabulous.  Finn and Vi together made me laugh and I can't wait to see how their friendship unfolds as this series goes along!  But this book also showed us a darker side.  We got a clear picture of how horrific Vi's mother was, and not only the lengths she would go to but the atrocities she committed.  It was terrifying and left me uneasy and nervous for what will happen next.  And Etan?!  I was just left staring at the pages when it came to him, you'll have to see what I'm talking about.  So yes, I definitely recommend reading this book! Seduced by Darkness is a definite must read if you loved Promise of Darkness!  The insights you gain were invaluable and watching Vi and Thiago's love bloom was heartwarming
It doesn't matter if she's the daughter of my enemy. It doesn't matter if we barely know each other. We have this and it burns between us. A promise of more. A promise of forever if only I am brave enough to reach out and take it.
Reading Order:
Related Posts