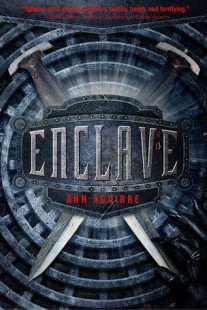 Enclave
(
Razorland #1
)
by
Ann Aguirre
Purchase on:
Amazon
, 
iBooks
, 
Book Depository
Add to:
Goodreads
While I am apparently on a dystopian kick, I found this book and decided it was the perfect solution as to what I should read next. As I read it got increasingly clear that while I was enjoying the premise, the writing wasn't pulling me in. I liked the idea of Fade, of Deuce, of Stalker, but the author didn't write in such a way that built the intensity of a scene or the passionate embrace we were supposed to connect with.
That is honestly the reason Enclave didn't receive more than 3.5 stars.
More than once I would think, "Finally! The scene is going to be so grotesque I can barely stand it!" or "Kiss her you fool!". Two totally different ends of the spectrum, I realize, but that is what the story provoked in me. But, as I said before, the author merely scratched the surface of the story. In situations where she could have really reached some emotional depth that would have made the story spectacular, she left the scene almost cold or unemotional-she barely scratched the surface of what was going on and it dramatically affected the story for me. There was so much more she could have done. I knew how I was going to write that statement, but now that I am almost 90% done with Outpost and it's been 2 days since I finished the first installment, Enclave, my feelings for the series have changed drastically because of how much I love Outpost(#2).
All in all, this read had a lot of potential, but didn't fully deliver for me. The characters were underdone and I didn't care much for the Enclave itself. Once the characters broke free from the boring, restraining college, things started to get interesting-albeit not written to its full potential. Even when they were in the tunnels it was more exciting. Outpost (which I will have a review for VERY soon) has proven to be written with more heart and has turned out to be an altogether better story; I can't wait to finish it.
Related Posts