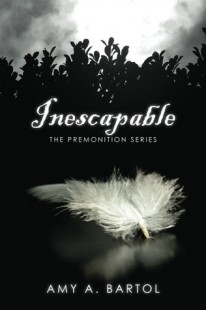 Inescapable
(
The Premonition #1
)
by
Amy A. Bartol
Purchase on:
Amazon
, 
iBooks
Add to:
Goodreads
Throughout the course of my Goodreads experience, I've read many angel and paranormal books that have ranged from extremely corny to the most excellent and well thought out stories I have ever read. While this angel book didn't stand out as excellent, I still thoroughly enjoyed it and had fun reading it all the same.
Evie is actually a pretty funny heroine. She says what is on her mind and doesn't let anyone tell her what to do-namely…Reed. Reed is a brooding enigma from the very beginning, starting their relationship off to a rocky start at best. The minute she steps foot on campus and meets Reed at orientation, she is both immediately drawn to him and creeped out by the sudden intensity with which he wants her to leave Crestwood.
He isn't wearing a shirt…. He shouldn't just walk around like that; it's obscene to have to look at someone so perfect. He should do the world a favor and eat a donut or two.
I instantly fell for the grouchy, pushy Reed the minute Evie layed eyes on him. Obviously there was more to the story than met the eye, and it wasn't clear why he was so antagonistic towards her from the very beginning.
"You have made no secret of the fact that you hate me."
His eyes soften again. "Hate you?" he asks. "Not as much as you might think. And then there is the…what was it…butterflies? That can't be a bad thing, can it?"
As the story unravels, we begin to see Reed change his tune as he becomes enamored with the spunky red head who just won't leave despite his best efforts. I loved Reed and Evie together-they were so sweet and adorable as a couple. He would do anything to protect her, and would even sacrifice his love for her so that she gets what is best in the long run.
Reed lifts his lips from mine, and looking into my eyes, he murmurs, "I want those thousand years with you, Evie, you have no idea how much I want them. I want a thousand years, and then I want a hundred thousand more."
Now, this is the part of the story I didn't enjoy-Russell. What a completely unnecessary character. I GUESS some could say that he was the source of the angst of the story, but more often than not, every time he opened his stupid country mouth I wanted to punch his lights out. Whining the entire story only added to my aggravation of his way of speaking, which was annoying at best. Call the WAH-mbulance, seriously. I won't dawdle on how much I disliked Russell and his 'voice', but just know, he was the biggest reason for that one star deduction.
While the story held a touch of corny dialogue like the author was trying to use words that are 'hip' with our time (PS, she failed miserably-not even close), it never felt so overwhelming that I couldn't ignore it. I was thoroughly engrossed in the story and wasn't deterred, which was a big plus-I wasn't in the mood for corny.
I'm so glad to have found another paranormal series to continue with. Sometimes the NA/YA plain jane stories just don't cut it, and this was one of those times where paranormal made me happier than anything else would have. I will continue onward with no regrets, and I only hope that Evie sticks to her guns with Russell-he's a persistent little shit.
Thanks Jeennnyyyyyyyyyy! I lurrvveeddd my Xmas present!! ♥ ♥
Related Posts