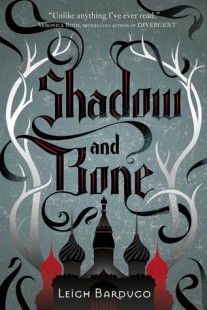 Shadow and Bone
(
The Grisha #1
)
by
Leigh Bardugo
Purchase on:
Amazon
, 
iBooks
Add to:
Goodreads
"I missed you every hour. And you know what the worst part was? It caught me completely by surprise. I'd catch myself walking around to find you, not for any reason, just out of habit, because I'd seen something I wanted to tell you about, or because I just wanted to hear your voice. And then I'd realize that you weren't there anymore, and every time, every single time, it was like having the wind knocked out of me. I've risked my life for you. I've walked half the length of Ravka for you, and I'd do it again and again and again just to be with you, just to starve with you and freeze with you and hear you complain about hard cheese every day. So don't tell me we don't belong together," he said fiercely. He was very close now, and my heart was suddenly hammering in my chest. "I'm sorry it took me so long to see you, Alina. But I see you now."
A few months ago I read a fantasy book (without even realizing it was supposed to be fantasy) and was totally turned off by the completely over-the-top character/animal developments and the mixture of the two. It was both odd and hard to picture, so I told myself I would either stay away from fantasy or be more careful when choosing another candidate. When I saw Shadow and Bone blown up on GR, I started to become curious. Again, I didn't realize it was fantasy per se, but when I did start reading it didn't bother me one bit.
I think that's what makes someone tick-even though a book or something might be out of your comfort zone, all that matters is how the story is developed and what the author does to make you forget it's genre at all. It's what makes you happy and what appeals to your taste. (I'd like to point out that while this was fantasy, there were no humans with animal heads present-thank God.)
Alina and Mal are orphans who grew up together and were dubbed unextraordinary with no Grisha talents to speak of. Being a Grisha provides you with a lavish way of living and would ultimately change, say, an orphan's life forever. But not if an orphan just wanted to stay with their only friend, not if they push whatever talent they possess to the backburner to be with the only person they care for. All these years later, Alina still feels unnecessary and as if she doesn't belong, while Mal has grown into an expert hunter who could have any girl he wishes.
"I'm not like you, Mal. I never really fit in the way you did. I never really belonged anywhere."
"You belonged with me."
Then one fateful night when the settlement has to move across the dangerous Fold (where it is always dark and winged creatures circle above waiting for easy prey to cross) and many lives are most likely to be lost, Alina's hidden away talent that she had all but forgotten about resurfaces and saves the lives of numerous people-including Mal, the guy she has loved her entire life.
I absolutely adored this story. We have Alina, this mousy, insignificant girl who has never really fit in. This girl who holds the key to possibly destroying the one thing that all colonies/towns/settlements/whatever fear, and she doesn't even realize her potential. And with newfound power comes new enemies and new friends, some more pure than others, while some have a hidden agenda. You will fall in love with characters so fast it makes your head spin, and you will be quick to despise other characters-but be careful, those you chose to love might be corrupt, while the characters you chose to dislike might just be Alina'a only true allies.
"The problem with wanting," he whispered, his mouth trailing along my jaw until it hovered over my lips, "is that it makes us weak."
I can't even begin to express how ecstatic I am to have read and fallen in love with this utterly captivating and off the wall book. In all honesty, it reminds me of a magical Hunger Games, which is my favorite series of all time, mixed with a paranormal dystopian. And maybe that's why I decidedly fell for this book so quickly. It contains all the elements of my favorite stories/genres, and the characters were so fun to obsess over. Once Alina is summoned by The Darkling to both strengthen and showcase her abilities, it all starts to move at a fast pace and you become so engrossed you don't even realize you're almost finished. Almost as quickly as I picked up my ereader, I was putting it back down again because I was finished.
Witty, fast-paced, and all around fun, I will be sure to re read this again soon-it was just that good.
Related Posts