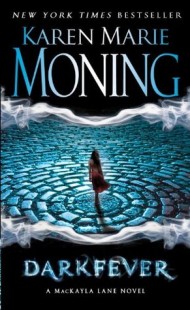 Darkfever
(
Fever #1
)
by
Karen Marie Moning
Purchase on:
Amazon
, 
iBooks
, 
Book Depository
Add to:
Goodreads
I think this is one of those reviews where less is more. There was so much going on at all times in this book and we had so much we had to learn and take in. I still don't quite understand everything I was told, which will come more easily, I'm sure, in the next installments.
I think the basic thing I need to address is the likability of the story and the characters. As a story, I did find myself inexplicably drawn to everything that was happening. I would put the book down and then feel myself reaching for it after only five minutes of it's absence, despite the fact that I had no clue what was going on.
No, it wasn't a favorite of mine, but it was on the cusp of being something very….special. The ending not only surprised me, but made me want to forget that I wanted to read something else after it-I ended up going straight through to book two. I think that says something about the story.
Or maybe it's the magnetism of the characters. Despite what I've heard (and read) of Mac's vapid tendencies and inner monologue, I found I still enjoyed being inside her head. She was funny and determined, not to be so easily deterred by the brooding Jericho Barrons. Speaking of Jericho…frankly, he is the reason I am so drawn to the story. I don't know what his deal is, but I have to find out. The whole time I just wanted him and her to kiss, to release the sexual tension that subtlety built between them. It drove me crazy-so here I am halfway through book two already-Just because I want more Barrons.
So, there isn't much to say aside from the fact that I was pulled in and bought the story enough to move forward with the series. There is just something about mysterious characters in a faraway land (or so it seems…Ireland?? Pretty far away!) where you don't find out enough about each person, but just have to know more. I am both excited and anxious to see where this series will go.
Related Posts