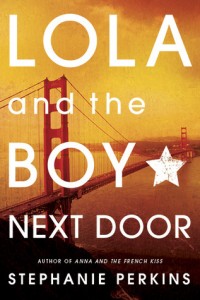 Lola and the Boy Next Door (Anna and the French Kiss #2)
by Stephanie Perkins
Purchase on: Amazon, iBooks, 
Book Depository
Add to: Goodreads


While I adored Cricket and everything to do with Cricket, his presence wasn't enough to salvage my love for the story. Not bad at all, but not utterly overwhelming either. This book and, admittedly, this relationship, was eclipsed in the shadow of Anna and St. Clair. The feels, the butterflies, the emotions, that perfect amount of angst….that was preserved alongside Anna and the French Kiss on my absolute favorites shelf. That's not an easy slot to fill, and maybe I rushed in too quickly thinking all the same emotions would surface, which is wholly my fault. So, I think it's safe to say that while I did enjoy the story, I didn't love it. I don't want to write a mixed review, because I just don't feel it. I liked it enough I don't want to tarnish it with petty words and comparisons, but I didn't like it enough to take two hours to compile my thoughts and overabundance of quotes for a review.
My heart belongs to Anna and St. Clair, and I don't think that will change anytime soon….or ever, for that matter.
Related Posts