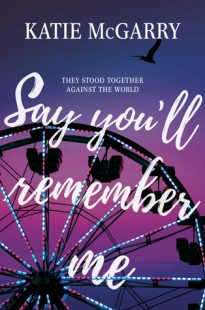 Say You'll Remember Me
by
Katie McGarry
Purchase on:
Amazon
, 
iBooks
, 
Book Depository
Add to:
Goodreads
Synopsis:

"Doesn't matter who did it. Not anymore. I did the time. It's over."

When Drix was convicted of a crime--one he didn't commit--he thought his life was over. But opportunity came with the Second Chance Program, the governor's newest pet project to get delinquents off the streets, rehabilitated and back into society. Drix knows this is his chance to get his life back on track, even if it means being paraded in front of reporters for a while.

Elle knows she lives a life of privilege. As the governor's daughter, she can open doors with her name alone. But the expectations and pressure to be someone she isn't may be too much to handle. She wants to follow her own path, whatever that means.

When Drix and Elle meet, their connection is immediate, but so are their problems. Drix is not the type of boy Elle's parents have in mind for her, and Elle is not the kind of girl who can understand Drix's messy life.

But sometimes love can breach all barriers.

Fighting against a society that can't imagine them together, Drix and Elle must push themselves--Drix to confront the truth of the robbery, and Elle to assert her independence--and each other to finally get what they deserve.
Review:
Say You'll Remember Me was a beautiful, tragic, heartwarming story that had my emotions all over the place.  I love that it reeled me in and that it felt as though I was right in the middle of their lives.  I loved even more that I got to feel every single smile, hope, hurdle and soul crushing moment with them.  So of course I found my heart beating faster at the tension between Elle and Drix.  I wanted them to have more.  So much more.  Ohhh I absolutely loved Say You'll Remember Me and I can't recommend it enough!
It's like every time we try to dig out of a hole, someone's shoveling more crap on top of us. There will never be a way out. – Drix
Stepping into the story, I was already a goner for Drix.  I always fall hard for the tortured hero, and he played the part so hauntingly well.  You see, he spent the last year of his life paying for a crime he didn't commit.  Which was robbing a liquor store.  And he sacrificed himself to save one of those he loved. *clutches heart*  When he was released back to his family, Drix was lost, broken and unsure of himself and how he fit back into his life.  It wasn't until he met Elle, at the Midway, that he finally felt as though he could be himself.  There was an ease between them that he wasn't able to find with his friends or family.  But it was all so ironic, because Drix learned that Elle was the Governor's daughter.  And Elle learned that Drix was the face and voice of the Governor's "Second Chance" Program.  They shouldn't be friends, let alone be anything more.  Yet fate had other plans for them.
"Do you always grow horns when you're mad, or do you save that for me?" Drix stretches back out, too.
I sort of hate myself that my lips turn up. "Evidently just for you."
So even though they came from opposite worlds, they clicked.  And the more time that Drix and Elle spent around each other on the campaign trail, a friendship easily formed.  I loved that their friendship consisted of them being brutally honest while also throwing jabs at each other.  It was impossible not to smile or laugh when they were near one other.  But as time went by, we got pulled deeper into their lives.  And we watched as hurt and pain bled from the pages.  It all tore at my heart, and I can't even count how many times I cried or found myself sobbing.  The struggles, heart ache, betrayal and revelations for both Drix and Elle rocked me to the core.
"Elle, it's okay."
That's the thing— it's not okay. I'm seventeen years old, I don't know who I am, and I don't have any idea how to get my parents to take me seriously. I'm trapped, and I can't breathe. – Elle
Thankfully we got to alternate between Elle and Drix.  So while I fell hard for Drix, I also found myself loving every single thing there was about Elle.  Elle was honest, strong, determined, found the good in people and she definitely didn't have a problem speaking her mind.  Welllllll except certain moments with her parents.  And those moments hurt to watch, because while she loved so strongly, her parents idea of love didn't always line up with mine.  Thankfully she now had Drix in her life, because they found solace with one another.  And that only pulled them closer together.  Their slow burn romance was super addicting and when you add in that they were forbidden in a way, it just upped my obsession with them!  Together they were sweet, sexy and such an honest relationship to watch unfold.
"Why can't you be both?" she asks. "The guy who wants to kiss me and the good guy?"
On top of Elle and Drix, there was side characters that I loved so much.  Drix's "family" was beyond amazing.  I'm definitely keeping my fingers crossed that maybe someday there will be another book about his sister, brother or even best friend?!  Please??  Because I'd love to hear about their HEAs!  So yes.  I highly recommend this book!  And that's huge for me since it had one of my triggers View Spoiler »a dog we get attached to dies « Hide Spoiler.  Say You'll Remember Me was such a beautiful story of love, friendship, redemption and doing what's right, no matter the price.  And I absolutely loved it!  
*ARC kindly provided by Inkslinger/Harlequin Teen via Netgalley in exchange for an honest review*
Excerpt:
[scroll-box]
~Ellison~
The two of us are different. Complete sliding scale different. The only thing we have in common, as far as I can tell, is that he appears about my age and that we are both wearing shoes. My sandals to his scuffed combat boots. His sagging jeans with rips and white T-shirt to my ironed khaki shorts and fitted blue top. My diamond earrings and gold bracelet with a heart charm to his black belt that has metal studs and silver chain that hangs from his belt loop to his wallet.
By looks, I should have more in common with the loser college boys, but it's this guy I'm comfortable with. "What's your name?"
He throws the ball, and he's right, he sucks at it. While he has unbelievable power, his aim's completely off. The ball hits the back curtain with a loud thud, then drops to the floor. "Drix."
"Drix?" I repeat to make sure I heard him correctly.
"Drix. It's short for Hendrix. Like Jimi Hendrix."
"That's cool." Because it is.
I wait for him to ask for my name, but he doesn't. Instead he says, "Are you here alone?"
He throws the second ball, and this time he hits the top of the three bottles, sending that one to the ground.
"No. My parents are here. I'm supposed to meet them at the convention center. What about you? What happened to the people you were with? Or are you here alone now?"
"Yes, but no." Drix pulls his arm back, releases the ball, and when the ball hits the bottom bottles, my heart lifts with the idea that he won, but only one of the bottles goes flying. The other stays completely untouched.
He turns in my direction, but his gaze roams over my shoulder, then flickers to the left. Drix then glances behind him, and when he returns his attention to me he raises his eyebrows. "They appear to be gone."
That's awesome news, but I'm still stuck on his answer of "yes but no." Honestly, I'm stuck on him. He's a million questions without a single answer, and he makes me incredibly curious.
"My parents weren't thrilled about me hanging out alone at the midway, but I didn't think it would be that big of a deal. It's just Whack-A-Mole, you know?"
"And a ball toss."
"And a ball toss. None of it should have been complicated."
"Shouldn't have been."
"Elle!" Part of me is relieved to see Andrew craning his neck over the crowd. Another part of me is majorly disappointed. There aren't many times in my life I'm left alone. Not many times I'm able to explore new places and people without someone hovering and not many opportunities when I would meet someone like Drix.
"Elle," Andrew calls again. I wave at him, hoping it will buy me a few seconds, and he waves back in a way that tells me he needs me to walk in his direction. That works well for me.
"Is that a friend of yours?" Drix asks.
"Yes, but no." I borrow his answer because it's apropos. Andrew's a few years older. More friend of our family than a personal friend of mine, and I don't like the idea of explaining that my parents think I need a babysitter.
Drix's mouth twitches at my words, and my lips also edge upwards. "I just made you smile a third time. Is this a Guinness Book of World Records thing?"
"I liked your answer."
"I'm just creative like that."
[/scroll-box]
Pre-Order:
Amazon ✮ B&N ✮ iBooks ✮ Google Play ✮ BAM ✮ Kobo
      
Pre-order SAY YOU'LL REMEMBER ME, register and you will receive AND THEY ALL LIVED HAPPILY EVER AFTER, a novella that features your favorite Pushing the Limits and Thunder Road characters!
From the Pushing the Limits series, Noah, Beth, Isaiah, West and Logan are all grown up. Catch up with your favorite characters as one of them finally says, I do.
Pigpen, Eli and Addison from the Thunder Road series: Three separate personalities who still needed to find love…and still had someone important to meet.
This is a limited time offer! So hurry! Registration ends on February 3, 2018! You must register your pre-order to receive AND THEY ALL LIVED HAPPILY EVER AFTER.
About Katie McGarry:
Katie McGarry was a teenager during the age of grunge and boy bands and remembers those years as the best and worst of her life. She is a lover of music, happy endings, reality television, and is a secret University of Kentucky basketball fan. Katie is the author of full length YA novels, PUSHING THE LIMITS, DARE YOU TO, CRASH INTO YOU, TAKE ME ON, BREAKING THE RULES, and NOWHERE BUT HERE and the e-novellas, CROSSING THE LINE and RED AT NIGHT. Her debut YA novel, PUSHING THE LIMITS was a 2012 Goodreads Choice Finalist for YA Fiction, a RT Magazine's 2012 Reviewer's Choice Awards Nominee for Young Adult Contemporary Novel, a double Rita Finalist, and a 2013 YALSA Top Ten Teen Pick. DARE YOU TO was also a Goodreads Choice Finalist for YA Fiction and won RT Magazine's Reviewer's Choice Best Book Award for Young Adult Contemporary fiction in 2013.    
Givweaway:
Follow The Tour:
[scroll-box]
January 22nd
The Sisterhood of the Traveling Book Boyfriends
January 23rd
January 24th
January 25th
January 26th
MrsLeif's Two Fangs About It Book Reviews
January 27th
An Asian Chick & Her Cat Walk into a Book Blog
January 28th
January 29th
Rants and Raves of a Bibliophile
January 30th
January 31st
Fictional Rendezvous Book Blog
February 1st
Katy and Zetti's Book Ramblings
February 2nd
Angie and Jessica's Dreamy Reads
February 3rd
[/scroll-box]
Related Posts
I fell head over heals in love with Say You'll Remember Me! So check out my 4.5 Star Review below, read an excerpt from the first day they met, check out the pre-order campaign and don't forget to enter an amazing giveaway. Enjoy!