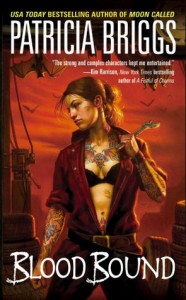 Blood Bound
(
Mercy Thompson #2
)
by
Patricia Briggs
Purchase on:
Amazon
, 
iBooks
, 
Book Depository
Add to:
Goodreads
"A man who will risk nothing for love is not a man."
Hmmmmm….well good lord here I am again and I don't know what to say!!!! Perhaps, while I'm finding my footing with this series, there won't be much to say until I can figure out how I want to say it and what I truly feel. Because right now, as it is, I like it, but am waiting for something epic to happen. The end of this book was a lot closer to what I'd been expecting so I'm hoping book three will transport me to another place….take me where I've been wanting to go. But here I am stuck in the middle, not sure how to feel…not yet.
I rubbed my eyes. "Are you asking for quarter? I'm not in a particularly merciful mood." I can make fun of my name, but no one else can. Unless I'm in a really good mood. Or if I start it first.
Mercy continues to be a favorite of mine with her snarky 'don't tell me what to do attitude' and her loyalty to those around her. She's funny and intelligent and I wouldn't mess with her if I were ever in the same area as she. One of the things that makes her a special character is her determination-she can't run with the big wolves, but she damn well tries. Even though she knows she can only do the minimal, she does it anyway-she exerts herself above and beyond her physical limit. She's fierce and wants to help her friends in any way she can…even if she's only a tiny coyote among a pack of super-charged vampires and wolves. I admire that.
"Mercedes," said Stefan's voice in my ears. "Sit down."
"What's wrong?" I don't take orders well: I stayed where I was.
Now, oh my gosh, there was one scene where I literally lost my breath and about pooped my pants. I kid you not-now, I'm all about the paranormal and I've even read a few terrifying romance books….but I just didn't expect it out of a werewolf book…maybe I should have?? Either way, this scene is everything I fear when I have to be at home alone and I really wasn't expecting it. But, in some sick way, I kinda loved what came after. I'm so weird.
I was tempted to turn around and go back into my bedroom with the dead man in my closet. Now, I'm not very vain. If I'd ever been, making my living covered in various grease and dirt mixtures would have cured me quickly. Still, I wasn't up to facing two sexy men when I had one eye swollen mostly shut and half of my face black and blue.
And finally, the romance-Mercy has two boys who truly care for her, and she has a tough road ahead in choosing who best suits her. As for me, I adore Adam…still. He's sexy, protective, lightly possessive, and he seems like he would be a great character for her to make little wolf babies with, lol. Sam is wonderful and swoony, too, but Adam has stolen my heart for whatever reason. At the end of the story we finally started to get some romantic development and I loved that….I sincerely hope there's more in book three.
"Damn it," I said. " I don't suppose you have any ideas on how to kill Littleton."
He smiled at me, his teeth very white in the darkness of his face. "Eat him," he said.
"Very funny." I turned to leave.
"Kill the vampire and the demon goes away," he told me. "That's what the witch told Adam. And you kill a vampire by staking him, cutting off his head and then burning him."
"Thank you," I told him, though it was nothing I didn't know.
After I shut the door behind me, I heard Darryl say, "Of course, eating him would work, too."
The biggest complaint I have, again, is all the explanation. This is great but….I'm not fully immersed or hooked yet. I don't tend to retain information until I'm fully engrossed in a story and I'm not quite there yet. And then, and it's so odd, some parts are glossed over. It mentions that Mercy and *cough* one of da boyz go to the movies, but it didn't show that part. I don't quite get why. This series has a large following and people seem to LOVE it, so obviously Briggs has a master plan I'm unaware of and need to get to. I'll hold judgement until then, because without all the facts in this long series, who am I to judge?
One of the hallway doors was pushed open with a crash. Through the curtain of my hair I watched Andre fly through the doorway and land in an ungraceful heap on the floor.
Littleton liked to throw things.
So, here I go onto book three….and I really hope it is pivotal-I need it to be.
Related Posts