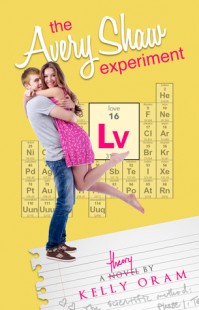 The Avery Shaw Experiment by Kelly Oram
Purchase on: Amazon, 
Book Depository
Add to: Goodreads


Synopsis:

When Avery Shaw's heart is shattered by her life-long best friend, she chooses to deal with it the only way she knows how—scientifically.

The state science fair is coming up and Avery decides to use her broken heart as the topic of her experiment. She's going to find the cure. By forcing herself to experience the seven stages of grief through a series of social tests, she believes she will be able to get over Aiden Kennedy and make herself ready to love again. But she can't do this experiment alone, and her partner (ex partner!) is the one who broke her heart.

Avery finds the solution to her troubles in the form of Aiden's older brother Grayson. The gorgeous womanizer is about to be kicked off the school basketball team for failing physics. He's in need of a good tutor and some serious extra credit. But when Avery recruits the lovable Grayson to be her "objective outside observer," she gets a whole lot more than she bargained for, because Grayson has a theory of his own: Avery doesn't need to grieve. She needs to live. And if there's one thing Grayson Kennedy is good at, it's living life to the fullest.
Theory : The Avery Shaw Experiment isn't a contemporary romance but a fairy tale.

Hypothesis : She is the perfect picture of a Damsel in Distress.

Evidence #1
She doesn't know how to deal with emotions and loss alone. Like, at all. She needs everyone all the time. Of course I understand she has issues with social interactions. I get it, really. However I'd have appreciated if she had less seemed like a bag others must carry. If I'm totally fair, she does improve toward the end, I must admit.

Evidence #2
She'd never been kissed and has big pleading eyes. Plus her scent is fruity mouth-watering. Oh, and she blushes! All the freaking time. I'm pretty sure that's her number one occupation. Blushing.

Evidence #3
She's smart, yet beautiful in a doll way (aka all cute and soft) and of course she hasn't any clue about it. She's different and special.

Evidence #4
She's annoying. I wanted to slap her at some point. Yes, that's totally a proof, duh.
Consequences : I had a hard time connecting with her and wasn't either keen on her personality or her behavior.

Hypothesis : He's Prince Charming.

Evidence #1
He falls for the damsel in distress mentioned above faster than I read. Okay, I know what you think : he knew her before and hadn't fall for her but let's face it : the first time he sees her all heart-broken he's completely charmed.

Evidence #2
He's such a symbol of acceptance and understanding. Seriously. Even when Avery abandon him in the middle of their date, he stands here, all adorable. Kind of wanted to both kiss and shake him. The guy spends the whole book helping Avery without never ever complaining while the girl is seriously aggravating sometimes.

Evidence #3
He's perfectly handsome in a golden boy way. How boring. I'm sorry but golden boys without any freckles (yes, Avery says that) are only so damn dull in my opinion.
Here's how I picture him :


Yep. Frightening, I know.

Evidence #4
He used to be a womanizer. Okay, we're never told about Prince Charming's love lives before they met the princesses but let's face it. Seriously. Handsome. Rich. Powerful. Duh.
Bonus point! He's called "the King of the school". Of course that's a clue, isn't it?
Consequences : I'm not saying Grayson wasn't cute or adorable or swoon-worthy. He was. But he was also completely unbelievable and well, he looks like Ken.

It was a cute read but certainly a fairy tale disguised as a contemporary romance. I wanted to read the later that's why I'm disappointed. And who says fairy tale also says more clichés.
And more clichés mean –

Related Posts