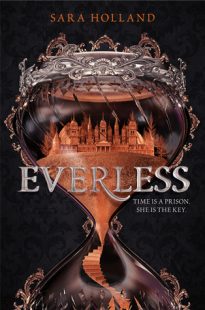 Everless
by
Sara Holland
Purchase on:
Amazon
, 
iBooks
Add to:
Goodreads
Synopsis:

In the land of Sempera, time is extracted from blood and used as payment. Jules Ember and her father were once servants at Everless, the wealthy Gerling family's estate, but were cast out after of a fateful accident a decade ago. Now, Jules's father is reaching his last hour, and she will do anything to save him. Desperate to earn time, she arrives at the palace as it prepares for a royal wedding, ready to begin her search into childhood secrets that she once believed to be no more than myths. As she uncovers lost truths, Jules spirals deeper into a past she hardly recognizes, and faces an ancient and dangerous foe who threatens her future and the future of time itself.
Oh, I loved this. Full of mystery, intrigue, and… well, more mystery.
The plot was super fun and unique, and for the life of me, I couldn't predict a thing. Ladies and gentlemen, we have a page-turner here. I'm pretty sure I read the whole thing in almost 24 hours – I seriously couldn't set it down after the 20% mark.
Really quick – a big thank you to the publisher for providing me with an arc!
In a world where time is bound to blood, and people exchange blood/time currency to live, we follow Jules, the protagonist, as she makes the difficult decision to return to work at Everless, an estate owned by one of the most powerful families in the kingdom (and dangerous, I might add.) Jules and her father previously worked there, but due to a nasty accident and threats from one of the Everless sons, Jules father was determined to keep her from ever going back.
But now she needs the money.
Sooooo Jules returns and works as a servant, though she is quickly noticed by the two sons she knew as a child. All the while, she discovers some big secrets about her past and why she was really kept away from the Everless estate. Craziness ensues when the Queen arrives. Jules's father shows up and begs her to run away and stay far away from the Queen. BUT WHY?! So basically, we have a very confused Jules who keeps finding tidbits about her past and how its woven through a mysterious history linking back to when time was originally bound to blood iron. Which probably makes no sense without reading. Just roll with it.
Anyway, I can't say anything else without giving up some major secrets, but I recommend going in blind. There are so many twists and turns, and wowzah, a major plot twist. I did NOT see it coming, and I always see them coming. I'm not even sure if I'm particularly happy with the direction, but I don't care because the concept was SO COOL. My only complaint is the magic system, while it was SO AMAZING, also felt a bit muddy at times, and the book was a *touch* slow in the beginning. Whatever, I don't even care because I loved it overall.
Basically, all the stars for the crazy cool, totally original tale. One of the most unique magic system's I've ever seen. And if you're wondering about romance? Literally, anything I say will be a spoiler, but it was fairly minimal – but a really interesting set up for the sequel. I typically have to have a *smidge* of feels or someone to root for romantically, and you'll definitely feel that way here, so don't worry. And if you're someone who prefers romance to be minimal and not take over the plot, well… check. You'll be pleased as well.
Needless to say, I'm ready for book two…