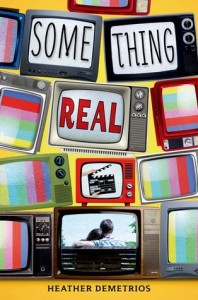 Something Real
by
Heather Demetrios
Purchase on:
Amazon
, 
iBooks
, 
Book Depository
Add to:
Goodreads
Synopsis:

There's nothing real about reality TV.

Seventeen-year-old Bonnie™ Baker has grown up on TV—she and her twelve siblings are the stars of one-time hit reality show Baker's Dozen. Since the show's cancellation and the scandal surrounding it, Bonnie™ has tried to live a normal life, under the radar and out of the spotlight. But it's about to fall apart…because Baker's Dozen is going back on the air. Bonnie™'s mom and the show's producers won't let her quit and soon the life she has so carefully built for herself, with real friends (and maybe even a real boyfriend), is in danger of being destroyed by the show. Bonnie™ needs to do something drastic if her life is ever going to be her own—even if it means being more exposed than ever before.
His hands settle on either side of my waist, and I lean into him. It's terrifying, caring about someone this much. To allow them to be the air you breathe.

I think it goes without saying that I've found an amazing new author to obsess over. There is literally nothing-ABSOLUTELY NOTHING-better than an author who knows how to write characters that are both diverse and unforgettable and a story that is not only authentic, but makes you crave for more, even as you turn the last page. It isn't often that I become completely sad for a story to end, but twice in a row, as I've read her books, I've slowly started to turn into a melancholy piece of work as I realized, yet again, that a new favorite set of characters were about to disappear from my life forever.
"Patrick…I'm sorry, I wanted to but-"
"Don't listen to a word my sister tells you, Patrick Sheldon. Unless it's that she wants you."
I. Am. Going. To. Kill. My. Brother.
Ever calm, cool, and collected, Patrick gives me a sardonic raise of his eyebrows, then he turns and flashes Benny a half smile. "Excellent."
I won't lie and say I got immediately sucked into this one like I did with her other contemporary, I'll Meet You There. There was just something so touching about that boy who came back from the war a broken man and Sky's struggle to get out of her suffocating hometown. In that regard, I saw many similarities in the story-the idea that our main character was suffocating and longing for a different role in life. And while I still was immediately drawn to the wonderful and absolutely addictive writing style of Demetrios, I struggled to follow all the chaos surrounding the first quarter of the book. We get introduced to a very hectic lifestyle where cameras are shoved into the main character's face at every turn and we meet all 11 of her siblings in a rapid fire of thoughts and different scenarios. And while it wasn't necessarily difficult to follow, I still struggled to fall effortlessly into the story because I was so tired after a long work week. It was just a lot, at first.
Patrick watches off to the side, his hands in his pockets. I love the way he looks at me. There's chaos all around him-shrieking kids, a camera crew, my mother. But he's undaunted, calm as ever, just leaning against the wall. It's like he can put the world on mute for me.
But, as I have discovered with Demetrios's writing, it did NOT take me long to fall hard for this story. Or namely…for a boy named Patrick. Gosh, really? I mean, REALLY?! How is it possible for an author to create such visceral characters that I physically ache for them to truly exist. Seriously-first Josh, the soldier who still has his claws sunk deep into my heart (I'm not sure I'll ever recover from him-MY GAHD). And now? Now we have the super sensitive Patrick who would do literally anything-ANYTHING-for Bonnie/Chloe. It was beyond adorable to see what he was willing to do to get time with her, to protect her, to be there for her….when something started to go awry with the show, he'd immediately find a way to contact her and was always understanding and always irate on her behalf. It was utterly heartwarming to see how much he loved and cared for her. If he could have wrapped her up in his arms to shield her from the world, I really think he would have. The amount of support in his warm brown eyes was almost too much to handle…seriously.
Sheldon1015: Hey…you awake?
Sheldon1015: Your phone is off. I think you have enough evidence if you want to tell the police you have a stalker-I left way too many anxious boyfriend texts.
Sheldon1015: Crap. MetaReel can't read your texts can they? I don't know how them tapping your phone actually works.
Sheldon1015: Chloe.
Sheldon1015: Chloe.
Sheldon1015: Chloe.
Sheldon1015: This is my cyber version of throwing pebbles at your window. Is it working?
YoSoyChloe: Hey
Sheldon1015: Hey! (I'm still working on the right term of endearment for you, so know that I'm saying more than "hey.")
And Chloe…Bonnie…whatever we call her, she was quite the main character to follow. Growing up in a world with no privacy, Chloe started out her life in a very abnormal fashion-everything she did, everywhere she went, every defining moment in her life was all recorded for America to witness. And wouldn't this mold a child in an odd fashion? Maybe most come out alright, but for Chloe it was suffocating, blinding, torment. The walls began to close in around her and she felt she had no other options than to seek a way out…and it destroyed the show forever. Or so she thought.
The room seems to get smaller and smaller as more people crowd into it, and I can't think, it's so loud. I push past my siblings, throw my hand up against a camera lens that blocks my path.
"Get out of my way!" I scream. I stumble blindly past bodies, tearing at the high neck of my dress, gasping for air. I'm choking, gagging. I have to get upstairs before I throw up. Please let me get upstairs. Please, God, please.
Fast forward 4 years later and MetaReel is back, right when Chloe has began to feel normal and whole again. Right when she has normal friends, a normal crush, a normal mediocre life. She immediately gives way to panic and begins to feel the walls closing in around her again, but there's nothing she can do. If she ruins the show again it could cost her family, and she doesn't want to do anything more to hurt them or their image-even if it almost kills her to do so.
"Just thinking about how I'm going to be a lonely old cat lady living all by myself someday," I say.
Tessa shakes her head. "Not if Patrick has anything to do with it."
"What's that supposed to mean?"
I watch my boyfriend score a goal with expert precision. Is there anything he's not good at?
"Chlo, that boy has forever written all over his face when he looks at you. A cat lady you shall never be."
But lets not forget her shining rays of hope: Her brother, Benny, whom I adored, her newly acquired boy, Patrick, her best friends, Mer and Tessa, and then Benny's boyfriend, Matt. When the book finally began to close in and center around this wonderful little cast of characters, that's when the story really began for me. We started to see how deeply rooted her support system was and how much they all cared for her (and Benny-since he was in the same situation). We saw the backlash of not conforming to what your family wants and what happens when you don't follow what everyone thinks you need to be doing. Word gets out that Chloe Baker is actually Bonnie Baker, and the safe little bubble she's created for herself explodes.
"…But I really…I've been wanting to ask you out for a while now, and I wish I'd done it earlier, before all this happened, but I wasn't totally sure…I mean, one minute I'm convinced you feel the same way, and the next you hardly talk to me. But that day you ran out of class, all I wanted to do was follow you. I couldn't handle seeing you upset like that. Um"
…
"Sorry. What was I saying?"
"You wanted to follow me."
This is the best day of my life. Which is weird, because it was maybe the third worst about five minutes ago.
"Right. So. My question is, how do you feel about boyfriends?"
Best. Day. Ever.
"I feel…do you mean boyfriends in general or specific boyfriends?"
"Very specific."
"Isn't there an order to this? Aren't there steps that we're skipping-"
"Screw steps. I want to be with you."
I really enjoy this author and am sad there aren't many books to binge read. I am in a serious I-need-more-by-this-author funk and I don't think it's going to be easy to move on after her last two stories I have read. I can't even begin to express what her books, the friendships, and the boys she creates mean to me, but I hope my ramblings do an okay job. No, this didn't touch I'll Meet You There, but I still loved it for different reasons. Not every book has to reach you in the same ways-all you need is the comfort of that author's writing for you to feel grounded and like you are where you belong. When I read these books, it feels like I'm finally coming home. What more can a girl ask for?
***********************************
*4.5 Stars*
One thing is has became absolutely crystal clear to me this past week:
Heather Demetrios creates THE BEST male leads. EVER.
Like, wow.
Oh, Patrick. I love you. ♥
Review to come.
Related Posts