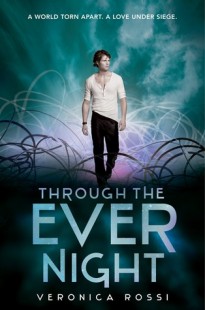 Through the Ever Night
(
Under the Never Sky #2
)
by
Veronica Rossi
Purchase on:
Amazon
, 
iBooks
Add to:
Goodreads
Synopsis:

A world-defying love is put to the ultimate test in the New York Times and USA Today bestselling sequel to Veronica Rossi's "masterpiece," Under the Never Sky (Examiner.com ). In this second book in her spellbinding Under the Never Sky trilogy, bestselling author Veronica Rossi combines fantasy and dystopian elements to create a love story as perilous as it is unforgettable.

It's been months since Aria last saw Perry. Months since Perry was named Blood Lord of the Tides, and Aria was charged with an impossible mission. Now, finally, they are about to be reunited. But their reunion is far from perfect. The Tides don't take kindly to Aria, a former Dweller. And with the worsening Aether storms threatening the tribe's precarious existence, Aria begins to fear that leaving Perry behind might be the only way to save them both.

Threatened by false friends and powerful temptations, Aria and Perry wonder, Can their love survive through the ever night?
Review:
Through The Ever Night captivated my attention and made me an emotional mess.  I was constantly flitting between butterflies, smiles, devastation and heartache.  And by that last page, I realized that this series has easily become one of my favorite dystopian series ever!  So saying I have HUGE expectations for the final book is definitely an understatement!  While I keep my fingers crossed for what will happen next, here are some of my favorite things about this series so far:
Perry held her against him. "I missed you," he whispered in her ear. He couldn't hold her close enough. "I should never have let you go. I missed you so much."
✮A world that had become even more frightening – While I struggled grasping their world in the first few chapters of Under The Never Sky, everything is so clear and concise now.  But this time around it almost felt like their world was a living and breathing entity.  The weather, the land, it had all become so much more prominent in my eyes.  It felt as though the weather was alive.  Ready to strike at any moment.  It gave me the chills and added to the uncertainty of their fate.  Because you never truly knew what would happen next.
Her life was in danger. Her mission was in danger. She drew a breath and stood. She wouldn't let herself fail.
✮A heroine and hero who grew separately and together – The amount that Perry and Aria grew throughout the book made me so proud of them.  They were able to act from not only the knowledge they learned from others, but also the knowledge they gained from the decisions they made.  Which definitely weren't always the best ones.  So by the time I reached the end of this book, I was clapping my hands for how far each of them had come and grown!
What if this was a sign? Maybe I'm not supposed to be an Outsider.
He surprised her by taking her hand and threading his fingers through hers. "You already are an Outsider. You fit everywhere. You just don't see it yet." – Aria & Roar
✮Secondary characters that deserve the limelight – There were so many secondary characters that stood out vibrantly to me.  I was shocked and at the same time terrified, because I don't want to be attached to that many characters.  In their brutal world, life can stop existing in the blink of an eye.  But among those secondary characters, Roar was my favorite by far.  He was Perry's best friend, who became one of Aria's closest friends.  He became just as important to me as Perry and Aria.  Roar was hilarious, charming and seductive.  He created butterflies in my stomach and I was always left wanting to know more about this man.  And as the pages unfolded, his happiness and suffering easily become mine.   I grew to attached to him, and his fate became just as important to me as Perry and Aria's.
Her gaze dropped to the ground between them. Three paces for her. Two for him. Moments ago they'd been pressed together. Now they stood apart like strangers. Like everything had just changed.
✮I loved how the story developed – As the pages unfolded, we were taken back to a struggle the existed in Under The Never Sky.  Which was the stark differences between Aria and Perry.  Not only was their genetic makeup different, but they were from completely different worlds.  They were supposed to be enemies.  And although they had created a bond and started to care for one another, I loved how people threw this element into the forefront.  How it wasn't just forgotten or swept under the rug.  It affected the journey that took place in this story.  But my favorite thing was that it caused some unexpected twists and turns which kept me on my toes.
This series has been so much fun to read so far.  The peril, the laughter, the unknown all has my full attention and I can't wait to see what will come next!
Related Posts