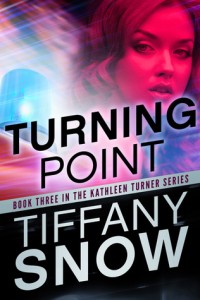 Turning Point
(
Kathleen Turner #3
)
by
Tiffany Snow
Purchase on:
Amazon
, 
Book Depository
Add to:
Goodreads
Synopsis:

After her promotion from law firm Runner to Investigator, Kathleen Turner is learning the ropes of her new job from none other than assassin-for-hire Kade Dennon, a situation her boyfriend Blane Kirk is none too happy about. But the lessons with Kathleen take a back seat when Kade becomes a target. Previously untouchable, his enemies now know of the chink in his armor – his brother's girlfriend.

And Kade's not the only thing coming between Kathleen and Blane. From Blane's inexplicable defense of a man guilty of a horrible crime, to a mysterious stranger from Kathleen's past, to Kathleen' risky investigation into human traffickers, the obstacles mount against a relationship that's just begun to find trust again.

While Blane considers a job offer that would take him back to the front lines in the war on terror, Kathleen is determined to pursue her new career, with or without his approval. Unfortunately, her current case is far more dangerous than anyone knows. Someone close to Blane will go to extreme lengths to split them up, lengths that may prove worse than death for Kathleen.

Kathleen, Blane and Kade must atone for the sins of the past and the present. The fallout will force Kathleen to a turning point...in her career, and her life.
His body blocked mine where I stood. Tipping my head back, I looked up at him. His eyes burned a path down my body.
"Fuck bullets," he rasped. "You're going to be the death of me."



Well, well, well….here we are at that beautiful four solid star rating….but it's still not enough to be above a true 3.5. I'm not sure it will ever be above that, seeing as I hear it only becomes worse (The love traingle, the unbelievable action, the solution to aforementioned triangle..). But, as I've said many times before, this series is a release. I'm not rushing to the next books to immediately move on and I'm only reading it during the week when I'm a little busier-This series is an escape-a moronic, albeit addicting, escape.
"Tell me you don't want me," he demanded. "Look at me in the eye and say you don't feel the heat between us. Do that, and I'll stop."
Maybe since I'm not reading them in a row I won't become as disillusioned as many readers did, and not rushing through them makes them a getaway, of sorts, when I do come back into this wonderful world of 9 lives for Kat and crazy, out of this world situations.
"Neither Blane nor I are your happily-ever-after, princess. Blane will break your heart, and I'm the guy your mom warned you about. Don't kid yourself about that."
I won't say much, seeing as this is a long series and I'm sure I will just be repeating myself, but I will say that with each passing book, I feel worse and worse for the boys. For one? They are in love with a total fruitcake. I don't hate Kathleen, per se, but I also don't admire her. She is strong in her convictions to not hurt Blane, and she does love him, but she sure is all up on Kade a lot….which then makes me feel bad for Kade…who does it to himself
"You make me want things," he said, his voice barely above a whisper. "Impossible things."
I mean, holy fuck, boys, she's not a siren. She's just a ditz that fell into the lap of someone who has forever changed her world.
I understand it's a romance…but there is no reason this chick is worth ruining a brother relationship over. I just…Okay, I'll stop. Secondly, they obviously both want a future with a girl who can't think past dinner. Thirdly, I feel a tad like she's a bit self-righteous when she has no right to be (And then a lot of times she does have the right-I'm not kidding-there are a ton of scenarios zipping through here). And lastly, they continually risk their lives for her. That shit ain't easy.
I snorted in derision. I was so not worth coming between them. Not that I thought I wasn't a decent catch-I was pretty enough, and intelligent.
But most troublesome, for me, is the look of torment on Kade's face when he sees her and Blane schmoozing it up. Just…wow. It hurts, but I love it. Sick, I know, blah blah. I hate rooting against a relationship, and I hate even more knowing whom she ends up with (yes yes, bad Chelsea, BAD!), but I can't help it-I love both boys and I am not ashamed of it. If I had to choose right now, though, just had to, it would be Kade. Ugh. I feel bad.
He glanced at me. I was already shaking my head. "But I know you won't go. So someone needs to keep an eye on you tonight."
"I volunteer," Kade piped in. "Especially if she's going to wear that."
I shot him a glare. The last thing I needed, or wanted, was him antagonizing Blane.
Kade feigned innocence. "What? Hey, it's better than what you wore in Denver."
In my peripheral vision, I saw Blane's hands tighten on the steering wheel. If I could have climbed over the seat and strangled Kade, I gladly would have.
I'm still waiting, though. I'm waiting for this dark knight that breaks even more out of his shell, because, at the moment, Kade isn't being what I need him to be….but I'm hoping book four will rectify this. I hope hope hope we get to see a different side of Kade we're only seeing in bits and pieces-because now? Blane is the only fully developed male lead, in my opinion.
"Don't get your panties in a twist," Kade said. "Oh wait, I forgot." He leaned across the table. "You're not wearing any."
He took another swallow of his beer, his eyes glittering with mischief as he watched me.
"Thought I wasn't supposed to remind you about that," I said archly.
Kade shrugged. "Doesn't matter. It's all I can think about anyway."
So eh. I dunno. Definitely an improvement on the boys in this one, but Kathleen continues to not shock me lol. I swear, with all this fighting over her, you'd think she had…hmm…no…I won't say it lest you all become disgusted. I am still waiting for something to really wow me with this series…and I'm hoping it's book four because I have NOT heard great things about five. Sigh. Guess we'll see.
Related Posts