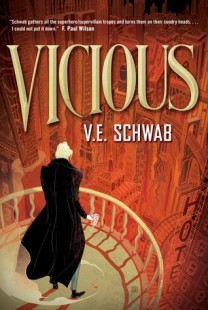 Vicious
(
Vicious #1
)
by
V.E. Schwab
Purchase on:
Amazon
, 
iBooks
, 
Book Depository
Add to:
Goodreads
Synopsis:

Victor and Eli started out as college roommates—brilliant, arrogant, lonely boys who recognized the same sharpness and ambition in each other. In their senior year, a shared research interest in adrenaline, near-death experiences, and seemingly supernatural events reveals an intriguing possibility: that under the right conditions, someone could develop extraordinary abilities. But when their thesis moves from the academic to the experimental, things go horribly wrong. Ten years later, Victor breaks out of prison, determined to catch up to his old friend (now foe), aided by a young girl whose reserved nature obscures a stunning ability. Meanwhile, Eli is on a mission to eradicate every other super-powered person that he can find—aside from his sidekick, an enigmatic woman with an unbreakable will. Armed with terrible power on both sides, driven by the memory of betrayal and loss, the archnemeses have set a course for revenge—but who will be left alive at the end?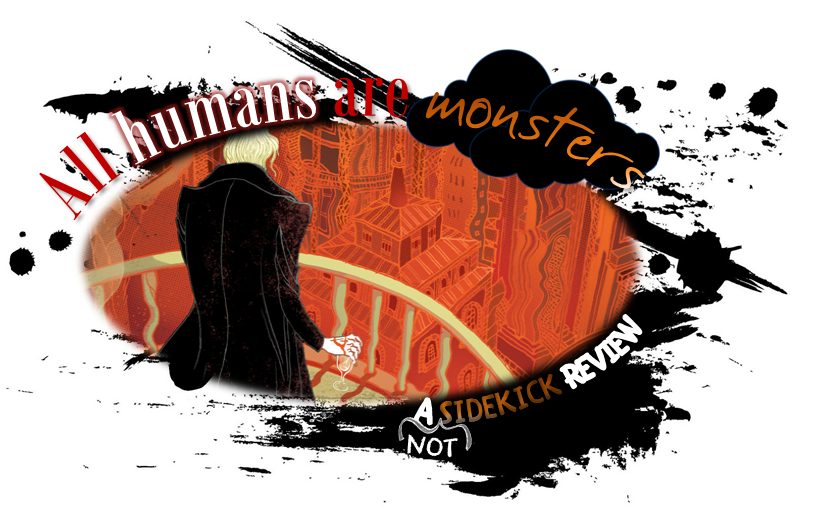 If Vicious was disturbing and fascinating, I can't shake the feeling that something was missing for me to really love , especially when it comes to Eli's character arc. Now, trust me, I'm the first surprised to have felt so utterly captivated by Elie and Victor's researches. I mean, Eos? Please. I couldn't care less and every book involving them bored me to tears (here you go, Steelheart). That's why I feel the need to stress how compelling this story is Or, Serena made me write this, how can I know.

To be honest , if you had asked me my opinion after the first half, I would have told you that Victor and Eli were such fantastic characters, and first of all Victor. As far as sociopaths go (it's a little unsettling to realize that I have a list of psychopathic characters to refer to, whoops), I find him pretty interesting : he's crazy disturbed, yet his raw envy and thirst for revenge make him so very human. It is so refreshing to follow a character who doesn't shy from what others can see as flaws : lack of empathy, for starters. Not to mention that his inner monologues are truly enjoyable.
The way V.E. Schwab pictures their twisted relationship is so realistic. Friendships aren't always smiles and hugs, you know, and I loved the fact that she was willing to create such toxic yet strong friendship – for me these words aren't necessarily antithesis, because the human minds and hearts are never Manicheans.
Moreover, Vicious explores the thirst for power and the changes it can create – Nothing is safe : whether family ties or friendship, power detracts everything and everyone.

Unfortunately I found Eli's POV weaker : indeed he feels less complex than Victor, pretty devoid of subtlety, and I have to admit that I preferred looking at him through Victor's eyes than following his POV. His fanaticism and religious delusion were way too sudden for me to buy, and I was never really convinced by his justifications.
However, this could be a case of "it's not you but me", if I'm completely honest : indeed I have a hard time comprehend how one can become a religious fanatic, and I'm pretty sure that it's linked to my upbringing. See, France is very secular. Completely secular – I'm not saying that nobody believes in God, because some do of course, but we live in an environment where religion doesn't cross our mind : you'll never see our President quote God or people swearing on the Bible in tribunals, and even less political men or women using God as an explanation/justification for something they do. That's why even though I have friends who practice their religion (everyone is entitled to their beliefs and I respect that), the concept of religious fanatic seems so profoundly foreign to me that I can't understand how Eli moved from being a smart believer to a crazy fanatic in the span of a day.
Don't get me wrong, I'm not saying that religious people can understand fanatics either. I didn't buy his evolution and found it unbelievable is all.
Well, he shares the double standards of a true psycho that's for sure : denying humanity to his targets is exactly what's at the heart of every psychopath or genocide. His clinic removals were treated in such a detached way that I could never connect with him and –
Oh, well. He was pretty flat. Being in his head made me realize how much I loved Victor's complexity, to be honest.
As far as secondary characters are concerned, Mitch, Serena and Sydney all add something interesting to the story, yet if they weren't one-dimensional per se, I have to admit that I would have wanted to know more about them. Maybe in the sequel?

Envy, jealousy, greed – thirst – for power, need to achieve better and faster and greater. Welcome in these manipulative and brilliant tale, where the boundaries between good and evil are questioned and straight on blurred. It was hands-on the aspect I loved the most.
The plot isn't free of stereotypes, though, but spread superheroes movies vibes, including in the way the dialogues are crafted. I didn't mind because it stayed quite unpredictable to me, but I did guess several twists pretty fast.
The narrative doesn't follow the chronological order, but alternates between chapters recalling Victor and Eli's students year and nowadays events. Even if there was a lot of different times involved, I didn't find it confusing but thought that it helped nurture the mystery.
As usual V.E. Schwab's writing flows smoothly and makes the story very compelling. If the pacing can't be described as fast, really, I was never bored : Vicious was quiet and yet intense.
Quietly crazy, if that's a thing.
Oh, also :

Related Posts