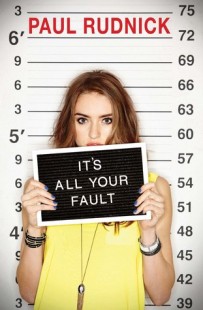 It's All Your Fault
by
Paul Rudnick
Purchase on:
Amazon
, 
iBooks
, 
Book Depository
Add to:
Goodreads
Synopsis:

My name is Caitlin and up until forty-eight hours ago I had never:

Tasted alcohol, kissed a boy, sang in public at the top of my lungs, kidnapped anyone or—WHAT? STOLEN A CONVERTIBLE?

Now I'm in jail and I have no idea what I'm going to tell:

The police, my parents, the mayor, all of those camera crews and everyone on Twitter.

I have just noticed that:

My nose is pierced and I have—WAIT? IS THAT A TATTOO?

I blame one person for this entire insane weekend:

My famous cousin.

Who is also my former best friend.

Who I have HATED for the past four years.

Who I miss like crazy. NO I DON'T!!!!

IT'S ALL YOUR FAULT, HELLER HARRIGAN!!!!
JESUS! – *smack from Catey* What a surprising and refreshing story! Finally a contemporary YA that doesn't attach the greatest importance to romance but rather insists on picturing family and friendship bonds!
FUCK YEAH. (sorry Catey, just deal with it)
Yet I have to admit that at first, the story didn't seem like something I would enjoy. Christian choir singer? Teen Movie Star? Kneesocks? (I kid, I kid, they're great – I guess so) It sure didn't scream fangirl material, to be honest. But it was without counting on the HILARIOUS (yes, I'm using CAPS because COME ON! I lost my ability to stop laughing and snorting like a crazy person on page two) dialogues and inner thoughts and situations and EVERYTHING.
(here lies the moment when I realize that this review will be nothing more than my random thoughts)
(I'm sorry)
(No, I don't believe in penance)
(I'm no Caitlin)
What you need to know is that Caitlin and Heller, albeit being cousins, haven't seen each others for four years (for a reason that involves a TV show called Anna Banana, a chain, and a gigantic metallic arm – you wish you'd know, right?) when Caitlin learns that she's the Chosen One to make her cousin fucking behave (think no sex, no alcohol, no drugs, no *insert random fun activity*) for the weekend during which Angel Wars, Heller's new movie, is launched for everyone to see.
It won't come as a surprise that they're both unhappy about this situation.
"I'll do it," I said proudly, although I was also trying to sound selfless and humble because that's who I am. "I'll go."
Well, not really. I mean, Caitlin does wait for apologies and for her cousin to understand how better and healthier and perfect her lifestyle is (yes, she is *cough* *a little* *cough* judgmental). She doesn't want to take pride in it, though. She's a good Christian. She don't do boasting.
"I'd told her that if she kept skipping school and using bad words that terrible things would happen. While I didn't want to act superior and snitty and tell Heller and everyone else I told you so, well, I TOLD YOU SO.
YOU'RE WELCOME."
Much.
It follows their (not always believable) adventures during this *not* crazy weekend (Catey does end in jail, so there's that) during which they'll realize that maybe, just maybe, they both own a part of the answers to their struggles. Neither of them is perfect in any way (but far from it), and I found it wonderful. Beyond all these – Trust me on this. Just do it – laugh out loud passages, this story is about overtaking your fears and your past. Moving on. Taking risks. Understanding that perhaps we all have our crazy sides and that's for the best.
"Catey, you were so on it," said Sophie. "You just stood there and you looked around and you saw this convertible. You pointed at it and you said, 'The Lord provides.' "
"You looked up to heaven and you gave this little salute," said Heller."
Moreover, the way Paul Rudnick managed to picture the fan world was fantastic and filled with self-derision. Think about Angel Wars like a mash up of The Hunger Games and Angelfall (or any YA PNR book really). Now think about fandoms, Teams, crazy fangirls and boys who don't know when to let it GO (LET IT GOOOO) (you're welcome). Think about the level of attention and scrutiny the actors who play these roles are under. Frankly? I find it terrifying.
See, I'm not really a fan person. I know – I KNOW – it can seem so crazy because I do fangirl (A LOT) about many books, but
1) The only actors I know are those I've known for 10 years. So WHAT? It takes TIME to remember all these names. Like, right now? I wouldn't be able to write Peeta's character name. Don't kill me Chels. I don't know, people keep telling me their names and THEY DON'T STUCK. I AM A LOST CAUSE.
2) Actually, I would feel pretty lame if I met these actors – each time I did, I never knew what to say because there's this moment when you realize that no matter how many movies they starred, you have no idea who these people really are. No. Freaking. Clue.
What does a Anna meets a Movie Star looks like?
Hello…
*blinks*
…You.
Your movie was amazing!
*awkward silence*
Okay! Now I'm gonna go… there… for some reason.
*internal cringing*
I'm not saying that fans are ridiculous and that I'm better than them. I'm sure not. Yet I found incredibly interesting to see those two opposite opinions – Caitlin's and Heller's – being taken into account. As usual in life, there's no such thing as a general right answer, and it took a great journey for them to understand it. I enjoyed every step of it.
Oh, and there's that :
"In so many YA books the heroine, who's just a regular girl, has to choose between two dreamboats who are both, for no particular reason, madly in love with her, which is probably why these books are labeled fiction."
(…) Because yes, there are boys, but don't worry, they make for the funniest scenes and … Oh, well. I'll let you see for yourself *wink*
► In a word, here's a book that doesn't take itself seriously but ends being absolutely endearing and so clever. If the characters come as stereotypical, in my opinon that's completely intentional, and that's what makes this book so enjoyable. Recommended.
Related Posts