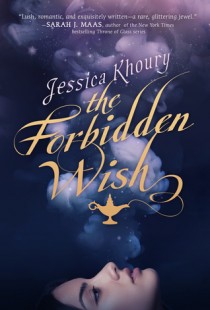 The Forbidden Wish
by
Jessica Khoury
Purchase on:
Amazon
, 
Book Depository
Add to:
Goodreads
Synopsis:

She is the most powerful Jinni of all. He is a boy from the streets. Their love will shake the world...

When Aladdin discovers Zahra's jinni lamp, Zahra is thrust back into a world she hasn't seen in hundreds of years -- a world where magic is forbidden and Zahra's very existence is illegal. She must disguise herself to stay alive, using ancient shape-shifting magic, until her new master has selected his three wishes.

But when the King of the Jinn offers Zahra a chance to be free of her lamp forever, she seizes the opportunity—only to discover she is falling in love with Aladdin. When saving herself means betraying him, Zahra must decide once and for all: is winning her freedom worth losing her heart?

As time unravels and her enemies close in, Zahra finds herself suspended between danger and desire in this dazzling retelling of Aladdin from acclaimed author Jessica Khoury.
♥ BR with the astounding Chelsea and Jen ♥
"This place is haunted by ghosts, and I am one of them."
Told in a beautiful and evocative writing enhanced with sparks of humor, The Forbidden Wish surprised me in the best way possible : indeed albeit being quite romance-focused, it manages to avoid the tropes I hate the most in Fantasy/PNR YA :
☑ There's neither instalove nor love triangle.(*)
☑ The female lead is always sympathetic toward other women and there's no such thing as girl hate.
☑ Aladdin's not perfect by any means (more about him later), but one thing is certain : he's not a controlling, abusing jerk, and if anything his flaws made him endearing to me.
"Wishes have a way of twisting themselves, and there is nothing more dangerous than getting your heart's desire. The question is, are you willing to gamble? How much are you willing to lose? What are you willing to risk everything for?"
Enchanting, The Forbidden Wish is not an action packed novel, but not a boring one either. As a retelling of Aladdin's story, we find layers of the original but that does not mean that Jessica Khoury didn't add her stamp, because she most definitely did. While original events are seen in a complete different way View Spoiler »color me shocked, I couldn't avoid a little twinge of sorrow when Aladdin asked her to become a Prince « Hide Spoiler[color me shocked, I couldn't avoid a little twinge of sorrow when Aladdin asked her to become a Prince (hide spoiler)], the twists make the story even more engaging and captivating (and women friendly). If the plot isn't the most complex I ever read (hardly), I was hooked from the beginning and I enjoyed my read immensely.
Moreover, contrary to what we find in many retellings, the author made her jinni female and let me tell you : it was FANTASTIC. Oh, and funny :
"You're a- you're a-
Say it, boy. Demon of fire. Monster of smoke. Devil of sand and ash. Servant of Nardukha, Daughter of Ambadya, the Nameless, the Faceless, the Limitless. Slave of the Lamp. Jinni.
"… a girl! he finishes.
For a second, I can only blink at him, but I recover quickly."
Ha, Zahra. I loved her. Witty and self-sufficient, she never comes as pretentious and yet, she knows her worth – She's a jinni, thank you very much, and she actually sounds like one, which is so rare! Brought to life by Aladdin after a looooong traversée du désert (pun intended), she's ready to grant his wishes but doesn't forget her own agenda (her freedom, no less!).
However, despite her hidden goal, Zahra has been eaten by guilt for so long that she has doubts, and who wouldn't? Trust me, this is NOT a case of "his abs convinced me to die for him, because YUM, can I lick them?". Nope. Her struggles and hesitations are well-founded, and not driven by Aladdin alone. See, I realize more and more that strong heroines, if they never fail, never doubt, never waver, annoy me as much as their manly counterparts. I want strong heroines in my books, but I want them complex and realistic. What's strength, really? Is it never hesitating? I don't think so, and honestly, I sure hope not. I could relate to Zahra, and she never annoyed me – she's not a heartless cyborg, and I liked her all the more for it.
As for Aladdin… I may be biased, but his character made me smile so much that I couldn't hold his flaws against him. Yes, he is reckless, charming, flirty, but so endearing, loyal, and more than a little adorable. His past haunts him, and there's a need for revenge starving deep within him. Their personalities, so different as they are, make for the funniest interactions and I absolutely loved how their dynamics played throughout the book.
"What did Caspida want?"
"To talk about elephants and dead queens."
"What? Really?"
"Oh, stop frowning. She asked about you too – what you're like, what kind of person you are. Don't worry." I pat his hand conspiratorially and smile. "I lied."
As I said earlier, although the romance owns an important part of the show, it never bothered me (on the contrary) because what we see isn't a stupid and very tropey instalove but the slow and believable growth of a friendship which perhaps, perhaps, will morph into something more. And trust me, I rooted for them something fierce. So, yeah, I fought the urge to roll my eyes at some cheesy similes, but I never stopped smiling – it does change something!
"We're in together, aren't we, Smoky?" He gives me a crooked, bemused smile.
"But… you're the Lampholder. Whatever you say goes. I don't have a choice."
He laughs, and I frown at him in surprise. "You think it's funny?" I ask.
"No! Sorry. I should probably say how awful it is you have to go wherever I want, but… When I look at you, I see a jinni who's not afraid to disagree with me. If I make a wish, you could use it to crush me. You've done it before, haven't you? Ruined your masters with their own wishes?"
I lift a shoulder in begrudging agreement."
Last but not least, Jessica Khoury offers significant roles for other women. Now, this is so fucking rare : not only Zahra never shows any hateful spite against other women, but they play important roles in the story (and roles that aren't defined by their relationships with men).
That ending, though? I have to admit that it did feel a little rushed and that I wish some parts had played out differently View Spoiler »I'm so sad that Zahra can't shift anymore. That was so damn cool, okay? « Hide Spoiler but it was satisfying nonetheless.
(*) I am sure that some readers will state that there is a love triangle, but for me there's really not. How many characters love each others? Two. No love triangle in my book.View Spoiler »Aladdin and the Princess NEVER love each others or are attracted to each others « Hide Spoiler[Aladdin and the Princess NEVER love each others or are attracted to each others (hide spoiler)]
Related Posts