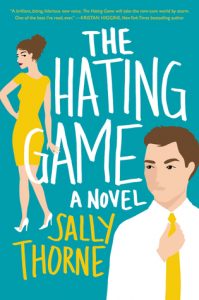 The Hating Game
by
Sally Thorne
Purchase on:
Amazon
, 
iBooks
Add to:
Goodreads
Synopsis:

Nemesis (n.)
1) An opponent or rival whom a person cannot best or overcome;
2) A person's undoing;
3) Joshua Templeman.
Lucy Hutton and Joshua Templeman hate each other. Not dislike. Not begrudgingly tolerate. Hate. And they have no problem displaying their feelings through a series of ritualistic passive aggressive maneuvers as they sit across from each other, executive assistants to co-CEOs of a publishing company. Lucy can't understand Joshua's joyless, uptight, meticulous approach to his job. Joshua is clearly baffled by Lucy's overly bright clothes, quirkiness, and Pollyanna attitude.

Now up for the same promotion, their battle of wills has come to a head and Lucy refuses to back down when their latest game could cost her her dream job…But the tension between Lucy and Joshua has also reached its boiling point, and Lucy is discovering that maybe she doesn't hate Joshua. And maybe, he doesn't hate her either. Or maybe this is just another game.
"You hate me so much, and I can't take it much longer." I'm pathetic. I hear it in my voice.
"Shortcake."
"Stop calling me Shortcake." I try to roll onto my side but he presses the heels of his palms lightly against my shoulders. I stop breathing.
"Watching you pretend to hate that nickname is the best part of my day."
I think it's been long enough-I am just sitting down, taking the time, and finally writing a review for one of my favorite contemporaries ever. You'll rarely see me read a contemporary, and the reason for that is it's so hard to impress me in this genre. I don't like cheesy, I don't like over-the-top, and I certainly don't like when it doesn't feel authentic.
"Mustard today," I observe aloud. Why do I poke the hornet's nest? "Just can't wait for baby blue on Monday."
The look he gives me is both smug and irritated. "You notice so much about me, Shortcake. But can I remind you that comments about appearance are against the B& G human resources policy."
Ah, the HR Game. We haven't played this one in ages. "Stop calling me Shortcake or I'll report you to HR."
So, here I am, ignoring this brightly covered book on my feed, and months pass. When, all of the sudden, hey, one of my best friends starts gushing about how giddy it makes her. Naturally, I'm curious. I'm always, always looking for the next amazing contemporary, and I desperately need it at this time in my life.
I decide to give a try, my friend gifts it to me (dawww), and the rest is history. From the moment I picked this book up-literally-I was done for. The sarcastic looks, the not-so-nasty banter, and every little thing in between…this book has it all. But, most of all…It has Joshua Templeman
"So this is what sex with you would be like." I can't resist teasing him. "I was hoping you'd participate a little more."
He finally says something. "I'd participate. So well, you wouldn't walk straight the next day."
Where do I even begin??? Joshua wassss…everything. He was smart. He was attractive. He was…well, I can't say, can I? Because, as far as you know, he's a complete prick who makes Lucy's life a living hell.
I don't like big guys. They're too much like horses. They could trample you if you got underfoot. He is auditing my appearance with the same narrowed eyes that I am. I wonder what the top of my head looks like. I'm sure he only fornicates with Amazons. Our stares clash and maybe comparing them to an ink stain was a tad too harsh. Those eyes are wasted on him.
These two got off on the wrong foot, and however that may have happened, it did. So every day they play their games, they are antagonistic towards one another, causing nothing but problems and HR issues. In fact, even the HR rep is sick of their shit (omg it's so funny, the messages they send about one another to HR-it's even a 'safe word'…later on :P).
So why was this book so cute? Do you ever just want to get away? To escape real life and just laugh? To smile, to giggle, to swoon, to just know that when you pick up your book, you are immediately in for a wonderful treat and an out of this reality read? Well, this is that book.
See, I've been pregnant since July, and I know I mention it a lot, but it's a big player in my life-for more than the obvious reason. Now that I am finally, finally past the sickness part (5 months, people. FIVE.), I find that I get depressed…A LOT. Very very much. So, it's harder to know my mood when picking out a book. So, naturally, when I find a book that literally takes my breath away, makes me smile even when, moments before, I had been bawling or crying or deep within myself brooding or upset or extremely hurt for no apparent reason, I'm going to hold onto it like a life raft after the Titanic hit the iceberg. And perhaps I DID have a reason that day or moment to be depressed, who knows? My point is…this book? It made me giddier than anything has in a very long time. And that is why, a month later almost, I still smile when I think of this book and am forcing myself to write a review-it brought me out from the darkness.
And, if you didn't gather already, I pick this book up frequently, looking at all my favorite parts, all my highlights, all the funniest or swooniest or sexiest quotes. It simply makes me happy. The transition from bickering, resilient, resentful co-workers, to reluctant friends, to a somewhat new relationship was so heartwarming-my heart swelled so many times it was almost unbearable. But I guess that's what happens when two people who are clearly meant to be together finally connect.
His smile is worth a thousand of anyone else's. I need a photograph. I need something to hold on to. I need this entire bizarre planet to stop spinning so I can freeze this moment in time. What a disaster.
This book wasn't without its issues, sure, but the issues were so minuscule, so insignificant, so small…you just don't care. And I know I said I wouldn't say anything, but you must know-Josh is an instant book boyfriend for a reason. He is sweet. He is selfless. He is kind. He is caring….and he's fucking lonely-Just like Lucy. He's grumpy. Stiff. All about doing everything right….he's a 'by the book' type of guy…but he's the most loyal man you'll ever meet.
It sounds like the first time he's spoken those words. He looks at the ground, miserable. I creep closer to him. Another weird kaleidoscopic twist? His hurt makes my own heart hurt.
And Lucy? She's spunky. Sweet. Clingy. And, truth be told…she's ferocious. I loved this about her. She didn't take shit, but it doesn't mean she doesn't hurt inside, that she isn't extremely lonely and vulnerable. She reminded me so much of…well, me. No, I wouldn't push someone away like Josh as much as she did (see above-this book isn't without its fair share of issues) and I wouldn't be so body hungry when its clear it hurts the other person, but in general, I saw a lot of myself…and that's always so fun. To top it all off, I just love when the people she adores get attacked…just-you better watch out, is all I'll say. Me-OW.
"So. Nervous?"
"Why would I be?"
"Your big date, Shortcake. You haven't had one in a while. As long as I've known you, I think." He indicates quotation marks with his fingers at big date. He's positive it's all a lie.
"I'm way too picky."
He steeples his fingers so hard it looks painful. "Really."
"Such a complete drought of eligible men here."
"That's not true."
"You're searching for your own eligible bachelor?"
"I—no—shut up."
So, it should say something that I am writing this review three weeks later, or more. I don't do that. Once I close the final page on a book and finish another book, I begin to push previous books into the back of my mind. Like…who cares? After a certain amount of time, no one wants to hear my thoughts anymore. Honestly, people might never want to hear them period (sorry, you'll hear them whether you want to or not). But hey, that's what Goodreads is for, right?
"I'd better get to bed." I'm talking to my parents. I'm also gently cleaning the two-dollar eBay Smurf I got a few weeks back with a baby's toothbrush. Law & Order is on in the background and they are currently pursuing a false lead. I've got a white clay mask on my face and my toenail polish is drying.
So, yeah, I get the hype surrounding this one. And, frankly, I don't know everyone else's motive for loving this story, I only know mine. It may not be everyone's idea of perfect….but it's my happy place…and that's more than enough for me. It's perfection.
Related Posts