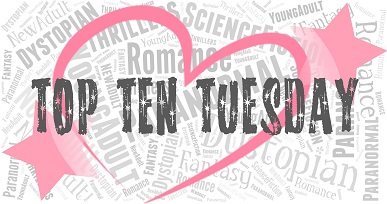 Top Ten Tuesday is a weekly meme hosted by The Broke and the Bookish
This week is – Underrated/Hidden Gem Books We've Read.  These are books we love that have less than 1,500 Ratings on Goodreads.  So we hope you'll want to discover them too!
1. Xenophobia by S.B. Roozenboom
This story was unique, so much fun and I can't wait to see where this series goes!  Plus I adored Tevire, the things Tevire did to protect Ness was gut wrenching, sweaty palm inducing and entirely swoon worthy.
2. The Union (The Union #1) by T.H. Hernandez
This series is an epic journey that had me devouring the pages as fast as possible!  It contains a sigh inducing book boyfriend, friendships that are deep and meaningful, a heroine I adore and even a character I love to hate.  I love this series!
3. Infinity (The Infinity Division #1) by Jus Accardo
Infinity haunted my dreams and interrupted my thoughts throughout the day.  I couldn't stop thinking about this book.  I loved getting swept away by the action, adventure and the unknown.
4. Stay With Me (Come Back to Me #2) by Mila Gray
The characters easily worked their way into my emotions.  I couldn't help but feel everything they did.  And the sexual tension and angst left me longing to read the pages as fast as possible while also slowing down so I could savor every sexy moment.

(Jen's Choice – Review)

 
(Chelsea's Choice)
5. Rebel Wing (Rebel Wing #1) by Tracy Banghart
Rebel Wing was spellbinding, intricately crafted, and I found myself being pulled in by the moments of hope, betrayal, torture, alliances, and friendships.
6. Deep in the Heart by Sharon Sala
An oldie but goodie…Sharon Sala's tale of lost romance and found again will want your heart. It was my first 'adult' contemporary.
7. Thief of Lies (Library Jumpers #1) by Brenda Drake
The pages were filled with friendship, laughter, tears, betrayal, love and trust.  And I happily found myself addicted, since the characters continually pulled at my emotions. 
8. Suffer Love by Ashley Herring Blake
Sweet, heartbreaking, and about finding yourself and believing in others…I'm shocked this isn't more popular!
9. Broken Skies (Broken Skies #1) by Theresa Kay
Broken Skies gripped me to the core and was truly outstanding.  The story continually built and became more intricate, causing me to become obsessed with this book.  The pages were scattered with hardships and butterfly inducing moments that were breathtaking.  I never wanted this book to end.
10. Playing the Player by Lisa Brown Roberts
Playing the Player was beyond adorable.  I couldn't stop smiling or keep the laughter contained that kept bubbling out of me.
So these are the Underrated/Hidden Gem Books We've Read and loved.  Have you read any of these books or do you have them on your tbr?  What Underrated/Hidden Gem Books do you love?
Save
Save
Save
Save
Save
Save
Save
Save
Save
Save
Save
Save
Save
Save
Save
Save
Save
Save
Related Posts