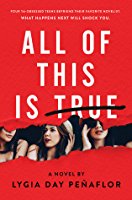 All of This is True
by
Lygia Day Penaflor
Purchase on:
Amazon
, 
iBooks
, 
Book Depository
Add to:
Goodreads
Synopsis:

MIRI loves the novel Undertow like it's a living being. So when she and her friends get the chance to meet the author, Fatima Ro, they plot a way to get closer to her. As for what happened with Jonah ... Well, obviously none of that was Fatima's fault.

SOLEIL wants to be a writer herself one day. She can't believe it when Fatima asks them to hang out with her - and having Jonah there makes it even better.

PENNY is more than the party girl everyone thinks she is, and she's willing to share her darkest secrets with Fatima to prove it. But what will happen when Fatima finds out about Jonah?

All of This Is True is a story of obsession and revenge, betrayal and forgiveness, and the devastating result of a secret that didn't stay buried.
I have mixed feelings about this book. On one hand, I was engrossed in the storyline and enjoyed the different ways the story was shared (interviews, emails, texts, journal entries, etc.). On the other hand, it wasn't quite what I expected. From reading the blurb, it came across as something along the lines as One of Us Is Lying, which was one of my favorite books of last year. But it really wasn't like that at all.
The story centers around four high schools students who befriend a young author.
Fatima told us to share our precious truths. But that wasn't my precious truth to tell! I didn't know she would write about it!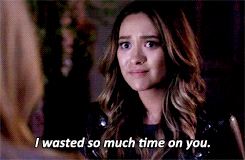 While there is a small twist as you get near the end, the book is more about high school friendships and relationships. The book rotates from the perspective of the three teenage girls (Miri, Soleil and Penny), looking back at how 'everything' started. Chapters of the fictional book the author, Fatima Ro, wrote based on their lives are also sprinkled throughout the three girls' recollections. I honestly found the fictional chapters to be the weakest part and enjoyed the interview chapters the most.
This book had a lot of promise and I did enjoy it. I just find myself wishing there had a been a bit more, though I guess I can't say exactly what. I guess I was just thinking it would be a bit more thriller/mystery, when it really was more about friendships and toxic relationships.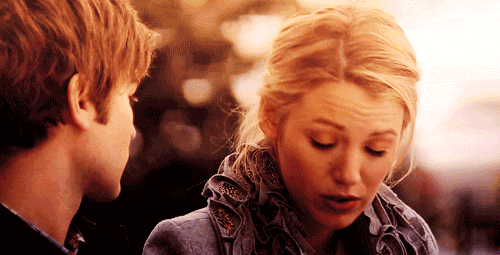 But that night in the courtyard I knew the year was going to be better; sharing the sky with Fatimo Ro was the start of that 'cause I got to do something with my friends that wasn't shopping or Snapchat, you know? It felt, like … important.
Related Posts