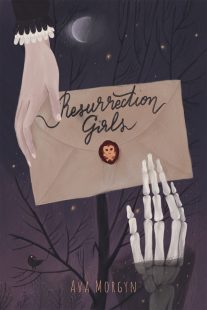 Resurrection Girls
by
Ava Morgyn
Purchase on:
Amazon
, 
iBooks
, 
Book Depository
Add to:
Goodreads
Synopsis:

Olivia Foster hasn't felt alive since her little brother drowned in the backyard pool three years ago. Then Kara Hallas moves in across the street with her mother and grandmother, and Olivia is immediately drawn to these three generations of women. Kara is particularly intoxicating, so much so that Olivia not only comes to accept Kara's morbid habit of writing to men on death row, she helps her do it. They sign their letters as the Resurrection Girls.

But as Kara's friendship pulls Olivia out of the dark fog she's been living in, Olivia realizes that a different kind of darkness taints the otherwise lively Hallas women—an impulse that is strange, magical, and possibly deadly.
Thank you to Netgalley the publisher and the author for an ARC in exchange for a honest review.

I was death's sister.
She was a murderer's daughter.

Resurrection Girls was a really interesting book and not really like anything I've read before. The blurb doesn't really do it justice – it seemed like it was going to be a dark book with a bit of a paranormal or thriller aspect. But that's not the case. The subjects discussed in the book are certainly dark and heavy, but there's really no mystery or paranormal to be had.

Olivia Foster is drowning in guilt after the death of her younger brother three years ago. Her parents are barely functioning, and Olivia is drifting through life. That is until a new family moves in across the street. Kara Hallas is the spark that Olivia needed to break out of her solitary life.

If Kara were punctuation, she'd be an exclamation, never a period. I…I would be an ellipsis, a thought waiting to happen, to complete itself, but never fully arriving. Prescott would be a hyphen because there was more to him than what the eye.

As Olivia and Kara begin to spend time together, they begin to write letters to men on death row and sign it as the Resurrection Girls. Their neighbor (and Olivia's long time crush) Prescott gets roped in to their group and soon the trio begins to spend a lot of time together. There's a charged dynamic between the three of them and it constantly feels like they are balancing on the end of a board together, always close to ruining the balance and crashing apart.

And while there's no paranormal occurrences, there's a kind of magical realism surrounding the Hallas women.

If you're looking for a book that will thrill you or feature things that go bump in the night, this isn't it. There's a lot of focus on grief and what it takes to heal from horrible tragedies. Overall, once I understood better what this was, I really enjoyed it. Olive, Kara and Prescott were great main characters, especially Olivia. I truly felt for her and her family situation and was rooting for her the whole time.

Somewhere between the scented lip gloss, deadly pen pals, and crazy grandmother lay the real Kara Hallas. A girl who was haunted by far more than I had ever been. And I had just met her.
Content Warnings: Discussion of death, death of a child, drug use/overdose, drug addiction, depression and sex.
Related Posts