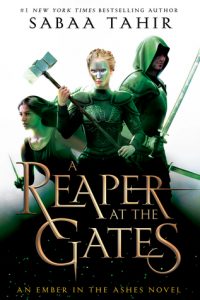 A Reaper at the Gates
(
An Ember in the Ashes #3
)
by
Sabaa Tahir
Purchase on:
Amazon
, 
iBooks
, 
Book Depository
Add to:
Goodreads
Synopsis:

Beyond the Empire and within it, the threat of war looms ever larger.

The Blood Shrike, Helene Aquilla, is assailed on all sides. Emperor Marcus, haunted by his past, grows increasingly unstable, while the Commandant capitalizes on his madness to bolster her own power. As Helene searches for a way to hold back the approaching darkness, her sister's life and the lives of all those in the Empire hang in the balance.

Far to the east, Laia of Serra knows the fate of the world lies not in the machinations of the Martial court, but in stopping the Nightbringer. But while hunting for a way to bring him down, Laia faces unexpected threats from those she hoped would aid her, and is drawn into a battle she never thought she'd have to fight.

And in the land between the living and the dead, Elias Veturius has given up his freedom to serve as Soul Catcher. But in doing so, he has vowed himself to an ancient power that will stop at nothing to ensure Elias's devotion–even at the cost of his humanity
I've done favorite (not near as many as I'd like) quotes. I've done favorite moments. If it's a favorite, it has to do with Elias. So now…it's just all out Elias lovin' time. (OH! And on a side note: Sabaa and Tomi Adeyemi did a Youtube post where they read each others' fan's reviews….and MINE WAS FEATURED!!!!! I AM CHELSEA! I AM THAT PSYCHO! Check out the video here at 2:55. And the somehow more psycho (yes they tamed it down) review it originated from is HERE)
The guy who was top dog-the man who had everything. The student who had the brightest future, if only he'd reach high enough. The dreamer who wished for more. The soldier…that didn't want to be a soldier at all. An Ember in the Ashes, a spark that didn't want to ravage and destroy, but to be free. Turns out, fate had other plans. One of those plans? Another young spark in the form of a slave girl. A forbidden love. The beginning of a treacherous journey; his destiny. And, perhaps, the end. 
"All things have a price, Elias Veturius. The price of saving her will haunt you for all your days. Will you pay it?"
This quote. Seriously. Doesn't this just say it all? My poor boy. My poor, heroic, noble boy. 
Faithful (I wanted to use fierce…but this is a given, I suppose.)
-No matter the situation, no matter how hard, how scary, how difficult…Elias is faithful-to a fault. We learn this as he pays the ultimate price in book two. You think you know, you understand-but you don't. His hero complex is so deep rooted and unbreakable that no amount of obstacles could shake his honor. He will keep as many as he can safe, even after it's not smart to do so (can anyone say Blood Shrike?)-namely, Helene and Laia.

Empathetic
– He always saw the inequality. He hurts when he sees youth going through what he had to. He hates it. Despises it. He sees Laia, and hates that she is stuck with the woman who would do anything to hurt you. That would brand you just to make a point. He wants things to be different…but for this to happen, he can't escape. He has to stay…see where that bravery comes in? (I wrote this in reference to Ember (book one) when I wrote my original post that I have now since altered. It still fits, though-his empathy never ceases).
Adventurous
-He only knows the brutal and unyielding world he grew up in-but he longs for a different life-one where he can be free and without the chains that constrict his every movement. But, as mentioned above, he gets a warning before making his escape-run, and it's a world of suffering. Stay, and perhaps make a change. In the end, he makes a run for it with the girl he can't stay away from-he further cements that he is up for an adventure when he helps Laia attempt to rescue her brother-even as his world is falling apart.
Resilient
-He had a rough go of it in book one-and, even worse, as I mentioned above, in book two he is in for a hell of a ride. Even through his painful journey in the second book (Anyone who has read even a couple chapters of book two knows he is fighting death all through book two because of a certain showdown at the beginning) he perseveres and fights the ultimate battle for the girl he promised he would-I am seriously swooning here, guys.
                                                                                                         S P A R K


Tenacious
-Again, I know I'm a broken record-BUT DUDE. NEVER. GIVES. UP. I am super firm and serious on this. I will beat it into your heads if I have to!

Heroic
One quote.
-"Laia. The Scholar girl. Another ember waiting to burn the world down," she says. "Will you hurt her, too?"
"Never."
That. Is. ALL.

Eternal
-This is an odd choice of wording, but I like it for the simple fact that, if you follow this series at all, you know how this word shapes both how he enters/handles every situation, how he never gives up on what he's going for, and, well….he certainly has a long life ahead of him, doesn't he?
                                                                                                      R A V A G E



Repentant
-Anguished beyond words over what he had to do to survive the trials, Elias goes through many stages of grief in these two books so far-and I'm sure we'll see much more of that in this final installment, if what the author has been saying is true (Which we all know it is).

Enraptured
-Completely smitten with Laia, Elias chooses her over everyone, in the end. Many people didn't like this in book one, because Helene has been there for him always and he (I guess?) turns his back on her and the academy, becomes enemy number one, and ultimately runs off with a girl he barely knows. Well. I dug it. These books wouldn't have so much angst if not for this moment-and we're all the better for it.
…"We should talk about it."
Oh skies. "Talk about what?"
"Whatever it is that's bothering you. I can take a guess, but it might be better if you tell me."
"You want to talk now? After weeks of not even looking at me?"
"I look at you." His response is swift, his voice low. "Even when I shouldn't."

Anguished
-In the quotes and excerpts we have been given, it's clear that Elias isn't happy and wants a different card than he's been dealt-but he's trying his best to make the most of a bad situation-that doesn't mean it's not killing his hero-complex vibes because, well, duty comes first. Ugh.

Passionate
-He still very clearly cares about taking care of those he loves (ahem, Laia), and he does so with pride and with all his heart. He's always been passionate about helping others, but Laia is dear to him, so he always is pushing it to the limit for her. 
Laia is curled in a ball on the other, one hand on her armlet, fast asleep.
"You are my temple," I murmur as I kneel beside her. "You are my priest. You are my prayer. You are my release." Grandfather would scowl at me for sullying his beloved mantra so. But I think I prefer it this way.
Empowered
-He has a new opportunity to test his epicness…I'll leave this word be and let's see how he handles it.

Relentless
-This could be considered repetitive, but I think of this word more as a battle word. He sees the enemy. He barrels through-and if he can't? He fights and fights and fights until he can't anymore. Much like his goals, he doesn't give up. And, I'm sorry, this is just the most wonderful quality.
 D E S T R O Y
 So. Yeah. I guess I could go on and on and on…but my point is made. Elias is the hero of all heroes. I couldn't do or say as much as I'd have liked, because, MORE spoilers than even I used, but I wanted to do something fun with a play on words. And, frankly, I've shoved so many quotes in your face over the last few posts I didn't want to do that again. I hope you enjoyed it!
#FEARTHEREAPER
>>>>
Purchase Links:
An Ember in the Ashes
Amazon I iTunes I Book Depository
A Torch Against the Night
Amazon I iTunes I Book Depository
A Reaper at the Gates
Amazon I iTunes I Book Depository
Bookstagram picture (Find us here):
A little about our amazing, EVIL favorite author:
Sabaa Tahir is the #1 New York Times bestselling author of An Ember in the Ashes and its sequel, A Torch Against the Night. She grew up in California's Mojave Desert at her family's eighteen-room motel. There, she spent her time devouring fantasy novels, raiding her brother's comic book stash, and playing guitar badly. She began writing An Ember in the Ashes while working nights as a newspaper editor. She likes thunderous indie rock, garish socks, and all things nerd. Sabaa currently lives in the San Francisco Bay Area with her family.

Facebook I Twitter I Instragram I Goodreads
And follow the tour HERE!
AN EMBER IN THE ASHES
A TORCH AGAINST THE NIGHT
A REAPER AT THE GATES
Related Posts
And here it is-My final Ember Re-Read Post. Tired of them yet? Too bad-I love this series too dearly to not honor it so. And, with this final post, I have the most freedom. Why, you ask? Well, as you know, Reaper hasn't been released yet. Sooooo I don't have any format or review or ANYTHING but the horrifying snippets Sabaa has posted (what doozies they have been-yikes)-so, I'm choosing to do what I do best: fangirl. Fangirl about my favorite boy in the whole wide world. Emberlings rejoice, for this is my Elias Appreciation Post. All my fellow Elias fans, this sheer rambling is for you and I. Enjoy.