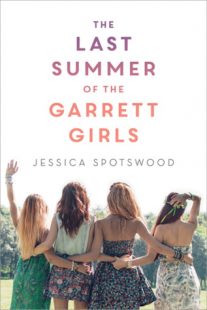 The Last Summer of the Garrett Girls
Purchase on:
Amazon
, 
iBooks
Add to:
Goodreads
Synopsis:

One summer will challenge everything the Garrett sisters thought they knew about themselves--and each other in this captivating new novel by Jessica Spotswood.

As the oldest, Des shoulders a lot of responsibility for her family and their independent bookstore. Except it's hard to dream big when she's so busy taking care of everyone else.

Vi has a crush on the girl next door. It makes her happy and nervous, but Cece has a boyfriend...so it's not like her feelings could ever be reciprocated, right?

Kat lands the lead in the community theater's summer play, but the drama spills offstage when her ex and his new girlfriend are cast too. Can she get revenge by staging a new romance of her own?

Bea and her boyfriend are heading off to college together in the fall, just like they planned when they started dating. But Bea isn't sure she wants the same things as when she was thirteen...

Told through four alternating points of view, readers will laugh, cry, and fall in love alongside the Garrett girls.
Thank you NetGalley, the author and the publisher for my free ARC in exchange for my honest review.
Maybe this is the way things are now. Forever. Dread washes over her at the thought.
Meet the Garrett girls: Kat, Bea, Vi and Des. The four girls lost their parents to a tragic accident and now live with their grandmother in a Stars Hollow-esque town. The book shifts between the four characters' POV over the course of a few weeks. The girls range from early high school to early college ages and each of their stories, I felt, were appropriate to their specific age.
TW: eating disorder, drug use, cheating
I enjoyed getting to know each of these four girls as they dealt with their own unique set of challenges, though three of the four really centered around love. There was also a big emphasis on friendships and sisterhood.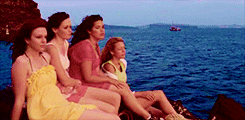 Of all the girls, I probably enjoyed Bea's story the most, as I could relate to her the most. She has a long-term boyfriend and getting ready to graduate high school and head to college, but she's suddenly feeling like her planned out life isn't what she wants anymore. I related hard to the idea of having things going well and being planned out, but finding it to be suffocating as well. With that said, I did honestly enjoy getting to know each Garrett girl. There are a lot of really sweet and cute moments throughout the book.
It was clear the author made a point to focus on intersectionality in this small sea-side town, which was great to see. A lot of issues were brought to the fore-front, but never in an after-school special kind of way. There's a lot of focus on grief, growing up, love and figuring out what you want out of your own life.
If you're looking for a cute summer read, with a special emphasis on diversity and intersectionality, look no further than this book.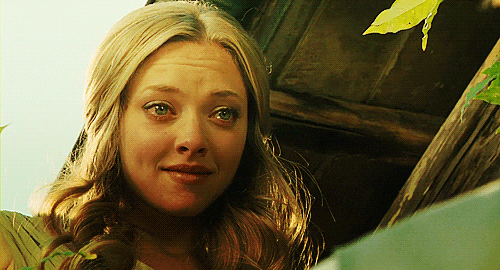 "But that's-it's not what I want. It hasn't been since before I met you. I know I haven't been honest with you. But being here, with you-it's the only time I don't feel like I'm falling apart. I am such a damn mess right now. I don't know how you can like me. I don't like myself very much, honestly."
He rubs a hand over his stubbly chin. His shoulders relax a little. "You're not so bad."
Related Posts