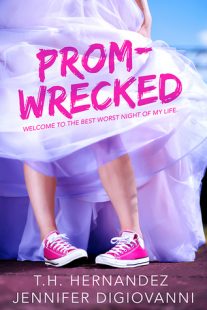 Prom-Wrecked
by
T.H. Hernandez, Jennifer DiGiovanni
Purchase on:
Amazon
, 
iBooks
Add to:
Goodreads
Synopsis:

Their prom night ended in a jail cell with forty of their closest friends. But that's hardly the worst thing that happened to them…

When the principal announces prom is canceled this year, senior Riley Hart is determined to save it. Armed with little more than her own enthusiasm, she ends up working closely with Owen Locklear, who is more than completely off-limits. Because he's the boyfriend of her ex-BFF, Catherine Reed. Still, Owen knows Riley better than almost anyone, and his charming ideas for turning the prom upside-down and backward win Riley over.

Catherine is willing to join Owen and Riley on the prom committee, but only because her legacy as prom queen is at stake. She's already suffocating under the weight of her parents' expectations for after senior year, and compared to that, ensuring prom happens should be easy. At least until everything starts to go wrong.

First they lose their deposit. Then they book a band full of octogenarians. And lose their venue... Twice.

Riley will have an unforgettable teenage experience, damn it, if it's the last thing she does…
Review:
Prom-Wrecked was absolutely adorable and impossible to put down!  The characters leaped off of the pages and the story constantly had me wondering what was going to happen next.  Between the characters and the scenes that made me smile, I loved this book!  So if you adore ya romance with complicated friendships, swoon worthy guys, epic disasters and a story that will touch your heart, then definitely pick up Prom Wrecked!
"Please tell me prom isn't destroyed. Again," I whisper to myself – Riley
On that very first page was a group of high school kids in jail.  And it was all because their Prom night went horribly wrong.  From there we jumped back two months and watched how it all lead to that fateful day.  It was an insanely crazy ride getting there!  Friendships, betrayal, jealousy, love and finding their true selves was splashed across the pages.  But one of my favorite things was that this book was unlike anything I've ever read before since we alternated between two ex-bffs, Riley and Catherine. 
So many people are invested in this prom, and I can't handle the idea of disappointing them. I stare at Owen, the person I want to disappoint least of all, even if he's going to the dance with someone else. – Riley
First off we met Riley Hart.  She was passionate, tried her hardest, but she was self-conscious at times.  And while she kind of faded into the background around her classmates, to me she felt like the girl next door.  She was super involved with activities at school, but she had never officially been in charge of anything.  So when Riley found out that her Senior Prom was cancelled, for the first time in her life she took charge of something.  She was going to give her classmates a Prom. And her childhood friend aka the guy she had crushed on forever, Owen, promised to help her out.
The small amount of beer in my system starts to have its way with me, and my eyes sting with tears. "You're so—" I stop before saying something I'll regret. I'm not even sure what word would've come out if I hadn't hit pause. Loyal? Good? Beautiful? Super-hot?
Smiling, Owen leans over the arm of his chair and tugs on a loose lock of my hair. "So are you." – Riley
I absolutely loved Owen Locklear!  While he came across as popular and a great baseball player, I loved that he'd geek out and game with Riley.  They're gaming talk and banter made my heart race.  And the way Owen and Riley connected had me smiling and swooning.  Especially when Owen tried his hardest to help Riley with Prom.  But there was one tiny problem when it came to Riley and Owen.  Owen was Catherine's boyfriend.  While I definitely shouldn't have been lusting for Owen and Riley to kiss, the heart wants what the heart wants…..
His eyes soften, and he reaches over to squeeze my hand. "You're not a bitch, you know that, right?"
My laugh is more genuine this time. "No. I just play one on TV." – Catherine and Owen
Ironically, I didn't connect to Catherine Reed at first.  She came across as a little prissy and she tried so hard to be perfect.  But before I knew it, Catherine became my favorite.  While she was a cheerleader, who seemed destined to be her school's Prom Queen, there was so much more to her than she showed the world.  Underneath it all was a girl that made my heart clutch for her.  Her relationship with her mom, her relationship with Owen and even her relationship with her friends pulled at my heart.  Catherine was flawed, loveable and I kept rooting for her to figure out her life and truly be happy.  So as the story progressed, I loved watching her grow.  And I loved even more that Jordan had a huge role in helping her out with that.
He's quiet for so long that I lift my head to turn toward him. He's studying me with both amusement and something else I can't quite place.
"What?"
"Just now. You. This is the most real I think you've ever been with me. I like it. It looks good on you."
I turn my face to hide my blush. – Jordan and Catherine
Jordan Oswald snuck up on me, just like Catherine.  Before I knew it, I was obsessed with him and added him to my book boyfriend list.  Jordan was sexy, charming and also inconspicuous at the same time.  He easily captured my heart and it was impossible not to smile when he was around.  So when Jordan and Catherine started to work together, for Prom, I loved their interactions and seeing how their friendship grew.  And again, I found myself wishing for a different couple to form.  This time I was rooting for Jordan and Catherine.  You could feel the electricity and sparks between them, any time they were near each other.
We're in a jail cell with dozens of our classmates, but somehow all of that fades away until it's only me and Jordon. He's solid, safe, and the heat from his body so close to mine erases the goose bumps covering my arms. At least until his dark gaze, serious with intent, locks on mine. Then I get goose bumps for an entirely different reason.
While Riley and Catherine told us this story, Owen and Jordan played such a huge role too.  And I loved all of their dynamics, especially when you threw some jealousy in the mix.  But one of the things I loved most about this group was their perseverance.  They got knocked down again and again, yet we watched them slowly find strength in not only themselves, but with each other.  And by that very last page, I loved seeing just how far Riley and Catherine had come.  Especially since that ending left my heart feeling so happy.  So if you're a fan of ya romance, that pulls at your heart and has fabulous angst, then you definitely have to check out this book!  It flew right onto my favorites list!
*I voluntarily read and reviewed an advanced copy of this book, provided by the publisher. All thoughts and opinions are my own.*
Amazon | Amazon Australia | Amazon UK | Amazon Canada | B&N | iBooks | Kobo
About the Authors:
Jennifer DiGiovanni writes light fantasy and contemporary fiction for teens. You can find out more about her books by visiting www.jenniferdigiovanni.com or following her on Instagram or Twitter @jendwrites.

T.H. Hernandez is a young adult author of six novels, spanning the contemporary, post-global warming/dystopian, and urban scifi genres. She lives in San Diego, California with her husband, three kids, and a zoo-worthy collection of animals. Her latest release, PROM-WRECKED, was co-written with Jennifer DiGiovanni and releases May 2019 from Entangled Teen.

Giveaway:
Related Posts
I'm so happy to be on this tour because I LOVED every single thing about this book! So check out my 5 Star Review below and enter a fabulous giveaway! Enjoy!