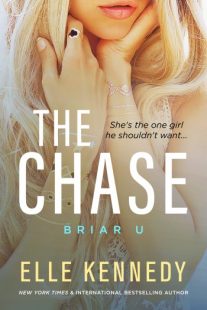 The Chase
(
Briar U #1
)
by
Elle Kennedy
Purchase on:
Amazon
, 
iBooks
Add to:
Goodreads
Synopsis:

Everyone says opposites attract. And they must be right, because there's no logical reason why I'm so drawn to Colin Fitzgerald. I don't usually go for tattoo-covered, video-gaming, hockey-playing nerd-jocks who think I'm flighty and superficial. His narrow view of me is the first strike against him. It doesn't help that he's buddy-buddy with my brother.

And that his best friend has a crush on me.

And that I just moved in with them.

Oh, did I not mention we're roommates?

I suppose it doesn't matter. Fitzy has made it clear he's not interested in me, even though the sparks between us are liable to burn our house down. I'm not the kind of girl who chases after a man, though, and I'm not about to start. I've got my hands full dealing with a new school, a sleazy professor, and an uncertain future. So if my sexy brooding roomie wises up and realizes what he's missing?

He knows where to find me.
I'm gone for this girl. So gone.
Imagine my surprise as I was browsing GR the other day and saw that one of my friends had started reading this book. I'm not even kidding, the last time I looked it up (I would check pretty often, honestly) it didn't even have a date for when it was going to be published. I went and bought it IMMEDIATELY!!!!!!!!!!!!! You see, ever since I stumbled upon The Deal a few years ago, Elle Kennedy has been my #1 favorite and go-to author when it comes to NA/sports/romance books. I can't fathom why more people haven't read these books… I watch her upcoming due dates like a freaking hawk, waiting to snatch up the newest book as soon as it hits the shelf. I finished this thing as soon as my busy work and four-month-old baby schedule would allow.
"Is he a good kisser? What's our penis situation like? Did he go down on you? Did you sleep with him? Why did you do this? Is he annoying in bed? Do you regret it? Is he—" 
First things first, I was really excited when I found out that this book was going to be about Summer. Her older brother, Dean, is the star of the third book in Kennedy's other series based around Briarwood, called The Score (which was my second favorite of the four) and was friggen hilarious. I just knew that this book wouldn't disappoint, and for the most part it didn't! Summer's character was a refreshing one. Her family may be filthy rich but you can tell that everyone in her family is a hard worker and doesn't just coast by because they can. She is a great friend, has girl power written all over her, and even has ADHD which is a pretty major part of this book (which isn't very common!). Even though she is clearly very intelligent, she has problems writing and has struggled all throughout school. Throughout this book you can see how this really has a serious impact on her sense of self-worth and it makes her incredibly self-conscious at different times.
And I'm still debating it when Fitz enters my bedroom without knocking and levels me with two husky words. "Don't go."
Luckily for her, her male counterpart in this book, Fitz, helps her to see that her learning disability doesn't make her any less of a person and that she shouldn't be ashamed just because she can't write an essay. Colin Fitzgerald isn't perfect either. The guy is incapable of sharing his emotions for about 70% of the book and BOY did it frustrate me until you find out why that is. I was actually pretty interested in seeing what his character was going to be like. He is mentioned all throughout the other series as he is on the hockey team with Garrett, Logan, Dean, and Tuck but for some reason I had this completely different perception of who he was (basically that he was just this quiet nerd- and I say that lovingly- because all we really hear about him is that he's a great gamer).  It was great getting to know him though and I think he was the perfect pairing to Summer because of his level headedness and how he built her up when she was feeling low about her learning disability and stuck up for her when she was being insulted. 
"Nieces and nephews plural? How many kids you planning on having?" 
"A lot!"
"You're not allowed to get pregnant until you're at least thirty. I'm not ready to be an uncle." 
"Oh my God. Life isn't always about you!" They stand there bickering as if I'm not bent in half on the marble floor, gasping for air. 
"I'm not having kids with you," I wheeze at Summer. "I don't want to be part of your insane family." 
"Oh hush, sweetie. It's too late. I've become attached."
Hm let's see, what else did I like about this book? Well, probably my favorite thing was the bromance (girlmance?) between Summer and Coach Jensen's daughter, Brenna. Good lord she was hilarious and tough and I CAN'T WAIT for her book. I swear she better end up with Connelly—how steamy would that book be?! I also loved the humor and pop culture references in this book (all her books). They make reading them all so enjoyable. Football players who watch project runway, Summer likening one of her professors to Gilderoy Lockhart, and numerous others. 
Kennedy's books are also great because they feature real, important things. This one in particular was full of them; learning disabilities, comments on rape culture (and how horrible/real it can be in college), body shaming, abuse in its many forms, and on and on. It's not just all frivolous smut (though let's be real, she write the best smutty scenes out there in my opinion lol) like some NA.
For the first time ever, I truly feel like I'm living life instead of hiding in the shadows.
Basically I am so happy to be in the sphere of people again and I seriously can't wait for Brenna's book. The only thing that had me a little unsatisfied was that this was a *serious* slow burn. Like the reader is basically left hanging until about 70%. Even though that is super sexy sometimes, in this book I started to become disconnected to the characters and started to get really pissed off with Fitz until he explained himself to Summer. Even then though I felt like I needed a little more from the both of them together and I ended up feeling super bummed for Hunter. I really hope he gets his own book, too! Despite all that though I HIGHLY recommend this book and her other series set at Briarwood if you love or even like sports centered NA.
Related Posts