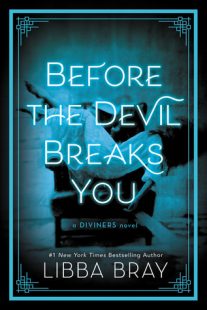 Before the Devil Breaks You
(
The Diviners #3
)
by
Libba Bray
Purchase on:
Amazon
, 
iBooks
, 
Book Depository
Add to:
Goodreads
Synopsis:

New York City.
1927.
Lights are bright.
Jazz is king.
Parties are wild.
And the dead are coming...

After battling a supernatural sleeping sickness that early claimed two of their own, the Diviners have had enough of lies. They're more determined than ever to uncover the mystery behind their extraordinary powers, even as they face off against an all-new terror. Out on Ward's Island, far from the city's bustle, sits a mental hospital haunted by the lost souls of people long forgotten--ghosts who have unusual and dangerous ties to the man in the stovepipe hat, also known as the King of Crows.

With terrible accounts of murder and possession flooding in from all over, and New York City on the verge of panic, the Diviners must band together and brave the sinister ghosts invading the asylum, a fight that will bring them fact-to-face with the King of Crows. But as the explosive secrets of the past come to light, loyalties and friendships will be tested, love will hang in the balance, and the Diviners will question all that they've ever known. All the while, malevolent forces gather from every corner in a battle for the very soul of a nation--a fight that could claim the Diviners themselves.
Review:
In this history, someone wins and someone loses. There are patriots and enemies. Folk heroes who save the day. Vanquished foes who had it coming. It's all in the telling. The conquered have no voice.
I…..I am left without knowing quite what to say. I stayed up until around 1 a.m. last night to finish this because I couldn't bear to stop. The story would not let me stop. I know that isn't really even that late compared to how late I've stayed up in the past for a book but I can guarantee you it's the latest I've stayed up reading since having my daughter. This series has had be on an emotional roller coaster the past few weeks. I have not read Bray's writing in years so I had forgotten how consuming it can be. I've been terrified, I've been hurt, I've been worried, I've been in love. Even as I sit typing this, when I think about everything that happened in the last half of the book, my heart starts beating faster. Honestly, this has been the most visceral reading experience I've had in a LONG time.
"Aw, Sheba. I didn't mean anything by that. Look, I know I'm no egghead and I'm no saint. I can't heal like Memphis or play the piano like Henry. And I sure don't look like Freddy the Giant," he said, exposing his own soft wound. "But I got my own kind of smarts, from the streets, and when I go after something, well, just try'n shake me off. I'm an odd fella, but I know I'm an odd fella. What I can't figure out is why you gotta make yourself crackers trying to be somebody you can't ever be instead of just letting yourself be the one and only Evie O'Neill."
I want to do my best to give away as little as possible. I'm always one for reading ahead or looking at spoilers and other than looking to see what happened at the end of Lair of Dreams I was good. I had NO idea what to expect for this one other than having certain gut feelings throughout the book. I want to warn you all, this book—this entire series—is dark. There are horrible ghosts, there is death, there is racism and bigotry. While I abso-posi-tutely loved reading about this era, it was so hard reading about the racism. Like seriously when everything goes to shit at the end with the King of Crows and certain deaths, etc., all I could think about was "yeah sure, they'll probably defeat him in the next book but Memphis and Theta will still never be able to live peacefully in love. Henry will never be able to get married. Ling will always be judged for both the color of her skin and because of her braces." GAHHH I hate that that's the way things used to be…that that's the way it still sometimes is now. It's unfair and it sucks and I will never understand why people can't just let other people be happy. It's a load of B.S. if you ask me.
"I suppose it's all in how you define patriotism. Some say that's only saying good things about your country. Others say that it's speaking against what you feel is wrong with your country and trying to make a change." 
BUT, I don't want to make it seem like everything is just a huge suckfest. No. This book has love and joy and hope as well. Just because Theta and Memphis's relationship is looked down upon, doesn't mean it affects their love for one another in any way. Nothing stops Henry or Ling from being exactly who they are as well. And as for Evie and the kinda-love triangle….oh baby. My lips are sealed muahahaha. 
Seriously though, the second half of this book was my favorite. It's all like BAM BAM BAM in your face. Here's a tad of information you might want, but then boom, here's a little more mystery to add to your ??? files. You learn so much about Project Buffalo that is so messed up but still I have more questions about James and Sam's mom and the weird blue serum that Marlowe gives to Jericho. It's just so crazy think about how "simple" things were in the first book –lolol yeah right, but you'll see what I mean if you read these. Then they were just dealing with one murderous ghost, not an endless supply. One thing that held the test of time, though, is the friendships. In fact, the motley group of characters have become a family, they become the reader's family. I care so much for each of them that I will be so sad to see them go after the next book…fingers crossed they all live.
He was beautiful to her. She reached her hand toward him, and if she lived for a hundred years more, she would never forget his expression, as if he had been lost in a dark wood for a very long time and she had just opened the door to him, light spilling out to let him know he was home at last.
I am so deeply in need of the fourth book it's not even funny. After everything that happened in the last half of the book I am left empty and with little hope. There is going to be a great reckoning and I am so nervous to see how everything comes to an end.
LIBBA PLZ GIVE US EVEN A ROUGH RELEASE DATE.
In our shrouds, we look up and watch you. . . You, who ask, "Am I enough?" You, who pray to leave a mark. You, so full of life. You, capable of such moments of transcendent beauty that it shifts the atoms of history into an ecstatic sigh. You, who erect the monuments so that you'll remember, for a time. You, who will also wither and die. We marvel at your endless capacity to dream and create and, yes, even to love. To keep inventing yourselves. To ignore history's lessons. To rewrite the story again and again. We wish you love. And dreams. And hope.
Related Posts