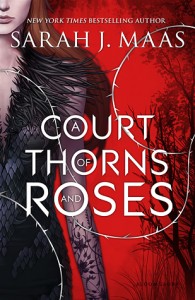 A Court of Thorns and Roses
(
A Court of Thorns and Roses #1
)
by
Sarah J. Maas
Purchase on:
Amazon
, 
iBooks
, 
Book Depository
Add to:
Goodreads
Synopsis:

A thrilling, seductive new series from New York Timesbestselling author Sarah J. Maas, blending Beauty and the Beastwith faerie lore.

When nineteen-year-old huntress Feyre kills a wolf in the woods, a beast-like creature arrives to demand retribution for it. Dragged to a treacherous magical land she only knows about from legends, Feyre discovers that her captor is not an animal, but Tamlin—one of the lethal, immortal faeries who once ruled their world.

As she dwells on his estate, her feelings for Tamlin transform from icy hostility into a fiery passion that burns through every lie and warning she's been told about the beautiful, dangerous world of the Fae. But an ancient, wicked shadow grows over the faerie lands, and Feyre must find a way to stop it . . . or doom Tamlin—and his world—forever.

Perfect for fans of Kristin Cashore and George R. R. Martin, this first book in a sexy and action-packed new series is impossible to put down!
This was such a lovely dream. I'd never slept so wonderfully before. So warm, nestled beside him. Calm. Faintly, echoing into my world of slumber, he spoke again, his breath caressing my ear. "You're exactly as I dreamed you'd be, too."

When I first saw the description for this book, I was immediately enamored. Truth be told, I am a HUGE fairy-tale person, so when a popular author plays at releasing a re-telling, I get extremely excited. What better way to relive the best parts of my childhood than to read fun twists on all the classics-especially with heaping piles of peril mixed into them to satiate my adult hunger for not all things to go correctly…but maybe that's just me. So when I saw this was a play on Beauty and the Beast, I knew I was going to love it. Sometimes you just know…and I definitely knew.
I knew I was headed down a path that would likely end in my mortal heart being left in pieces, and yet…and yet I couldn't stop myself.
I think that the Beauty and the Beast fairy tale has the most room for multiple adaptions, but it also leaves a lot of room for interpretation. Opinions tend to overflow because some people think it should be this way, some believe it should be that way, but the fact remains that, in the end, it's only what the author wants it to be. And that's where it's tough. I've seen multiple plays on this classic fairy-tale, but I have to give Maas credit where credit is due: This might be my favorite interpretation yet.
"I love you," he whispered, and kissed my brow. "Thorns and all."
He was gone when I awoke, and I was certain I had dreamed it.
One of the reasons I say that is because of the authentic feel to it-I really and truly felt like I was re-imagining Belle and Beast's journey as I read. It had just enough similarities that I was drooling all over the [screen] pages, and not once did I balk at the way Maas played out this newly imagined look at a young girl being held captive with someone she'd never think of in a million years as her prince.
Tamlin gave me a lazy grin. "And miss a chance to show off to a beautiful woman? Never." I smiled down at my plate.
"You do look beautiful," he said quietly. "I mean it," he added when my mouth twisted to the side. "Didn't you look in the mirror?"
Another thing?? I got all the peril I could ever want. It didn't seem like much was going to happen, for a while, but bit by bit I began to see little things happening here and there that would totally excite me. And then, near the end, I got more than I could have ever hoped for. I am a sadistic monster, I know this, but I was absolutely ravenous while I read all the final trials. I couldn't believe how quickly everything went perfectly downhill, making for a wonderful conclusion to a beautifully built up crescendo of emotions and desperation to save a newly discovered love. I was so tired it was almost painful to read, but from a certain point on, I didn't care. My eyes were glued to the screen and I was done-I was stuck in this world whether I wanted to be or not. And, if anyone close to me cares to remember what I mean, here's a huge hint as to why I'm ecstatic: The one scene I crave most in fantasy, paranormal, and dystopian was fully present, and it was oh-so-amazingly done. If nothing else, that whole scene/part/segment was made for me. My stone heart was obliterated and the 5 came pouring out of me…I was a smiling madwoman.
Against my volition, my body straightened, every muscle going taut, my bones straining. Magic, but deeper than that. Power seized everything inside me and took control: even my blood flowed where he willed it.
I couldn't move. An invisible, talon-tipped hand scraped against my mind. And I knew-one push, one swipe of those mental claws, and who I was would cease to exist.
I won't lie. I hate Maas's other series that is so widely loved that surrounds Caelana (or however you spell it) and her brothel of men. I mean, come on, seriously?? How many guys can fall for her. SO…to say I was scared about this one would be an understatement. I mean, what if Maas is going to do it again? Rhysand seems to be pretty into our main character, from what I can tell….and I won't lie and say it doesn't worry me. I'm in love with Tamlin and it seems like it's in the bag but…why should I invest my heart in someone that might likely just become another pawn in Maas's quadruple love interest game? I don't know. I'm STILL nervous. And then there's the simple fact that I read an absolutely earth-shattering perfect book before this one, so I was having a hard time making this one a priority. It's hard to follow something you loved so deeply. And I think that's why I'm even mentioning that fact-for a book to still get a 5 while I'm wholeheartedly still invested in a prior story as I read (I still can't stop thinking about it) then it has to be pretty good…I'm so so stubborn.
He smiled at me still, broadly and without restraint or hesitation. Isaac had never smiled at me like that. Isaac had never made my breath catch, just a little bit.
Let's get to it, shall we? Tamlin. Come on, now. How fucking perfect was he? From the moment we met him I was….okay, I wasn't completely into the story at first. Like I liked it, but I was just holding out to see how I'd feel about it before I got too attached. But then when I let my walls down, the feels came flooding in-along with the peril and protective alpha male tendencies. Can you say hot? Because oh boy, that's the way to Chelsea's heart, right there. Give me a damsel in distress any day and you've got my love and devotion to the story.
Insufferable. Lucien sighed as he looked me over. "Do you ever stop being so serious and dull?"
"Do you ever stop being such a prick?" I snapped back.
Dead-really, truly, I should have been dead for that.
But Lucien grinned at me. "Much better."
And then our main girl, Feyre, she actually adds to the best part. She's human, she gets herself in trouble, but she's so strong and able to defend herself. She isn't weak or meek or mild-she has a smart mouth and a somewhat bad attitude, but she doesn't let anyone tell her off. And when she gets a chance at love? She takes it. She doesn't play any games or doubt what she's feeling, she just goes for it. And I think that's another reason I loved this so much-we got LOVE SCENES!! Actual. Love. Scenes. Yaaaassss.
So, I really enjoyed this one. I didn't really know what to say when I started this, and I still don't know if I like everything I said or if it's what I imagined when I thought of writing this review, but I think I portrayed my feelings correctly, if nothing else. This story wasn't necessarily given a totally fair shake, and it still came out on top. I think that speaks louder than anything I could say on my own, even with that excessive fangirling I'm known to do from time to time. Feyre was a great lead to follow and Tamlin stole my heart-even Lucien and Rhysand were epic characters. If you're feeling skeptical, I'd say give it a try. I think people are just so hard on certain books. Maybe all of them, if I'm being honest. But, yeah, some people were super harsh with this one and that's fine…but I always wonder why. What else did they expect? It's just a re-telling…and Maas told it how she wanted to. End of story. The end. Oh well. What do I know?

*********************
Chelsea Peril Scale Rating:
5
Peril Approved?
Yes
There's a She Wolf in the closet, open up and set her free….aaaoooohhhh!
Relevance to this book? Not much…..I was listening to it on loop on the way to work this morning for some odd reason and he's a wolf and…yeah. She's feisty. 😛
Review to come 🙂
***************************************************
This looks…sooooo bad asssss
Why do you have to be so far awwaaaaayyyy???? *sad face*
Related Posts