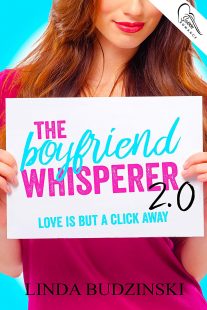 The Boyfriend Whisperer 2.0
(
The Boyfriend Whisperer #2
)
by
Linda Budzinski
Purchase on:
Amazon
Add to:
Goodreads
Synopsis:

Alicea Springer was Boyfriend Whisperer Enterprises' top success story. That is, until her dream date, Ty Walker, dumped her a week before prom. Now it's senior year, and Alicea has taken over the business and given it an upgrade using an automated matchmaking program designed to help her classmates find their perfect match.

Alicea has no interest in using the program herself. She already knows who her perfect match is … Ty. She doesn't need an app to tell her that (or worse, match her up with someone else). In a moment of weakness, Alicea allows her friends to convince her to give the program a try. To her horror, it matches her with the last boy on earth she'd ever want to date — Darius Groves, the class deadbeat.

When she and Darius are paired up for a class project, Alicea learns there's more to him than his bad reputation. But the more she spends time with Darius, the more she questions their match. They have so little in common. Why did her program match them?

Can Alicea defy the odds and make a match of her own heart's desire? Or will the matchmaker remained unmatched?
Review:
Before this book I swear I haven't read a YA contemporary in what feels like ages. Over the last few years I've kind of stopped trying because a) a lot of them lately seem to be pretty morose and dealing with suicide and that's just not something I really want to get into and b) now that I'm in my late 20s and a mom I feel like I can relate more to the parents of these characters than the actual characters themselves. I don't want to ruin the book because I'm spending too much time thinking about all of the dumb decisions that the MC is making and wondering why the parents are never around and don't seem to realize their children always being shady lolol.
ANYWAYSSSS, when Linda approached me asking if I wanted to read and review this early, I said sure, why not! I like staying up to date with all YA genres so I can recommend things better to people at the library and lately, like I said, I've been lacking in the contemporary department. This really was a pleasant surprise. I enjoyed the writing and it was a simple but sweet story that I flew through in a day. While I found myself getting super annoyed at Alicea's hangup with Ty for the first half of the book (because why she thought she couldn't do any better is beyond me–but again, high school), when she finally made the decision to leave that idiot behind for Darius, I was satisfied. I loved Darius's interactions and relationship with his sister, Jaycee too! I don't know if this is a trope, per say, but I do enjoy when the love interest has a younger sibling that ends up really liking the girl and they end up having a sweet relationship. Darius was probably actually my favorite character in the whole book. He was always sweet, had some unique interests, and was funny, too. This book does have its share of dramatic teens (well mainly just Alicea, lol) but it's nothing out of the ordinary that really impacted my thoughts of the book. Overall, if you're looking for a sweet, quick YA contemporary, give this one a try!
Big thanks to Linda Budzinski and Swoon Romance for allowing me to read this eARC in exchange for an honest review ♥
Additional Purchase Links:
Giveaway:
✮ Enter to win a Starbucks giftcard!
About Linda Budzinski:
Linda Budzinski is the author of four young adult novels, all published by Swoon Romance YA: The Boyfriend Whisperer and The Boyfriend Whisperer 2.0, Em & Em, and The Funeral Singer. When she's not writing, she works in nonprofit communications and outreach. She lives in Northern Virginia with my husband, Joe, and is active with her church's youth group. She's a sucker for romance and reality TV and has been known to turn off her phone's ringer when watching "The Bachelor." Her favorite flower is the daisy, her favorite food is chocolate, and her favorite song is "Amazing Grace."
Related Posts
I am excited to be participating in this blog tour, introducing the second book in her Boyfriend Whisperer series, The Boyfriend Whisperer 2.0! If you're looking for a fun and sweet contemporary with lovable characters and hilarious banter, I would definitely give this one a try!