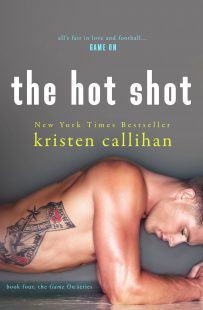 The Hot Shot
(
Game On #4
)
by
Kristen Callihan
Purchase on:
Amazon
, 
iBooks
, 
Book Depository
Add to:
Goodreads
Synopsis:

First we were friends. Then we were roommates. Now I want more…
What can I say about Chess Copper? The woman is capable of bringing me to my knees. I know this about five minutes after getting naked for her.
No one is more surprised than me. The prickly photographer my team hired to shoot our annual charity calendar isn't my usual type. She's defense to my offense, a challenge at every turn. But when I'm with her, all the regrets and darkness goes away. She makes life fun.

I want to know Chess, be close to her. Which is a bad idea.

Chess is looking for a relationship. I've never given a woman more than one night. But when fate leaves Chess without a home, I step up and offer her mine. We're roommates now. Friends without benefits. But it's getting harder to keep our hands off each other. And the longer we live together the more I realize she's becoming my everything.

Trick is… Now that I've made her believe I'm a bad bet, how do I convince her to give this player a true shot at forever?
A hum pulses in my bones, and his expression becomes intent, his focus never wavering from mine. In that instant, I know him. I know him. I feel like I've known him my whole existence, like I've been waiting for him to return from wherever he's been.
What in the ever living hell. This book knocked me on my ass in the best way possible. If you've ever looked at my shelves, you would see that I've read a decent amount of NA and I have a not-so-secret love for ones that are centered on a sport/athletes. I wouldn't say that I'm incredibly athletic myself or that I've dated any hardcore athletes but I've always loved watching sports. So yeah, basically I can't keep away from a good sports series. I actually had read the second book in this series quite a while ago and just thought it was meh so I didn't come back until I started seeing some really good reviews on this one—and thank goodness I did.
James's voice turns droll. "You know, I don't think I've ever seen that expression on your face."
"What expression?" I wait for James's reply.
"Besotted."
"Besotted? Have you been reading historicals again?"
For some reason, whatever didn't work for me in book two, worked for me in this one. Chess was great, Finn was a fucking babe. The dialog was hilarious but also realistic. Like it got to be to 80% and I started to get nervous because nothing had popped up that I didn't like! How crazy is that?! Especially in NA. Even the small bit of drama at the end (Chess leaving for NYC to do a shoot and them "taking time to think") wasn't a big deal. I mean I thought it was honestly realistic of them to do. He's an NFL player about to make playoffs, she was a photographer doing a dream gig. Even though they *had* been friends and then moved into together for a chunk of time, I don't think that kind of thing should ever be taken lightly.
"You had someone decorate this place, didn't you?"
"Realtor recommended a decorator friend of hers." Ah, Jessica and Janet. Nice women. Chess narrows her eyes, and I suddenly feel caught out.
"You slept with her, didn't you?"
How the hell?
Show no weakness. I give her an easy smile. "The realtor or the designer?"
"Oh, God, both of them?"
Jesus, is she a mind reader? "Not at the same time." She scoffs like I've chumped her Cheerios.
"For fuck's sake."
Basically this is in my top five favorite NAs of all time. The chemistry between Chess and Finn was so palpable and real and the writing had my heart in my throat in numerous occasions. I am such a sucker for the "fate" of meeting your one person that I couldn't help but swoon every time they brought it up. *Happy sigh* What a great read. If you are even remotely interested in sports romance, I would HIGHLY recommend ♥
It isn't a fluke, the way my pulse kicks up whenever I see her, because it does it again. All my senses attune themselves to her as if she's my True North.
Related Posts