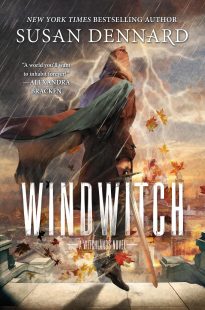 Windwitch
(
The Witchlands #2
)
by
Susan Dennard
Purchase on:
Amazon
, 
iBooks
, 
Book Depository
Add to:
Goodreads
Synopsis:

Sometimes our enemies are also our only allies…

After an explosion destroys his ship, the world believes Prince Merik, Windwitch, is dead. Scarred yet alive, Merik is determined to prove his sister's treachery. Upon reaching the royal capital, crowded with refugees, he haunts the streets, fighting for the weak—which leads to whispers of a disfigured demigod, the Fury, who brings justice to the oppressed.

When the Bloodwitch Aeduan discovers a bounty on Iseult, he makes sure to be the first to find her—yet in a surprise twist, Iseult offers him a deal. She will return money stolen from him, if he locates Safi. Now they must work together to cross the Witchlands, while constantly wondering, who will betray whom first?

After a surprise attack and shipwreck, Safi and the Empress of Marstok barely escape with their lives. Alone in a land of pirates, every moment balances on a knife's edge—especially when the pirates' next move could unleash war upon the Witchlands.
Review:

"The holiest always have the farthest to fall." 
Want to hear something funny? At about 45% of the way through this I was convinced that this was just going to be a four star. I literally texted Chelsea that. It seemed to just be one of those typical middle books that really just had a lot of travelling going on. Not that that's a bad thing, it's just not completely an EPIC thing….Ahhhhahahaha. Boy was I SO VERY WRONG. The entire last half made me eat my words. 
She was broken. She was useless. She was the pointless half of a friendship. The one who would live forever in shadows, no matter what she did. No matter whom she fought.
While each book has featured everyone, each one is more focused around a specific character. Obviously this one is about Merik. At the beginning of the book the Jana is attacked and burned by seafire. Many die and all but one of Merik's sailors believe he is dead. Basically, he is. He was very severely burned and if hadn't of been for Cam, I'm not sure what would have happened. 
Honestly Merik's story was pretty frustrating to read about in this book. After what's happened with Kullen, with his ship, his burns, Vivia….just everything, really…Merik is pissed. He's pissed at himself, pissed at the world—just a lot different from the Merik I knew and loved from the first book. And I got it, really I did. But that didn't make reading about it any easier. I absolutely LOVE the quote that I'm putting below this because it marked a point where he basically started to get his head out of his ass about everything. Realizing Vivia was. Not. The. Enemy. Realizing Cam wanted to identify as a boy (like good lord took him way too long to get that through his thick skull, haha). Realizing that sometimes, you just have to save that one, instead of saving many. THAT PART WAS SO EPIC, TOO, AHHHH.
For weeks he had wanted that evidence, so he could prove once and for all that her approach to leadership was wrong—and Merik's approach was right. 
That was the truth of it right there, wasn't it? He'd seen what he'd wanted to see, even though, in the deepest furrows of his mind, he'd known Vivia was not the enemy. He had simply needed someone to blame for his own failings.
Speaking of Viva, I was SOOOOO pleasantly surprised with her character. She's made out to be HORRIBLE in the first book and even for most of this one it's easy to see how much of a stubborn ass she is. When she finally dropped that façade for the self that she truly was—she shone. So brightly. I can only hope the siblings can mend more together, later.
And there it was—that was who she was. Split right down the middle, she bore her father's strength, her father's drive. She carried her mother's compassion, her mother's love for Nubrevna. 
As that certainty settled over Vivia's heart, she knew exactly what she had to do. It was time to be the person she should have been all along.
Other things that I loved in this book:
-Iseult journeying with Aeduan
-Aeudan interacting with Owl
-Vaness
-Every single thing about Safi (but I'm praying she finds out Merik is still alive ASAP)
-Learning more about Hell Bards 
-The impending doom of the upcoming war?????? Can only lead to epic-ness
-A lot of other things, but I don't want to give away any spoilers
ALSO, can I just say how AMAZING Dennard's writing is? There were SEVERAL parts towards the end where I got literal goosebumps reading about certain things happening or certain things being said. I am so happy I still have two more that I have instant access too!!!!!!!!!!!!!!!!!
Initiate, complete.
Related Posts