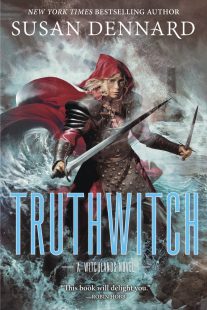 The Witchlands Box Set
by
Susan Dennard
Purchase on:
Amazon
, 
Book Depository
Add to:
Goodreads
Synopsis:

For the first time, experience the first three volumes of Susan Dennard's New York Times bestselling Witchlands series--Truthwitch, Windwitch, and Bloodwitch--now together in the Witchlands Hard Cover Boxed Set.
Magic. Adventure. Romance. War. ... Welcome to the Witchlands.

On a continent ruled by three empires, many people are born with a "witchery", a magical skill that sets them apart from others. Some command the wind, some the water, some fire, some metal. And some can master the truth, or time, or even death itself.
Now, as war breaks loose and magic is dying, two young women--a Truthwitch and a Threadwitch--may hold the key to a centuries old prophecy that could control the world...if they can survive.
Review of Truthwitch (The Witchlands #1):
It wasn't freedom she wanted. It was belief in something—a prize big enough to run for and to fight for and to keep on reaching toward no matter what.

AaaaaahhhHHHHH. <–this is a telltale sign that I loved a book if you haven't noticed. I don't even want to know how many reviews I've started like that ahahaha. Anyway, what the hell? Why didn't I read this book YEARS ago?! I am obsessed right now. I went on a Tumblr stalking spree last night and kind of regret it, just like I always do because I've already spoiled a few things for myself. I can't help it. It's really a problem. So yeah, I am FIRMLY in the camp of people that LOVE this book and while it saddens me to know that a lot of people just felt "meh" about it, I think I get why.

"I'll be fine, Safi. You forget that I taught you the art of evisceration."
Safi scoffed, but her Threads flared with with amused pink. "Is that so, dear Threadsister? Have you already forgotten that it was me they called The Great Eviscerator back in Veñaza City?" Safi flung a dramatic hand high as she twirled toward Ryber.
Now Iseult didn't have to fake a grin. "Is that what you thought they said?" she called. "It was actually The Great Vociferator, Safi, because that mouth of yours is so big."

It's no secret that this series is super heavy on complex world building and even has a complex magic structure. In YA, when a lot of the books are read for quick pleasure, that can obviously throw people off guard. For me, though, I grew up reading high fantasy and happen to love those complex worlds. I mean, I don't know how you can love LOTR if you don't love this series. Tokien even created an ENTIRELY new language based on the world of LOTR. If that isn't intense and complex, I don't know what is. Normally as long as there is a map that I can use to visualize the different places, I'm good to go. Did it take me a few chapters to get to know the characters and their powers and try to figure out which country they kept mentioning? Yes. Did that bother me or take away from the story? No. I was much too entranced by the storyline and the characters and in the back of my mind I knew that eventually my questions would be answered.

Speaking of characters, I also really need to talk about how much I love both Safi and Iseult..and Merrik, and Ryber, and Aeduan, and literally everyone else. But ESP my gals. Safi was freakin hilarious. Not only was she a BA fighter, she cares about the people she loves so deeply AND she has hilarious sayings, usually reserved for when she's in trouble (I might have to steal goat tits for myself, lol). Iseult is obviously also a BA fighter too and had some pretty great dry humor. The main thing I loved about them was how they loved each other. This is best friend GOALS. They would literally die for one another and I just loved the concept of them being Treadsisters because I have always thought that family doesn't just have to be those who are blood related to you but those you choose to have as your family.

And the ships! Oh the ships! I mean I guess I should technically only say ship for now but you better believe I know what's coming for Iseult and a certain someone. SAFI AND MERRIK FOR LIFE. Like wtf wow. I don't know if you'd exactly say there is a hate-to-love kind of a situation but..kind of? Basically they had no trouble butting heads throughout the entire book and still Safi came through for him in the end, BIG TIME. Oh my heart. And then when Iseult was witnessing their threads interact. I loved every second.

The ending was so intriguing and intense and I am SO GLAD I had the foresight to snatch up the entire rest of the series while they were all miraculously checked in at my library. I will be starting Windwitch ASAP.

"Yes," Safi breathed, swaying into one of the men holding her up. She flashed a grin at him and said, "I'm Safiya fon Hasstrel, and I can do anything."
✩✮✩✮✩✩✮✩✮✩
New Covers: –[[AHH LOOK AT THEIR BEAUTY]]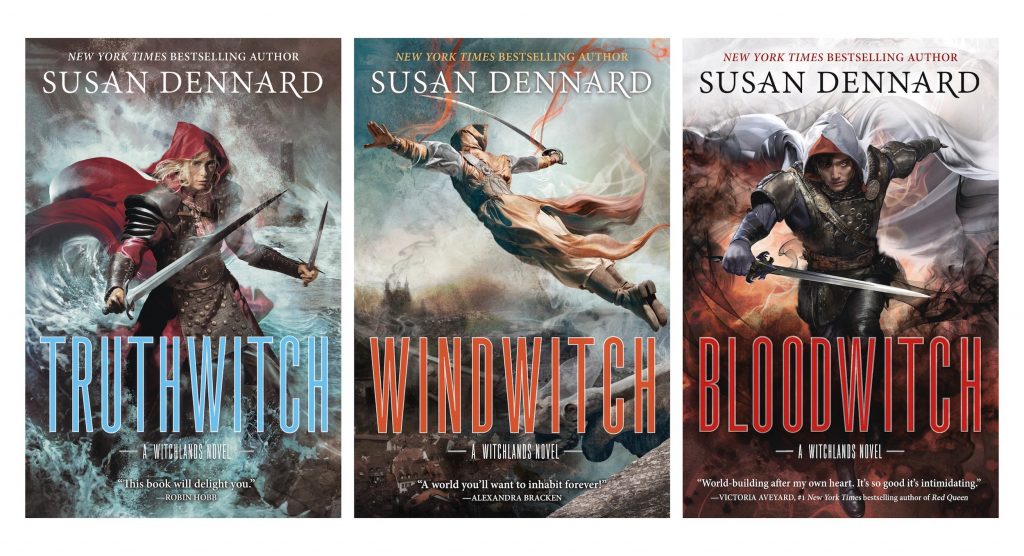 ✩✮✩✮✩✩✮✩✮✩
About the Author:
Susan Dennard has come a long way from small-town Georgia. Working in marine biology, she got to travel the world—six out of seven continents, to  be exact (she'll get to you yet, Asia!)—before she settled down as a full-time novelist and writing instructor.
She is the author of the Something Strange and Deadly series, as well as the New York Times bestselling Witchlands series, and she also hosts the popular newsletter for writers, the Misfits & Daydreamers. When not writing, she is slaying darkspawn (on her PS4) or earning bruises at the dojo.
She lives in the Midwestern US with her French husband, two spoiled dogs, and two grouchy cats. Learn more about her on her twitter, instagram, or newsletter.
About the Cover Artist:
Cliff Nielsen is best known for his work on projects such as Star Wars, The X-Files, Chronicles of Narnia among many projects including advertising campaigns, designs, and magazines. He studied in both traditional and digital illustration and graduated as valedictorian from Art Center College of Design in CA. His illustrations have been recognized for their excellence by the Society of Illustrators, Print, and Spectrum among others. Feature articles focusing on his work appear in design publications and fanzine magazines alike. Cliff has been an international speaker on digital art and has served as a judge for the Society of Illustrators and a variety of professional illustration award programs. He lives and dreams in Los Angeles, California.
About the Map Artist:
Jessica Khoury wrote her first book at age 4, a fan fic sequel to Syd Hoff's Danny and the Dinosaur, which she scribbled on notebook paper, stapled together, and placed on the bookshelf of her preschool classroom. Since that day, she's dreamed of being an author.
In addition to writing, Jess is also a fantasy cartographer, and spends far too much time scribbling tiny trees and mountains in fictional worlds. She is very passionate about orcas, Spanish soccer, and choosing the perfect font.
Jess currently lives in Greenville, South Carolina. She is the author of Origin, Vitro, Kalahari, and The Forbidden Wish.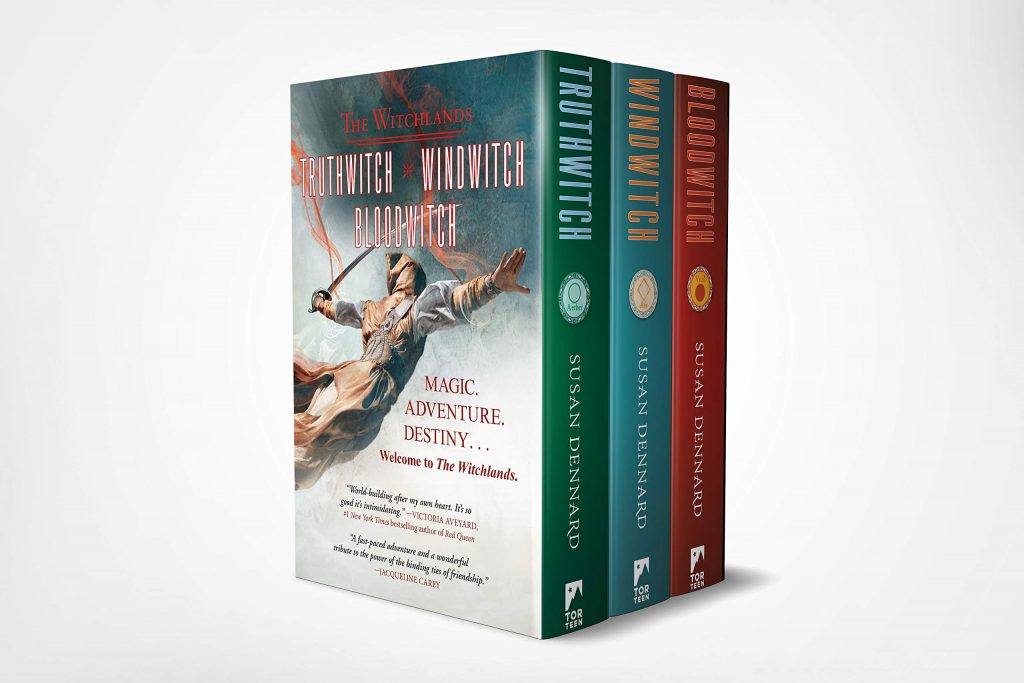 ✩✮✩✮✩✩✮✩✮✩
Extra Preorder Links:
Related Posts
I am SO excited to be part of the blog tour promoting the new covers for The Witchlands Box Set. These books are so amazing and fast paced that it makes sense that the covers reflect the exact essence of what is inside each book.