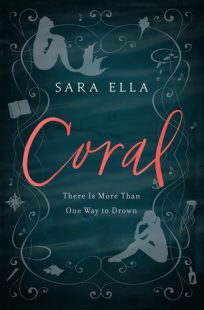 Coral
by
Sara Ella
Purchase on:
Amazon
, 
iBooks
, 
Book Depository
Add to:
Goodreads
Synopsis:

There is more than one way to drown.

Coral has always been different, standing out from her mermaid sisters in a society where blending in is key. Worse yet, she fears she has been afflicted with the dreaded Disease, said to be carried by humans—emotions. Can she face the darkness long enough to surface in the light?

Above the sea, Brooke has nothing left to give. Depression and anxiety have left her feeling isolated. Forgotten. The only thing she can rely on is the numbness she finds within the cool and comforting ocean waves. If only she weren't stuck at Fathoms—a new group therapy home that promises a second chance at life. But what's the point of living if her soul is destined to bleed?

Merrick may be San Francisco's golden boy, but he wants nothing more than to escape his controlling father. When his younger sister's suicide attempt sends Merrick to his breaking point, escape becomes the only option. If he can find their mom, everything will be made right again—right?

When their worlds collide, all three will do whatever it takes to survive, and Coral might even catch a prince in the process. But what—and who—must they leave behind for life to finally begin?

Taking a new twist on Hans Christian Andersen's beloved—yet tragic—fairy tale, Coral explores mental health from multiple perspectives, questioning what it means to be human in a world where humanity often seems lost.
I received a complimentary copy of this book. Opinions expressed in this review are completely my own.

"You're too emotional for your own good. Dramatic. Sensitive. Let those feelings hook you, and you'll end up just. Like. Her. Sunken and unsalvageable."

I wanted to like this book so much. I really did. This was one of my most anticipated reads of the year. The description made it sound so good: A twist on The Little Mermaid, with the focus on mental health and wellness? Awesome, sign me up.

Unfortunately, it fell flat and ended up reading a little more like an afternoon special, rather than a nuanced look at mental health. For fair warning, there is a lot of discussion around attempting and characters dying by suicide in various manners. If this is a trigger for you, please avoid this book and this review. I'm also doing my best to use the most correct language possible, but if there is something I missed and should be corrected, please let me know!

But first, let me say that the beginning was awesome. We are immediately introduced to Coral, a mermaid living with her family under the sea. She has two sisters, a father and a grandmother. She is especially close to her eldest sister and grandmother, while her middle sister and father are more abrasive. As part of this world, mermaids are taught not to be too emotional, because if they allow their emotions to become too much, then the red tide will come and turn them to sea foam. Coral struggles with her emotions, especially in the wake of her sister's death from the red tide. Her grandmother then whisks her away to the mortal world, where she wants to hunt down the human boy who made her sister fall in love with him and then broke her heart.

Meanwhile, we meet two humans: Brooke, who is in a mental health facility after attempting suicide and surviving. Here, she meets a great cast of characters, including a younger girl named Hope. We also meet Merrick, a teenage boy who is overwhelmed by his rich father's expectations and the mental health struggles of his sister, Amaya. After Amaya attempts suicide and Merrick's mother disappears, Merrick kidnaps his sister away from his father and takes her to stay with a friend in small coastal town south of San Francisco (I believe Monterey, which might be my favorite city in California as a personal side note). Here, Merrick struggles to provide for him and Amaya, as well as track down his mother.

It was a strange feeling. Longing for something she'd never have again. Hoping for the past, while at once realizing there was nothing she could do to change it.

So now that you know the characters, let's talk plot. I thought the first 50% was really good. It was a lot of setup, but I liked all three major characters and was invested in each of their struggles. After this halfway point is where things began to fall apart for me. The biggest turning point was when Coral met Merrick on land (they have a brief meeting with her as a mermaid earlier in the book). There was a time jump and very little was explained (at the time) about how/why Coral was in school, when she was only on land to find her sister's "prince." And why did Merrick say he would help her find a "prince"? It's a strange term to use and no character ever questioned it.

While the writing is good, the dialogue didn't really sound like teenagers and a lot of the actions seemed to not be highly realistic either. There is a bit of insta-love (which I loathe) and some of the characters are deeply in love without a lot build up to it. I wasn't invested in the love story at all, despite liking each character individually when I first met them. We get a lot of tell, not show, and it was frustrating. There's also a surprise reveal about 60% of the way through, but if you're paying attention, it's fairly obvious. I didn't have a problem with this reveal, other than I really like the story and world building that had been done with this storyline and was sad to see it mostly go away.

The ending was far from rushed. If anything, it was dragged out longer than it needed to be. And while I absolutely agree on how important mental health is, and I hope this book truly helps others who may be struggling, I felt like I was getting hit in the head over and over with inspirational messages. For example:

"No one would ever tell a cancer patient to 'just get over it.' Why people think they can tell those with a mental illness as much is baffling."

This is such an important message, but it is continually spelled out word for word, over and over again. Nuance is not used here and while I'm inclined to believe this was intentional on the author's part, I almost felt like I was reading materials from a seminar or class.

Overall, I feel a 3.5/5 rating is fair. I really enjoyed some aspects of this book and found the topic to be quite important, but felt the execution could have been better and less after school special, especially as the book wrapped up.

"You're not nothing either," I tell her. "I guess that makes us both something."
Coral will be released on November 12, 2019.
Related Posts