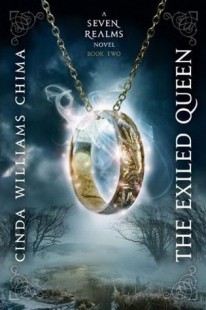 The Exiled Queen
(
Seven Realms #2
)
by
Cinda Williams Chima
Purchase on:
Amazon
, 
Book Depository
Add to:
Goodreads
Synopsis:

Haunted by the loss of his mother and sister, Han Alister journeys south to begin his schooling at Mystwerk House in Oden's Ford. But leaving the Fells doesn't mean that danger isn't far behind. Han is hunted every step of the way by the Bayars, a powerful wizarding family set on reclaiming the amulet Han stole from them. And Mystwerk House has dangers of its own. There, Han meets Crow, a mysterious wizard who agrees to tutor Han in the darker parts of sorcery—but the bargain they make is one Han may regret.

Meanwhile, Princess Raisa ana'Marianna runs from a forced marriage in the Fells, accompanied by her friend Amon and his triple of cadets. Now, the safest place for Raisa is Wein House, the military academy at Oden's Ford. If Raisa can pass as a regular student, Wein House will offer both sanctuary and the education Raisa needs to succeed as the next Gray Wolf queen.

Everything changes when Han and Raisa's paths cross, in this epic tale of uncertain friendships, cut-throat politics, and the irresistible power of attraction.
Let's be real, okay? If I didn't have to get up in 5 hours, I would dive in The Gray Wolf Throne RIGHT NOW.
"You couldn't keep your mouth shut? I'm calling you Glitterhair from now on. Or Talksalot."
I don't know what is it with these books that keep me captivated and compelled to read more and more and more. The characters' growth is fantastic, my boy Han fascinating, the plot way more surprising but it still contains several tropes that I usually don't like – including an heroine who "loves" several boys, BUT for once in a way that I can accept and understand, and without the constant change of mind that drives me nuts. Also, is this really love? She's confused and unsure, and that makes her more believable than ever. Raisa might be flawed, but she keeps going whatever happens and doesn't let heartbreak go in her way. The girl has goals, and boys aren't going to change them.
Don't be afraid, though : the story does NOT focus on the romance at all, and the characters have responsibilities way more important than falling in love. Think betrayals, clans, wizard's rivalries, old charms… What's not to love?
Moreover, the secondary characters are fleshed-out and their actions do have impact on the story – Dancer, Kat, Micah, Fiona, Amon – they all add something interesting and none of them is wasted. Also, HAN. Just give me a break, okay? The guy is wicked and adorable at the same time, how can I resist? Torn between his thirst for power and revenge and the deals he made, our Han Alister evolves into someone I loved to follow. But above everything else, I love that none of the characters is either good or bad. GREY EVERYWHERE, I tell you.
The plot keeps thickening and promises a hell lot of action in the next two books, with all the threads linking together and the menace on all the characters' heads more and more present.
Anyway, off to bed I go, after these ramblings that may or may not be morphed into a real review tomorrow depending on my ability to restrain myself from reading book 3 (= closed to none). Oh hell. I'm addicted.
Related Posts