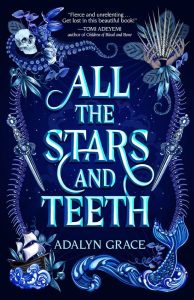 All the Stars and Teeth
(
All the Stars and Teeth #1
)
by
Adalyn Grace
Purchase on:
Amazon
, 
iBooks
, 
Book Depository
Add to:
Goodreads
Synopsis:

Set in a kingdom where danger lurks beneath the sea, mermaids seek vengeance with song, and magic is a choice, Adalyn Grace's All the Stars and Teeth is a thrilling fantasy for fans of Stephanie Garber's Caraval and Sarah J. Maas's Throne of Glass series.

She will reign.

As princess of the island kingdom Visidia, Amora Montara has spent her entire life training to be High Animancer—the master of souls. The rest of the realm can choose their magic, but for Amora, it's never been a choice. To secure her place as heir to the throne, she must prove her mastery of the monarchy's dangerous soul magic.

When her demonstration goes awry, Amora is forced to flee. She strikes a deal with Bastian, a mysterious pirate: he'll help her prove she's fit to rule, if she'll help him reclaim his stolen magic.

But sailing the kingdom holds more wonder—and more peril—than Amora anticipated. A destructive new magic is on the rise, and if Amora is to conquer it, she'll need to face legendary monsters, cross paths with vengeful mermaids, and deal with a stow-away she never expected… or risk the fate of Visidia and lose the crown forever.

I am the right choice. The only choice. And I will protect my kingdom.
Review:
All the Stars and Teeth was the first book I read in 2020 and it very easily could be in my top ten by the time the year ends. That's how much I adored this book.
There's everything I love, wrapped into nearly 400 pages: Magic! Pirates! Mermaids! Enemies(ish)-to-lovers! Peril! Teamwork! Romance! A heartbreaking ending! Promise of more exciting things to come!
ATSAT is wild ride, from the very beginning chapters. Amora Montara, princess of Visidia, has been training in magic her whole life to take over her father's throne. The magic is dangerous and there are very few who can do what she can. All she has to do is one demonstration of her ability to use this magic and she will ascend to the throne. But something goes terribly wrong and then next things she knows, she's running away from a pirate to save her kingdom and prove she can one day rule.
It's on this journey we meet the team: Bastian, the man who saved Amora from execution and has secrets of his own; Ferrick, Amora's fiancé by way of an arranged relationship; Vatea, a mermaid who helps them navigate cursed waters after they rescue her. To say I loved the group dynamics would be an understatement. All of them bring particular skills and have such unique, but lovable, personalities.
The four of them sail around of the realm, trying to find the items they need to travel to Zudoh and face those who are practicing a dangerous magic face-to-face. As the group goes further on their travels, secrets are exposed and devastating information becomes exposed. Each character is battling their own personal demons, but all have a singular focus: to defeat the evil growing in the kingdom.
This is the first part of a duology, and while I would love to see it go even further than that, I'm happy to know there's more to come. Because that ending was both satisfying and devastating. Certain storylines are wrapped up, but the sacrifices asked of some of our favs are almost too great and it broke my heart.
ATSAT is fast-paced and beautifully written. The characters are highly engaging and likeable. There's monsters and magic and sea creatures. There's also romance and deep friendships. All the characters grow and learn as they face precarious situation after precarious situation. There's brutality but also sweet love. I truly don't want to spoil a lot of aspects of this book, so I'll just say I hope you enjoy this as much as I did. If you love YA fantasy as much as I do, All the Stars and Teeth makes a wonderful addition to this genre.
Favorite Quotes:
My hands hesitate over the fire as the confidence I built like armor around me shatters. Everything I've done has been for them. And yet…my own people fear me.
*
Bastian rolls his eyes and leans closer into the cell, dropping his voice so no one can eavesdrop. "Listen to me, I don't want to abandon Visidia." He pulls back his coat to reveal my dagger and satchel tucked into his belt. "I want you to save it."
*
Hand on my cabin door, I shoot the boy a dirty glare. "Fine, keep your secrets. But remember that if you try anything, I'll stab you without a second thought."
"Are you flirting with me?" he teases. "It's a bit hard to tell, considering how terrifying you are."
*
"I've a collection of me who I intend to repay for generous they were to me." Vatea's smile gleams wicked. "Dismemberment for anyone who ever tried to touch me. The tongue flayed from those with wicked mouths. And the hearts eaten from any man who's ever told me to smile."
*
"As it turns out," I say softly, "it's impossible to break anyone out of the trance unless they have feelings for you."
"Feelings?" he echoes, shifting his right hand so his fingers weave between mine. "You mean like this?"
*
It's not too late for us; we are not the mistakes of our family. We have the opportunity to change Visidia for the better.
*
Bastian once asked me why I didn't just find a crew and save myself. But what he didn't realize was that I'd already found them—this is my crew, and I hold them tight. "We'll do this together. All of us."
*
Carefully, he reaches out to take my hand. Giving it to him is the only thing that makes me feel whole again, and I hate it.  
Giveaway:
Win one copy of All the Stars and Teeth (US/CAN only). Contest runs Feb. 4 – Feb. 20, 2020.
About the Author:
Adalyn Grace graduated Summa Cum Laude when she was 19-years-old. She spent four years working in live theater, and acted as the managing editor of a nonprofit newspaper. During and after college, she studied storytelling as an intern on Nickelodeon Animation's popular animated show, The Legend of Korra (sequel to Avatar: The Last Airbender). She was a participant in Pitch Wars 2016, and is a former literary agent intern for an established agency.Adalyn splits time between San Diego and Arizona with her bossy cat and two dorky dogs, and spends her days writing full time while trying to find the city's best burrito.She has several projects in the works, and hopes to continually push the boundaries and explore the limits of upper young adult fiction.You can follow her on Twitter, at @AdalynGrace
Keep up with Adalyn: Goodreads | Website | Instagram | Twitter
Related Posts