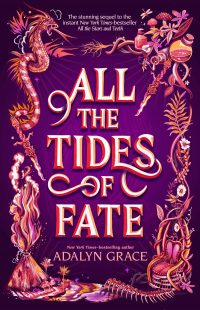 All the Tides of Fate
(
All the Stars and Teeth #2
)
by
Adalyn Grace
Purchase on:
Amazon
, 
iBooks
Add to:
Goodreads
Synopsis:

Through blood and sacrifice, Amora Montara has conquered a rebellion and taken her rightful place as queen of Visidia. Now, with the islands in turmoil and the people questioning her authority, Amora cannot allow anyone to see her weaknesses.

No one can know about the curse in her bloodline. No one can know that she's lost her magic. No one can know the truth about the boy who holds the missing half of her soul.

To save herself and Visidia, Amora embarks on a desperate quest for a mythical artifact that could fix everything―but it comes at a terrible cost. As she tries to balance her loyalty to her people, her crew, and the desires of her heart, Amora will soon discover that the power to rule might destroy her.
Review
"Are you sure we should even be in here?" Casem demands, his eyes darting around the crowd. His whole body is surprisingly tense.
Sympathetially, Ferrick places a hand on my guard's shoulder, shaking his head. "It's no use, Casem. This crew knows no reason."

The second book in this duology starts off a few months after the end of All the Stars and Teeth. Amora is doing the best she can to pick up the broken pieces of her kingdom all while trying not to fall apart over the death of her father. Unsurprisingly, even though the islands are now allowed to practice whatever multiple kinds of magic they'd like, there is still a lot of unrest from all of the lies that her father kept hidden. After a meeting with her advisors, it is determined that she will take a tour of her kingdom, hopefully finding a husband to sit by her side on the throne in the process.

If you know Amora at all, you will know that this is not something she gives a crap about. SHE is the queen and she needs no king beside her. However, after hearing about a magical object that will allow her to break the curse on her and Bastian that can be found on one of islands, she agrees to set out with the ~old~ crew and then some. Getting back on Keel Haul with Bastian, Ferrick, and Vataea (and two newcomers Shanty—who I freaking loved—and Casem) was so refreshing. I have never personally been on a sea voyage and I doubt I ever will get the chance but there is something about pirate-y novels that call to me.

Bastian's soul is one of pain. Of longing. Yet is shines brighter than any I've ever seen.
He's beautiful.

My heart hurt so bad to find out right away that Amora had been doing her best to stay as far away from Bastian as possible. While I get it—she didn't want the confusion of only feeling whole when he was around and basically feeling like she couldn't trust any kind of emotion about him—it still hurt. They obviously had strong feelings towards one another before she was cursed so I just was sad that she couldn't rely on that and was only focusing on what she thought the curse was making her feel. He did a good job from the start though, letting her know that while he'd be going with her on this parade of bachelors, he would be trying his best every single day to prove that they did have something special, curse be damned. I loved every single second of their interactions. Always. From the start it seemed like their chemistry was pretty explosive and we definitely get more of that in this book.

"You might not know now, but you'll learn." I don't know where the voice comes from, but I hear it loud and clear. "Make this life everything it should be."

Overall, even though I really enjoyed this book, I almost wish there had been one more to finish out the series. In the end I felt like there should have been more to the story. The Montara curse was built up to be this huge, ugly thing and then there was the curse that Kaven had put on Amora and Bastian and you're telling me that it all just went away because View Spoiler »Ferrick GAVE UP HIS LIVE AND ENTIRE FUCKING EXISTANCE TO HELP AMORA??!?!?!? « Hide Spoiler. DO NOT READ THAT IF YOU DON'T WANT A HUGE SPOILER. Seriously though. That part happened so suddenly I didn't think it could possibly be real and then it was and then I was heartbroken because that person deserved so much more *cries*. Also, we see Amora go through a lot in this book, emotionally. She made another choice at the end of the book that weirdly both did and did not make sense to me and it's something I will not elaborate on because again, spoilers. I think that people who enjoyed the first will truly love this one too, I had just been wanting a tiny bit more. BUT BASTIAN WILL FOREVER BE #1 IN MY HEART.

"To Zudoh," he repeats, the stars in his eyes blazing with pride.
"And to a thousand more adventures."
Huge thanks to Edelweiss and Imprint for allowing me to read an eARC of this book in exchange for my honest review!
Related Posts