Holdout
(
Moo U #3
)
Purchase on:
Amazon
Add to:
Goodreads
Synopsis:

Jonah Daniels has enough work preparing for his hockey season without spending time interviewing a roommate to help share expenses. So when some dude answers J.D.'s ad and agrees to his terms, he puts a key under the mat and leaves for practice.

What he doesn't expect is that his new roommate is not a dude at all, but an overtalkative, energetic hottie. What's worse? She's the younger sister of his friend on the team, and she's sworn him to secrecy.

Ryann Reiner needs a place to live, stat. After an incident at the dorms that almost tanked her scholarship, Ryann wants a boring roommate who'll leave her alone. J.D. almost fits the bill. He lives and breathes hockey, just like her brother, and he wouldn't know a joke unless it hip checked him against the boards.

He's also gorgeous. And broody. And he looks fine on laundry day, in too little clothing. Soon, late-night study sessions turn into dangerous flirting. And then a kiss turns into more. But they're determined to keep things in the feelings-free zone.

Until lines blur and tensions rise when Ryann's brother learns the truth. And both their hearts are skating on thin ice...
Review
The first round of the Moo U books are all out today, people! If you enjoy these authors' previous works AND the True North world that Sarina Bowen has built over the span of many, many books, please pick these up!

Due to an unfortunate, or should I say FORTUNE misunderstanding, Jonah (J.D.) a hockey player on Moo U's team and Ryann, a GIRL, and sister of one of the co-captains of said hockey team wind up living together. Both are in desperate need of someone to share rent with and a safe, quiet place to live so it looks like they'll just have to weather this one out.

Things start off on rocky footing when both of them have issues surrounding worry of what Ryann's VERY protective brother might think. Jonah CAN'T have this mess up his dynamic on the hockey team and mess up his much-needed scholarship, and Ryann CAN'T have this mess up her relationship with her brother–the only family she has left after a terrible car accident took both of their parents' lives.

As you can imagine, even though these two have quite different personalities, they wind up finding comfort in one another. Comfort becomes friendship. Friendship becomes something else entirely. Unsurprisingly to everyone (expect maybe Michael, lol) these two can't deny the steamy chemistry and wind up hooking up. Once…Twice….and more until they realize that this could never have just been a casual thing.

Even though I personally couldn't really relate to either one of these characters due to their specific circumstances and family dynamics, I was instantly attracted to how comfortable they felt around one another. Ryann especially became an anchor for Jonah and really relaxed him and brought him out of his shell in a number of ways. Their chemistry was electric and because this was also the case in the previous two books, I can't wait for the rest!

Huge thanks to HeartEyes Press and Sarina Bowen for the opportunity to read this eARC in exchange for my honest review!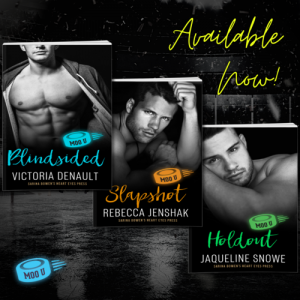 Related Posts