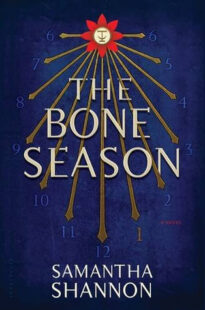 The Bone Season
(
The Bone Season #1
)
by
Samantha Shannon
Purchase on:
Amazon
, 
iBooks
, 
Book Depository
Add to:
Goodreads
Synopsis:

The year is 2059. Nineteen-year-old Paige Mahoney is working in the criminal underworld of Scion London, based at Seven Dials, employed by a man named Jaxon Hall. Her job: to scout for information by breaking into people's minds. For Paige is a dreamwalker, a clairvoyant and, in the world of Scion, she commits treason simply by breathing.

It is raining the day her life changes for ever. Attacked, drugged and kidnapped, Paige is transported to Oxford – a city kept secret for two hundred years, controlled by a powerful, otherworldly race. Paige is assigned to Warden, a Rephaite with mysterious motives. He is her master. Her trainer. Her natural enemy. But if Paige wants to regain her freedom she must allow herself to be nurtured in this prison where she is meant to die.

The Bone Season introduces a compelling heroine and also introduces an extraordinary young writer, with huge ambition and a teeming imagination. Samantha Shannon has created a bold new reality in this riveting debut.
With many books that I'm not sure of, I hold them back, watch…and wait. I can't pinpoint precisely what it was about this series that always tugged on my heartstrings


(har) but it was never far from my mind, nor was it something I wanted to delete from my tbr, no matter whether negative reviews or claims of lengthy, unnecessary info-dumping invaded my feed or the review page for said book when I stalked it every once in a while. For whatever reason, I wanted this one to succeed. I wanted it to not fall prey like many fantasy series and lose steam and go nowhere. I wanted to be part of this world. Period.
It should come at no surprise that one of my closest friends mentioned one of their closest friends (and a friend of mine, as well, inadvertently) reading it, that it was getting better and better as it went…And that was literally a hair trigger. I was done. Ready to go. And I picked it up immediately. That simple. What does that tell you?
The folly in this, though, was that I thought SURELY after all these years that the series would be complete? But no. Alas, I will be in for a very long wait if I make it through that far (I see no issues as in book two it's even better, in a way). But some of the best things are worth the wait.
Look, nothing I say about this book will be new-if you have been on GR at all for any amount of time in the fantasy scene, you've seen and/or heard about this book. What I can confirm is:
A) Why yes, it is extremely difficult to understand, especially the beginning
B) Why yes, it is long
C) And yes, some do not like the forbidden romance because of it's nature (view spoiler)[She becomes a slave and he is her 'master' (hide spoiler)] Though, I found this to be very loosely based as far as he is involved. Other people in this group? They are the real deal, though
I'd be lying if I said it didn't have some highly disturbing scenes and I wasn't triggered in the 'child' sense once or twice…but, other than that, I found this book to just be so addictive and, dare I say, wonderful. I was obsessed the moment this book picked up steam. Which, actually, didn't take long if you can push past those first two chapters or so!
Is it a bit depraved? Absolutely. But as it turns out, my favorite books tend to be quite frightening in intense, disturbing scenes. For example: I LOVE when the hero/heroine get the snot beat out of them. There. I SAID IT. This happens frequently in this book (and the second, to be frank) and I am not ashamed to admit I found immense pleasure in it-and no, not because of the act of it [never the act of it], but because of what comes after between heroes and heroines.
Whatever. Call me sick, but I am who I am and I like scenes that draw the baser person out of all of us.
So, there you go. I am so happy to admit that my wait was not in vain and that I was ecstatic to continue to book two. And, really, what else can you ask for?
****
Oh gosh, I literally cannot believe how good this ended up being?
RTC, if I can form some coherent thoughts!
****
I am trusting a certain *someone* with this one
Candidly, though, it's my own sense of undeniable attraction of needing these hardbacks on my shelf that led me to never delete them off my tbr
Related Posts