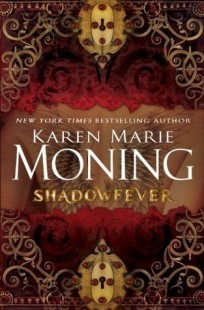 Shadowfever
(
Fever #5
)
by
Karen Marie Moning
Purchase on:
Amazon
, 
iBooks
, 
Book Depository
Add to:
Goodreads
Synopsis:

"Evil is a completely different creature, Mac. Evil is bad that believes it's good." — MacKayla Lane was just a child when she and her sister, Alina, were given up for adoption and banished from Ireland forever. — Twenty years later, Alina is dead and Mac has returned to the country that expelled them to hunt her sister's murderer. But after discovering that she descends from a bloodline both gifted and cursed, Mac is plunged into a secret history: an ancient conflict between humans and immortals who have lived concealed among us for thousands of years.
"You can't save people from themselves. You can only try to wake them up."
This is the End – The eeeeeeeeend. Oh. My. I'm totally remembering Muse song right now. What? I was a teenager, hey. I'm not even sure they're famous anymore. What a pity.
Oh, here's the town crier! Let's hear what he wants. *whisper* I heard he was a bit crazy you know, so don't expect he'll make so much sense okay?
Ah, yes. I forgot to warn you : the guy is a friend of Dani. Because exclamation marks powaaaaa!
So, twists. I didn't guess anything. And by anything, I mean, nothing at all. I'm such a dumb, seriously. Or it was really well-done and plain brilliant. Yeah, now that I'm thinking about it, that was mesmerizing. Who is Barrons? Who is Mac? Who is everyone? They could be dwarfs which have been morphed for all I know. Ha ha, you wish I could tell you, don't you?
Yeah, I'm so calling them that in my head. The guys cracked me up with all their testosterones and threatening statements. See? That doesn't bother me if Mac actually reacts and if they're not pictured at love interests. I loved them.
"Ryodan thrust my clothes at me. "The Keltar women are out of control. They cook. They chatter. They laugh. Idiots."
Mac's mum comments were awesome right? Seriously, her apparition was so refreshing. Comments about V'lane being just-marry-him-already-guy? Maybe my longest laugh of the book. With Barrons' conversation about dick. Don't forget that one.
I know. I knooooow.
"Just saying, things ain't always bad just 'cause you don't understand 'em or ain't like 'em. That's like thinking anybody who's smarter or faster is dangerous just 'cause they got more brains or quicker feet. Ain't fair. Peeps can't help how they're born."
I can finally clarify my opinion about Barrons, and what our weird relationship is. Such a mixed dichotomy. A mess, that's for sure.
I'll copy Mac and make a list of pros and cons. Or maybe not.
PROS : Why I love Barrons and CONS, because there's no such thing as me doing a clear-headed list about Barrons, duh.
"You're roaches, we're Raid. We'll get rid of you eventually."
" We. Are. Not. Insects, " Velvet said tightly."
#1 I really like his character, as in, I stayed intrigued and proud of the fact he is taking shit from no one, follows his own rules, doesn't give a damn about the hypocrisy the world is filled with. He's fierce, ruthless, strong-minded – and I love that side of him, "the Alpha that doesn't play well with others and doesn't take orders from anyone."
#2 I strongly dislike him as a love interest, that is to say – could I drool over him? Nope. Am I weird to accept my book villains as murderers or selfish bastards but not as almost-rapists? Maybe. Perhaps I'm not being fair or clear or whatever. Oh, well. That's what I feel. It seems that I can forgive a character for being ruthless and lawless, but not sexually offensive.
#3 Did I enjoy the way he was pushing Mac out of her comfort zone? Yep.
#4 Did I love the fact he was willing to do anything to achieve his goal? Hell yes!
#5 Did I resent the growing sexual tension these two were always bringing? Of course not, this was insanely hot.
#6 Did I want to finally see them together? Yeah, I did, I have to admit, they drove me nuts, these fucking stubborn.
#7 Did he bring an evil grin on my face almost each time he was talking? He did.
#8 to #98 I spare you my rambling. I try anyway, I really try.
#99 Do I accept the explanation that as Mac wanted him anyway the whole time, his behavior when she's Pri-ya doesn't matter? I can't. That reminds me too much of the statement which says that an husband can't rape his wife. That's not true. For me domination and even lust never permit to take action without a complete and freely given permission. That Mac couldn't give at the time. End of story.
Anyway, I feel the urge to write it because I'm not sure my review made the point clearly : that book was awesome and I'm missing this world already.
Sigh. ← It reminds me some character in I-don't-remember-which-one book who said he didn't understand why girls kept saying sigh instead of, you know, sighing. Sorry, completely irrelevant. See you in – Well, I'm not sure I'm reading Iced. Guess we'll see.
Reading Order & Links:


Amazon

(click on covers),

iBooks (click on titles) & Book Depository (click on book #)

Darkfever #1
Reviews:
Jen
Chelsea

Bloodfever #2
Reviews:


Faefever #3
Reviews:
Jen
Anna

Dreamfever #4
Reviews:
Jen
Anna

Shadowfever #5
Reviews:
Jen
Chelsea
Anna

Iced #6

Burned #7

Feverborn #8
Related Posts