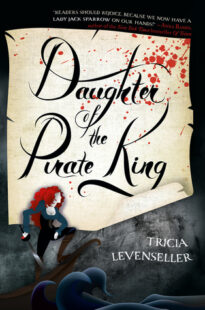 Daughter of the Pirate King
(
Daughter of the Pirate King #1
)
by
Tricia Levenseller
Purchase on:
Amazon
, 
iBooks
Add to:
Goodreads
Synopsis:

There will be plenty of time for me to beat him soundly once I've gotten what I came for.

Sent on a mission to retrieve an ancient hidden map—the key to a legendary treasure trove—seventeen-year-old pirate captain Alosa deliberately allows herself to be captured by her enemies, giving her the perfect opportunity to search their ship.

More than a match for the ruthless pirate crew, Alosa has only one thing standing between her and the map: her captor, the unexpectedly clever and unfairly attractive first mate, Riden. But not to worry, for Alosa has a few tricks up her sleeve, and no lone pirate can stop the Daughter of the Pirate King.
"This would be the key I so carelessly dropped," he says.
"Strange, that."
He sighs. "Alosa, what are you even doing out here?"
"You've kidnapped me. What do you think I'm doing out here?"
"The rowboats are over there." He points to the opposite side of the ship. "So why would you be lollygagging around my door?"
"I wanted to kill my captors before I left."
"How'd that work out for you?"
"Still working on it."


Here's the thing: Not every book has to be transcendent to be addictive to you, to make you love it and think about it tirelessly. This book was just that. I have been wanting to read DOTPK for years and just never could commit. Turns out, I just love a good 'pirate' romance. They are legit (the good ones) so far and few between. I have yet to find the level of obsession I found with Fable and To Kill a Kingdom, but I'd like to think that's simply because those books are virtually impossible to copy or do better. I know one friend (the best, actually) didn't care for TKAK as I did, but such is life and she can



*her*

The more you know, eh? Well, either way, these books are hard to mimic and I found this to be a lighter (until it's not (book two ew, wtf)) version with variations of those favorites. I'm picky and I like what I like.


"I am me because I choose to be me. I am what I want. Some people say you have to find yourself. Not I. I believe we create ourselves to be what we want. Any aspect of ourselves that we do not like can be altered if we make an effort."


I'll admit I feel clinical, atm, about reviewing. I want to do it-I want justice for these books I'm reading, but I am having a very rough time and I find it hard to produce anything other than what is required, and for that I'm sorry. But here are some of the things I loved about this one:

-The Male Lead (obviously)
-The Banter
-The way our heroine was just a little shit but I loved it
-The scene at the end involving the bad guys and our two mains (okay, probably the main reason this got a five-I am nothing if not consistent with loving terrible things happening)
-The Slow-Burn with little payoffs
-The day to day feel. I just love that. I always have. Not overly rushed.

And really, honestly, that is the sum of its parts, for me. And-my GOD-the way my two year old is CLANKING AROUND in the background with my already tired eyes is too much so I will end it here. This book was very good without taking itself too seriously. We got the funny, the dialogue, the more serious moments, and the author didn't shy away from somewhat intense situations (I love that and I really need this attention to detail to like a lighter story). So, if you are looking for a fun read, this is it.




View all my reviews
Related Posts