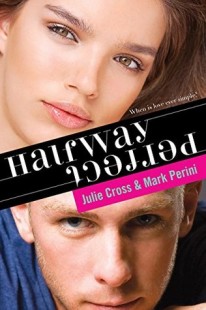 Halfway Perfect
by
Julie Cross, Mark Perini
Purchase on:
Amazon
, 
iBooks
Add to:
Goodreads
Synopsis:

Bestselling author Julie Cross teams up with Ford model Mark Perini to pen a poignant and gritty YA novel about love and the dark side of modeling and the fashion industry.

Eve's time as a fashion model nearly destroyed her-now she's determined to build a career behind the camera lens. But landing a coveted photography internship brings her face to face with her dark past-and her ex.

While Eve is snapping pictures, up-and-coming male model Alex is launching his career-which, for him, involves maintaining a fake relationship with his (secretly) underage co-star, Elana.

But Alex is falling for Eve, and Eve won't let herself get hurt again. If Alex can pull off a fake love with Elana, can he convince Eve to risk a secret affair with him?
What Julie Cross and Mark Perini offer us is a gritty and wide-eyes worthy incursion into the modeling world, and for that fact alone, Halfway Perfect is worth reading in my opinion.
Truth be told, I never thought that the modeling world was that great. Guess what? It seems that I was right. A book about what hides behind glitter and glamour written in collaboration with a former model? I'll take that. Of course I googled the guy – because hey, if I struggle to remember the names of actors from movies I watch, you can guess that I don't know the names of models. The only ones I see are from perfume ads (what the deal with swimming-pools anyway?) Yeah, I'm such a snob. Just sue me already.
The truth is, this book made me rage. I was furious to see how models had to comply with the requirements of … Of what, exactly, tell me? Of what is considered as hot? Since when a fourteen years-old teenager too skinny and without breast is considered as a sex-symbol? Said WHO? What is wrong with our society? Seriously, what is wrong with us? To me this book brings a good kind of rage. A kind of rage which makes us think about what standards our society runs and above that, about everything we don't want to see because "that's not our problem". ← The favorite sentence of humans, if any.
However, we don't see only the darkest sides of the modeling world, but also the good parts, and it was refreshing because it sounded real.
Frankly, it was difficult to connect with the characters at first, yet I slowly grew attached to them. Take Alex, for example. I'm pretty sure that I followed Eve's evolution in my opinion of him. Indeed there is no-insta-love here but characters who try to know each other's and who don't fall in love quickly. So, as Eve, I changed my mind about Alex. From judgmental toward him to interested to … Well, the moment when I found him downright adorable and sexy, Eve shared for sure my opinion. Don't get me wrong, he's flawed. Oh, yes, he is, and I couldn't fathom how he could believe this piece of shit of an agent he has and not completely disregard what tabloids say about Eve. But you know what? I'm okay with that, because it's realistic to me : real people don't always believe the truth and need time to gather their thoughts. Real people are frustrating and need time to evolve. So did Alex and Eve.
Moreover, I'm not gonna lie, I was waiting for Eve to fucking realize that her relationship with Wes (her former agent) wasn't healthy at the time and in that particular case I found that Julie Cross did a good job at picturing how we can be blind when it comes to our relationships sometimes. The fact is, Eve was 14-16 at the time and NO, she didn't realize that Wes was taking advantage of her and acting like a huge controlling and violent asshole – and years after, at 18, she still has this false opinion about what was wrong in their relationship. In my opinion it was realistic because unfortunately I do believe that the end of a messed-up relationship doesn't stop the crap right away if nothing is resolved and if nobody talks about it. Don't get me wrong, I was APPALED to see how she still isn't able to figure out how jerk and creepy he is/was, but even if I wanted to shake her, I could understand why she acted and thought that way, because nobody never supported her, nobody never told her that Wes's behavior wasn't acceptable but downright CREEPY and pedophile. I want him to die in a slow death. But it didn't prevent me from being angry, so angry at her, because while I could understand her reluctance to tell her story, the fact that the young Elena could fall into Wes's trap was so infuriating that I couldn't help but feel mad anyway, even if WES was the only one to blame for sure. What a bunch of contradictory feelings, right?
And then, when shit goes down for Eve, IT WAS SO FRUSTRATING. I cried out of RAGE because it was so unfair. I felt the walls closing around her as it was me and felt claustrophobic. Even though I'm not sure if the way everything is resolved in the end is believable, at this point, I don't fucking care, because I'd have taken ANY way to stop Wes and to make him pay for his actions.
Or, more accurately, about how French people are pictured. Yes, sexual majority is settled at 15 in France, that's true. Now, there is a difference between what's legal and what's considered as acceptable. Would Wes have been in trouble for sleeping with Eve when she was 15? Actually, yes, because he had authority over her, being her agent, and in that case the sexual majority is settled at 18. In Elena's case, that's a little different, that's true, but frankly, even if it's legal, I don't know anybody who would think that it's okay for a powerful guy of 27 to date a 15 years-old teenager. We're different from our laws, guys, and I'm sick of hearing people judge French as if reading our laws was enough to know how we think. Same thing about the legal age to drink : I had already a problem with that fact in Anna and the French Kiss actually. In France, it's FORBIDDEN to buy alcohol in a club or a bar (or in a shop, for that matter) under 18, okay? So, yeah, we can drink in family or in a party if somebody else (understand older) buys alcohol, that's true. Of course NOBODY does that in the US, RIGHT? Let's be a little frank one second here. Finally, I don't understand what's the deal with the topless thing. Twice characters said that as Elena was French, she would be okay to pose topless, because "she's probably walked around topless since birth", being French and all.
YOU DON'T SAY?! Yeah, right. Just come to France, guys, we're all wandering around topless waiting for you to stare. Oh, wait – that's wrong. We're not. Come back in your plane. Perhaps you think that I'm overreacting, and maybe you're right. What can I say? I'm sick of reading about French pictured as reckless parents who let their kids walking around almost naked and drinking wine, because 1)that's wrong, and 2)that's fucking hypocrite in my opinion.
To sum up, I ended liking this book despite its flaws, and yes, I recommend it. Just know that it's not free of stereotypes and that the characters can be downright annoying at times.
Related Posts