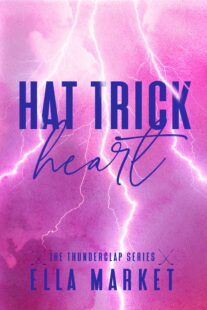 Hat Trick Heart
(
Thunderclap #1
)
by
Ella Market
Purchase on:
Amazon
Add to:
Goodreads
Synopsis:

When your agent calls and tells you that your publisher wants "something new," you do the only thing you can do:
Draw from real life experience.

Successful romance writer Macey Veronica's life has revolved around hockey for as long as she can remember. When a blast from the past is forced in to her life again, six year old secrets are uncovered, and Macey V finds herself wondering how to fit feelings for three alpha hockey players into her one heart.

Max, Rafe, and Andy were the closest that three people could be without sharing blood while playing hockey together in college. Macey was their center, their grounding point, and they would have given her the world if asked. One fateful graduation party forced a rift between two that irrevocably changed everything…. Until years later when they find themselves all playing for the Tampa Thunder.

Macey loves them all, and always has. But is that enough to get them through this next chapter? Or will their pride prove to be too much to overcome?
---
Hat Trick Heart is a standalone reverse harem romance where the main character gets a guaranteed HEA with multiple love interests. It is intended for audiences 18+ for explicit language and sexual content, including MM, MMF, and MMFM scenes.
Review
*Quotes come from an uncorrected eARC and could change*

Sometimes, I think constant chaos is my baseline.

YOU GUYSSSSS. My friend. She did it. She WROTE. A. BOOK. And even more so??? A damn good one at that. Literally any one person who has been friends with me on Goodreads for the last seven years (I went back and checked when I first read The Deal, LOL) should know that I am obsessed with hockey romances. I have read so many at this point that I have lost count and it became SUCH an interest to me that two of my good friends and I each picked two hockey teams and watched their entire last NHL season together, updating each other daily on games, players, trades—you name it. I feel like a true fan now let me tell you, lol. One of those friends just so happens to be Ms. Ella Market herself. That leads me to reason #1 why you know this book and all ensuing books in this series are going to be amazing: Market is passionate about hockey.

Without her knowing, she became my everything, and only in my dreams could I hope that she felt the same about me.

While I'm here reviewing HTH, I might as well dive into how I met Ella Market and how we became friends. It started the way so many online friendships do these days. Shared bookish interests and obsessions. We both love the same YA/NA/ Adult Fantasy fandoms and many of the same books in the romance genre as well. She asked me to join a dark romance book club on Insta where I also met Cam, the third in our hockey obsessed triangle, and the rest is history. Reason #2 why you should know the relationships and spice in this book and all ensuing books in this series are going to be amazing: Market is passionate about romance (and honestly has read more romance in more subgenres than anyone else I have ever known and can probably give you a rec for literally anything you're looking for).

". . . there are team superstitions. The traditional shoulder check line or locker room song." He pauses, and I force myself to look up at him, his blue eyes piercing me in a way that makes me squirm in my seat. "You, Macey, are a team superstition."

But all that is beside the point. I'm here to talk about her DEBUT book, Hat Trick Heart, which is the first in a reverse harem style hockey romance series. Before this I actually hadn't read many reverse harem romances and wasn't fully convinced that I could go ALL IN in that sort of dynamic. If you're on the fence about whether or not this is something you'd like/ like to try, I would say this is a great place to start. Macey, Max, Andy, and Rafe all make such perfect sense together. Macey and Maxy boy grew up together in Toronto before moving to the States for school where they met Andy and Rafe as all three men played on U of M's hockey team together. Macey immediately formed a special connection with Rafe because of their shared Filipino heritage and with Andy because he's an all-around 11/10 great guy (anddddd if I had to chooooose, WHICH YOU DON'T, he would be my favorite). Fast forward six years and Macey, Max, and Andy are living in Tampa. Macey has fulfilled her lifelong dream of becoming a romance author and the other two play together for the Tampa Thunder. Because Fate is a cruel (or maybe actually VERY VERY KIND???) mistress, Rafe gets traded to Tampa, too, and the entire group is thrown into a state of chaos after the missing piece of their group returns to them after six long years of no communication.

Now I don't want to spoil anything further but I will say this book really has it all. Second chance romance, friends to lovers, a great supporting cast, the perfect amount of drama, and men groveling, lollll. This might be Ella Market's first book but if THIS is her baseline for quality writing, I honestly can't wait to see what she comes up with next. I am finally led to reason #3 why you know this book and all ensuing books in this series are going to be amazing: Market is passionate about writing and is damn good at it, too.

Our future is built on the chaos of today. And I can't freaking wait.

Huge thanks to Ella Market for allowing me to read a copy of this eARC in exchange for my honest review!♥
Related Posts