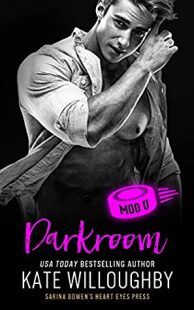 Darkroom
(
Moo U #7
)
by
Kate Willoughby
Purchase on:
Amazon
Add to:
Goodreads
Synopsis:

As a top draft pick from a family of hockey royalty, I'm under so much pressure that I'm losing my edge on the ice. I need something to snap my brain out of this self-destructive stress-loop. That's where Indi Briscoe from my photography class comes in. She's flirtatious and funny one moment, sweetly shy the next.

But she's cagey. She has secrets. Also? She's a virgin. Did I mention the pressure thing? Maybe I'm crazy for starting something with her. But we can't seem to help ourselves...

Warning: this standalone novel contains heat, heart, familial expectations, extreme milkshakes, and a hamster with deep thoughts.
Review
I have been so deep in Moo U hockey over the past week and a half that I am going to be so confused reading another series with different characters when I pick up my next book, lol! I will say that I am very impressed with the range of topics that themes that this series has presented so far. There have been a lot of very different characters experiencing very different things and I really appreciate that.

This book features Indi and Hudson. Indi was born in China and adopted by an American couple when she was a baby. She has a port-wine stain on her face that she now covers up very thoroughly with makeup after being bullied for years as a kid. For a good chunk of this book she also denies any and all attempts to connect with her Chinese heritage until her roommate helps her realize that part of the reason why she has so vehemently rejected that part of herself is because she associated it with her birth parents having abandoned her at a Chinese orphanage. Delving into that part of herself really got to me because I'm sure plenty of other people struggle with that very same part of their identity as well after being adopted, especially if it was from a country other than the one they now live in.

Hudson comes from a hockey dynasty. There has been a member of his family in the pros since the league was formed about a hundred years ago. He struggles with some really intense pressure and anxiety over preforming well in front of others and also find out over the course of the story about a medical issue involving his hearing that also really takes a toll on him as well.

While I overall really enjoyed reading about how all of those aspects of life affected and shaped Indi and Hudson both separately and together, there were times that I became frustrated with Indi especially. It's brought up one time by her mom after she blows up at Hudson but it could really be overwhelming for me when she went from 0-100 with her anger and verbally lashed out at people. Sure it was realistic but I just didn't vibe with her as much as other characters. Still, it had a great ending and I was so happy for how both of their journeys were wrapped up by the end!

Huge thanks to Heart Eyes Press for allowing me to read this eARC in exchange for my honest review!♥
Related Posts