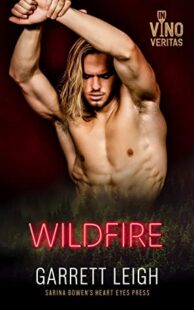 Wildfire
(
In Vino Veritas #1
)
by
Garrett Leigh
Purchase on:
Amazon
Add to:
Goodreads
Synopsis:

A gorgeous new sexual awakening romance with sizzling first times, snarky British banter, and off-the-charts chemistry.

Life doesn't always pan out as you expect. When it explodes in my face, literally, an old friend offers me a place to heal and a job renovating the kitchen of Burlington's coolest wine bar.

V&V is a chill fest. Living above it should be a blast. But I'm not built to be a social butterfly. Not anymore. I'm a damaged man.

And I'm not its target clientele.

At least, I think I'm not until I come face to face with the most beautiful human I've ever seen. Joss is the new chef and my roommate. He has hair like spun gold and it's as pretty as the rest of him. Crystal blue eyes. Megawatt smile.

I can't stop staring. Or thinking about him. He chases my nightmares away. And when he spots my crush a mile off, his solution to our chemical attraction blows my mind.

An experiment of sorts. Science. Is this sexual exploration or sex education?

Either way, Joss is only here for the summer. He's leaving.

I can't fall in love with him.

I can't.

Shame my foolish heart never got the memo.

WILDFIRE is a heartfelt MM friends-to-lovers, hurt/comfort romance in the True North world, with a brooding lumbersexual, a wild-hearted chef, sweet angst and all the Vermont food. Content warning: contains mentions of depression, ADHD, suicidal ideation, and PTSD recovery.
Review
When I saw that the first book to kick this series off was by Garrett Leigh, I was SO excited. Her book, Heartscape, which was in the Vino & Veritas series, was one of my very favorites! Like Heartscape, this one was definitely more emotional and dealt with Kai's personal trauma after a work incident and the PTSD and insomnia that ensued, and in Joss's case, ADHD with a case of non-verbal Tourette's, too.

Right from the get go we get a small teaser that one of our MCs went through something very harrowing before jumping into the main story line of Kai getting a kitchen ready in V & V so that they can start serving food to their very hungry patrons. Joss comes in as the chef and an old friend of Jax's who doesn't typically stay in one place very long before moving on to greener pastures.

Joss moves into the apartment above the bar with Kai (gotta love that forced proximity) and immediately the two, who usually are up at all hours of the night not being able to sleep (Kai) or have excess amounts of energy to be burned and have trouble staying on track for more than 5 seconds (Joss), find a calm around each other. The two work perfectly together and form a very fast attachment. Kai, who has never officially been interested in men can't help but notice Joss's every move. And vice versa, honestly. The chemistry these two have was off the charts and I enjoyed seeing the evolution of their relationship throughout the book.

I can't lie, I HAD been worried about the point in which Joss did decide to up and leave Kai/V & V/Burlington like he had in the past. Especially because like the rest of Kai's friends, I was worried about the bb and wanted to protect him at all costs. Seeing as I don't want to spoil what actually happens, all I will say is that I was satisfied with how things pan out for the two of them. The way that these two filled each others cups and fit so perfectly made my heart happy. This was the perfect start to this newest series in The World of True North!

Huge thanks to Heart Eyes Press for allowing me to read an eARC of this book in exchange for my honest review! ♥ 
Related Posts