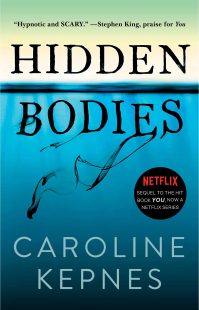 Hidden Bodies
(
You #2
)
by
Caroline Kepnes
Purchase on:
Amazon
, 
iBooks
, 
Book Depository
Add to:
Goodreads
Synopsis:

THE RIVETING SEQUEL TO THE HIT BOOK YOU, NOW A NETFLIX SERIES

"Kepnes hits the mark, cuts deep, and twists the knife." —Entertainment Weekly

"Delicious and insane...The plot may be twisty and scintillating, but its Kepnes's wit and style that keep you coming back." —Lena Dunham

"Hypnotic and scary." —Stephen King

"Obsessed." —Jessica Knoll, New York Times bestselling author of Luckiest Girl Alive

In the compulsively readable sequel to her widely acclaimed debut novel, You, Caroline Kepnes weaves a tale that Booklist calls "the love child of Holden Caulfield and Patrick Bateman."

Joe Goldberg is no stranger to hiding bodies. In the past ten years, this thirty-something has buried four of them, collateral damage in his quest for love. Now he's heading west to Los Angeles, the city of second chances, determined to put his past behind him.

In Hollywood, Joe blends in effortlessly with the other young upstarts. He eats guac, works in a bookstore, and flirts with a journalist neighbor. But while others seem fixated on their own reflections, Joe can't stop looking over his shoulder. The problem with hidden bodies is that they don't always stay that way. They re-emerge, like dark thoughts, multiplying and threatening to destroy what Joe wants most: true love. And when he finds it in a darkened room in Soho House, he's more desperate than ever to keep his secrets buried. He doesn't want to hurt his new girlfriend—he wants to be with her forever. But if she ever finds out what he's done, he may not have a choice…
Honestly? I'm a bit shocked and disappointed. No, I DID NOT FINISH…but, hear me out,
I just think
-with a book/subject matter like this-
less is more
. The first book
floored
me. So many requotable quotes. Hilarious inner monologue. I LOVED Joe (as much as you can love a psycho who kills women who don't adhere to what he believes a girlfriend should be
). I loved his take on life. On America-
'Fucking America, Beck.'
. On pop culture and the idiots radiating through the streets of New York. The way he addressed Beck as 'You'. Brilliant.
And he slayed me with his humor
.
But here…it hurts to say it…it just.
It does not work
. Not again, anyway. It was jarring, to say the least-to read about the untimely demise of Guinevere Beck. I was shocked that it happened, that he went through with it, that he killed someone he thought he loved. It was painful and cringy to read, honestly. But…it fit. It worked. It wasn't shocking as much as it was heartbreaking.
Here?
It's tired. Overused
. And I tire of him judging every woman he loves. I get wanting an epic, amazing love. Don't many of us crave that? But disposing of all the women?
My God it's such an exaggerated overreaction and an overused formula
. Okay. He's a total freaking lunatic now. I think he really,
truly
didn't intend to become a legit serial killer in the first (just a raving crazy stalker, of course :P), and he always *seemed* to find remorse for 'having to do what needed to be done'. In Hidden Bodies, he kills like…without blinking. His rage blinds him. His lust for revenge drives him. And it's just….annoying. Repetitive. And
I don't have that horribly wrong and misguided urge to sympathize with him
. I found myself thinking [when something went wrong]
'Well, bet he'll kill [her/him] now.'
Shocker.
Where's the fun of the mystery? The wondering if he
really
will go through with murdering the girl he wanted so much that he rearranged his whole life for her. I really and truly enjoyed the tone of the first book. It was almost like a fucked up version of a romance and
I just loved it so much
. I loved almost secretly rooting for them to make it, for Joe to get the girl he *thought* he loved. The sweet moments to flourish and become more. Sick as that is. This?
This was a bloody witch hunt
and I couldn't emotionally connect with
nor find the parallel of the Joe who made me feel as though he had a heart
.
Robotic. Monotonous. Heart-breaking. I loved the effed up first book-but perhaps that's what it should have stayed. A one book series that left a punch, readers enthralled, and the story wide open for our interpretation. This is definitely a case of knowing too much and there not being enough new (or interesting) material to justify the continuance of his story.