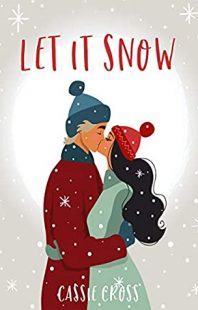 Let It Snow
by
Cassie Cross
Purchase on:
Amazon
Add to:
Goodreads
Synopsis:

Amy Winstead is a twenty something video producer who loves Christmas more than anyone she's ever known. This year, the holidays are gonna be a lot less happy because she can't afford the plane ticket home to celebrate with her family, and her best and oldest friend Josh is moving halfway across the country for a new job that he couldn't turn down.

When Josh asks her to accompany him on his road trip from Texas to Connecticut and offers to pay for her plane ticket back home, how could Amy say no? He's promised some fun surprises on the trip, and more time with him could never be a bad thing.

One surprise Josh hasn't planned on is the record-breaking blizzard heading their way. They decide to wait out the storm in the charming town of Holly Hill, where a little holiday magic and a lot of snow combine to help Josh and Amy realize that the something that's always simmered between them could easily become something more...
Review:
Let it Snow was a feel good, heartwarming Christmas story. With a road trip, snow storm and a cute little town, this book was so enjoyable. If you're looking for a friend to lovers Christmas story, with a little bit of sexy mixed in, then take a look at adding this one to your tbr.
If I didn't know any better, I could swear that Josh wants to kiss me. But I need to get foolish thoughts like that out of my head, so I turn back to my laptop.
Amy Winstead, aka Ames, and Josh Abbott had been inseparable for the last 26 years. They were the bestest of friends who grew up together, went to same college and even got their first jobs in the same town. But with Josh moving back home to New York and Ames staying in Texas, she was emotionally struggling. They'd never been apart. On top of that, she was head over heels in love with her best friend.
"You're woven into the fabric of my life."



While Ames was unsure of where she wanted to go with her life, Josh seemed to know exactly what he wanted. When he surprised her with a road trip back home for the holidays, and a plane ticket to get her back to Texas, I was overjoyed. I love road trips! We got to see how strong their friendship was and how well they knew each other. I loved watching how affectionate and thoughtful they were to each other. And when they got stranded in a blizzard, things started to storm in the best of ways between the two of them.
"What do you need?" I ask, confused by the giant shift in the room, of this overwhelming sense of possibility in the moment.
He lifts his head, eyes half lidded.
"To kiss you," he replies.
Let it Snow was a delightful book that was so easy to devour. And for those that love happily ever afters, that last chapter is for you. The story jumped ahead four years and I loved seeing how the future panned out. So with snow women building, snow ball fights and getting stranded in a hotel room with one bed, it was fun watching Ames and Josh's relationship develop. If you're a fan of friends to lovers, with Christmas sprinkled in the pages, then this book may be just for you!